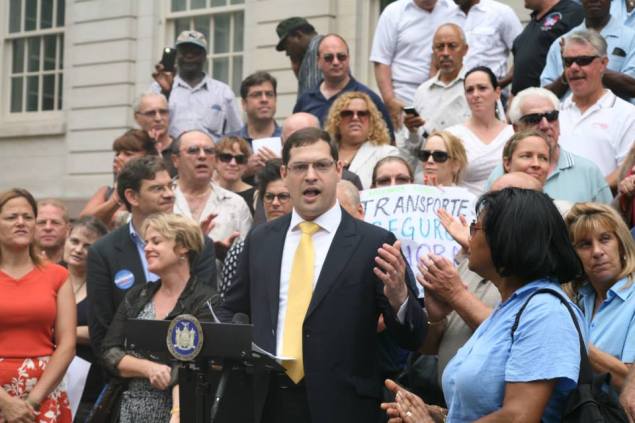 The Upper East Side political establishment shut him out, but the voters had a different idea on Tuesday.
Assemblyman Micah Kellner, reeling from sexual harassment allegations and not seeking re-election to his legislative post, quietly trounced two opponents in a race for state committee. The overwhelming victory for the obscure, unpaid position heartened Mr. Kellner, who insisted it's a myth that he's not popular anymore in his district.
"It was very nice on Primary Day, while out campaigning, to see so many people–a lot of the reaction I got was that it's great to see your name on the ballot, it's great to be able to vote for you again," Mr. Kellner told the Observer.
Mr. Kellner insisted it was never his idea to run for state committee–state committeemen nominate statewide officeholders but have little clout otherwise–and gave the credit of his win to his East Side Democratic Club. After a rival club tried to knock out one of the ESDC's state committeemen, Mr. Kellner offered to step in and run in the competitive Democratic primary. Mr. Kellner characterized the win as a favor to his club, and not any attempt at a political comeback.
"I didn't really want to run for the state committee. There is no grand plan here. This isn't some comeback or rehabilitation," he said. "The members of my club worked years and years, before I was an assemblyman. They didn't deserve to be attacked and tarred for doing good work."
Mr. Kellner garnered 2,614 votes for his state committee bid, nearly doubling the total of runner-up Jonathan Piel, according to unofficial Board of Elections returns. A third candidate, Karl Seidenwurm, won 477 votes. Put into context, Mr. Kellner's vote total for a lower office surpassed the totals of candidates seeking his Assembly seat in the same area: Gus Christensen, a runner-up in the Assembly race, won 2,497 votes.
Mr. Kellner's surge did not sit well with at least one Upper East Side power broker.
"I have endorsed Jonathan Piel and am begging people NOT to vote for Micah Kellner," State Senator Liz Krueger tweeted on September 5, days before the September 9 primary.
Mr. Kellner was leaving his Assembly post to run for an open City Council seat last summer when it was revealed that he was the subject of a sexual harassment complaint years earlier. Mr. Kellner denied that he sexually harassed the former staffer but admitted he had an "inappropriate" relationship with her when he was single. A front-runner for the council seat, Mr. Kellner was immediately ostracized and lost all of his establishment support to a rival, Ben Kallos, who would go onto win the race and become the new city councilman.
Mr. Kellner's troubles only mounted when an Assembly ethics committee accused him of "unwanted and inappropriate conduct of a sexual nature" toward two female members of his staff. The ethics committee charged Mr. Kellner with ignoring a previously ordered ban on having interns in his office and obstructing efforts to conduct a "climate survey" of his staff. Assembly Speaker Sheldon Silver reduced Mr. Kellner's staff allocation to zero and ordered the closure of Mr. Kellner's district and Albany offices by the end of June, effectively taking away any reason for Mr. Kellner to still serve in the legislature (he had announced he was not seeking re-election in February.)
Mr. Kellner has appealed the ruling and accused Mr. Silver of engaging in the "politics of personal destruction." He said today that he wasn't surprised that pols abruptly distanced themselves from him. "Politics is not an easy business. I'm not a neophyte in the world of politics and public service. There are certain people whose friendships and relationships I know will always be strong. For others, it reaffirmed that the relationship was always one that was transactional to begin with," he said.
Come 2015, Mr. Kellner will be both a state committeeman and Democratic district leader, a post he will need to seek re-election for. He wouldn't rule out running for that either, but he said his immediate interest would be catching up on some soccer games.
"I'm really looking forward to a strong season from the Tottenham Hotspur," he said, referring to the English soccer team. "I'm going to go to a lot of soccer games."