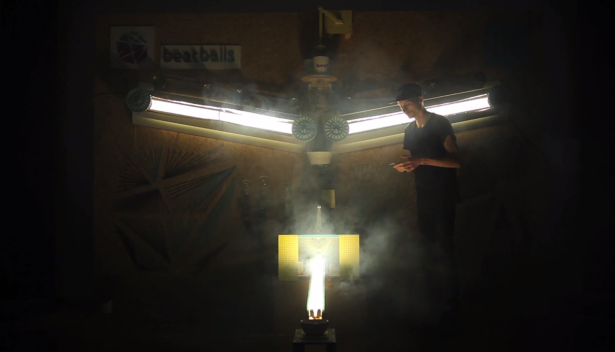 Have you ever been bobbing your head along to your favorite song and wondered, "What would this music taste like?" Unless you were rolling face on MDMA, probably not.
Nevertheless, Kickstarter campaign called Beatballs wants to develop a home food processor that evaluates the acoustic properties of a song, and turn that song into a meatball. Call it a cross between an iHome and a KitchenAid.

"Every song has its own DNA — a unique blend of tempo, cadence, mood, and key, among other attributes," the Kickstarter says. "Translating these attributes into their representative flavors, Beatballs creates a tailored meatball recipe that tastes like the song."
They've built a giant prototype Beatball-making machine, which looks either fake or unsafe, and have set a staggering Kickstarter goal of $350,000 in order to manufacture smaller, home-sized Beatball makers.
[vimeo 105166803 w=600 h=338]
But how do you translate a dynamic sound experience into a potentially delicious meatball? Apparently, you use some code to break the song into its component parts, and then just make some crazy shit up. Take Pharrell's "Happy," for example:
"'Happy' is played in F-minor, giving the meatball a base of chickpeas and garlic," the Kickstarters says, obviously. "It scores above average on energy level, tempo, chatter, and mood, according to the Beatballs song analyzer. This music profile inspires additional dashes of thai basil, lemon zest, curry, and strawberries."
Frankly, we don't know why we need a recipe to deduce the synesthetic flavor profile of a Pharrel song. We at Betabeat have always understood the correlation between a good hook and the pungency of thai basil.
Just kidding, we have no idea what the hell they're talking about — but at least they don't take themselves too seriously. The Kickstarter rewards include t-shirts that say "Justin Bieber's Balls In Your Mouth," and the campaign video includes a comically extended clip of some serious tongue-in-ear action.
So far, they've only raised about $9,000, which is about $341,000 short of their goal. If the campaign doesn't pick up serious steam, we may never know if "human cupcake" Ariana Grande's music actually, in fact, tastes like cupcakes.