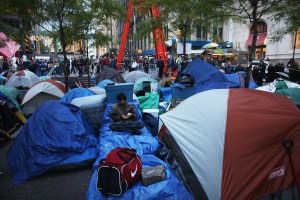 Occupy Wall Street is still arguing about their Twitter account.
Coinciding with the third anniversary of OWS this week, a group of protesters is suing one of their fellows, who they claim took unilateral control of a Twitter account. The $500,000 lawsuit was filed in New York City Supreme Court Thursday morning.
The OWS Media Group is taking legal action against activist Justin Wedes, who allegedly took charge of @OccupyWallStNYC, a shared account that retained popularity even after the protest ended (it currently has 177,000 followers).
Marisa Holmes, an organizer for OWS, said the account was created by Adbusters Magazine, one of the earliest supporters of the Occupy movement. The Adbusters editors agreed to turn over control of the account to the OWS Media Group, which included Mr. Wedes among others.
Mr. Wedes, on the other hand, said in a recent blog post that he was asked to deliver the account to someone in New York City on behalf of Adbusters" and told to change the password–an email that Mr. Wedes linked to does not support this.
Ms. Holmes vehemently denied these allegations–according to her, the Twitter account was based in the Zuccotti Park Media Center and any park visitor could compose a tweet or post a video.
"He was never given ownership of the account," Ms. Holmes told Gothamist. "That was completely contrary to the spirit of the thing."
If this wasn't bad enough, the suit also claims Mr. Wedes used the Twitter account to promote his own projects, including one to help Detroit residents whose water got shut off.
Mr. Wedes naturally framed this incident in a different way.
"A thread about "self-promotion" became just another shaming session," Mr. Wedes wrote on his blog. "If we start from a place of assuming bad intentions—i.e. discouraging "self-promotion" over encouraging solid, relevant content–we will end up with rules that shame rather than empower."
Beyond seeking damages for all this, the suit asked for an injunction against Mr. Wedes that would bar him from the account and turn it over to OWS Media Group.
This being Occupy Wall Street, Ms. Holmes ended by insulting the very court system she is using to sue Mr. Wedes.
"I wish we had better alternatives in place," Ms. Holmes said. "The revolution hasn't happened yet."
Happy birthday, Occupy Wall Street. Good luck with the lawsuit and never change.