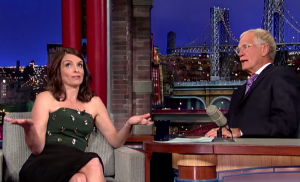 Following a recent theft of celebrity nudes that inspired a sleazy Reddit charity campaign and an even sleazier artist's gallery show, celebrities are now discussing ways to protect themselves from such invasions of privacy.
On last night's Late Show, Tina Fey explained that to avoid being identified if her nudes ever get out, she exclusively takes close-up photos of her butt.
"All my nudes are very, very extreme close-ups of my butt, so you'll never know it's me," she explained. "Like scientific, like a microscope close-up. Thousands of them."
David Letterman then assured her that he'll "keep an eye out for those."
Ms. Fey was actually on the show to promote her new movie This Is Where I Leave You that premieres this Friday, but this detail of her life is obviously more interesting.
[youtube https://www.youtube.com/watch?v=9W0sbOLZ_Fk&w=640&h=360]