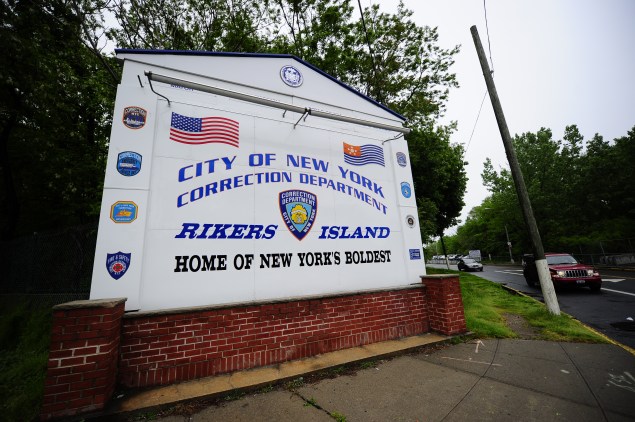 As the Department of Corrections seeks to beat back controversy after controversy under new leadership, Commissioner Joseph Ponte is replacing a top staffer held over from the Bloomberg administration.
Chief of Staff Sara Taylor — whose job duties included representing the commissioner to the mayor's office and elsewhere outside the department — is no longer with the department, the Observer has learned.
"Commissioner Ponte wanted to build his own executive team to advance his ambitious reform agenda and he is grateful to Sara Taylor for her service to the Department," a Corrections spokesman confirmed.
Ms. Taylor's last day was on September 5, according to the department, which provided no other details on her quiet departure. She had been at Corrections since 2008, when she was named an Assistant Commissioner under Mayor Michael Bloomberg, and became chief of staff in 2011, according to her LinkedIn page.
Attempts to reach Ms. Taylor were unsuccessful.
Mr. Ponte has a tall order when it comes to implementing that "reform agenda" the Corrections spokesman mentioned, particularly at the Rikers Island jail complex that seems to be hit with a new scandal every few weeks. A mentally ill veteran died at Rikers Island in an overheated cell in March. The New York Times unleashed a bombshell report on conditions for the mentally ill at the jail in July. In August, U.S. Attorney Preet Bharara released a scathing, 70-plus page report on a "culture of violence" against adolescents at Rikers. Yesterday, the Times reported that two high-ranking uniformed distorted data to make it appear that jail fights had declined in yet another controversy that the newspaper said "underscores the pervasive dysfunction" of the department.
It is not unusual for a new commissioner to shake up agency leadership with his own hires, particularly amid this level of controversy — although many times mid-level posts remain constant even as commissioners change.
Ms. Taylor's replacement has not been announced; the city posted a listing for the Chief of Staff position on September 16. She's among many other officials at the department whose jobs have turned over in the last several months.
Just last week Mr. Ponte announced that a new Deputy Commissioner of Public Information, Peter Thorne, will represent the department to the media as it continues to find itself in headlines. That announcement, too, came with mention of Mr. Ponte's reform agenda.
"I very much look forward to this opportunity to continue serving the City of New York and
assisting Commissioner Ponte as he communicates his message of meaningful reform," Thorne said in a statement. "Commissioner Ponte has made it clear that he does not shy away from tough challenges and his reputation speaks for itself."
A September 10 announcement of three new appointments in human resources, academy training and applicant investigation heralded "a New Era of Staff Recruitment, Training, and Retention." And in August, Mr. Ponte announced a Connecticut Corrections official, James E. Dzurenda, would join the city department as Mr. Ponte's first deputy commissioner.
Mr. Ponte has also looked to name his own leaders in uniformed positions — he has named new wardens and tapped Corrections veteran William Clemons as chief of department in May, a move Corrections Officers Benevolent Association President Norman Seabrook, who has sometimes sparred with Mr. Ponte, strongly praised at a graduation ceremony in August. But Mr. Clemons is at the center of the latest headache for the department — he is the warden who took over a jail where the Times reported fights were underreported.