A modest resale at 15 Central Park West is, of course, anything but. And the most recent of these is no exception. Sources tell the Observer that a 15th-floor unit in the tower portion of the uber-exclusive limestone monument recently sold, having been last listed for $9.99 million. The sale has yet to hit public records and though Noel Berk, of Mercedes Berk—who shared the listing with Sarah Gabbay, also of Mercedes Berk—initially seemed eager to chat about the deal, she subsequently became hard to reach, and we can't yet say just who the buyer might be, or what they're paying.
A slightly larger place sold early last month for $9.5 million, though, and if the seller of 15M (a most "coveted" line in the listing's estimation), James Laffey, managed to reach a similar or better arrangement, he's made out quite well indeed. Mr. Laffey picked the place up as a sponsor unit early in 2008 for a mere $3.54 million, according to city records—a veritable steal at just over $2,000 a square foot. (The new asking price comes in at $5,797 for each of the apartment's 1,724 square feet.)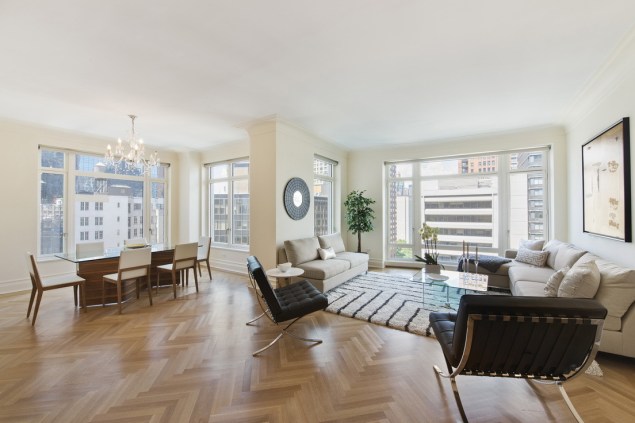 Since March of 2008, the real estate market has dipped and then shot into the stratosphere. And it is unsurprising that the case of Mr. Laffey, who keeps a rather low profile, should follow suit. His old place, too, like the rest of 15 CPW has many attractive features. It is a particularly bright space, with large and numerous windows, which take up much of the condo's high walls. Light oak herringbone floors and accents of crown molding throughout emphasize the motif. Naturally, it also comes with the finest finishes and appliances—the aura of solidity, affluence and confidence—that predominate throughout the building.
Still, for all that splendor, if recent reports are to be trusted, the buyers—and Ms. Berk, who also lives at 15 CPW—are soon to occupy a less-than-supreme Zeckendorf building. What with sales opening this fall at the developers' 520 Park Avenue, which is due to follow in the tradition of 15 Central Park West and 18 Gramercy, and where asking prices for simplexes will start at more than $10 million. (Duplexes will be more like $60 million, a triplex penthouse well north of $100 million.) The forthcoming building, it seems, will represent a rather enviable take on the "own-worst-enemy" tradition.