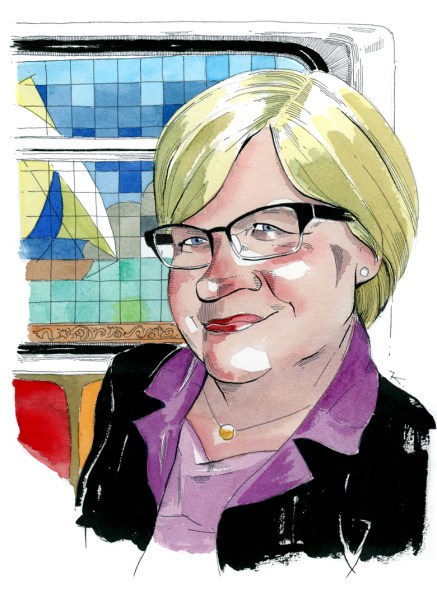 Sandra Bloodworth is the director of the MTA's Arts for Transit program, which launched in 1985 as part of a massive capital improvement project to overhaul the city's transit system. Ms. Bloodworth was hired as a manager in 1988. Among other things, the Arts for Transit program commissions original works of art for subway and rail stations, presents a musical performance series and administers the beloved Poetry in Motion program (in conjunction with the Poetry Society of America). Coincidentally, the Observer was late meeting Ms. Bloodworth due to train delays, but our long wait on a Brooklyn train platform was enlivened by an impromptu performance by a high school marching band in full regalia.
Do you think people perceive art differently when they're waiting for a train? The mission of this program from early on has been to create art for people who use the system. Our riders knew it was for them, and they paid attention.
 How do you select art that speaks to all the different subway users? We look for things that enhance the journey and connect people to the place. It's about how a work speaks to the people who travel through that particular place.
And the poems? The Poetry Society selects 30 to 40 works of published poets at a time, and from those we choose what we believe will resonate with a large number of people. The great thing about public art is that often it will create this intimate experience in a public place, this connectedness to a place. We're looking for works that might do that. Also, you have to select material that can work on the back of a Metrocard. There are poems we do not pick because they're too long. Often the ones we do are excerpts of a larger poem.
Do you get a lot of feedback? Always. People will talk about a particular poem and what it meant to them. Often they'll talk about how their day wasn't going so well, and then they encountered art or poetry or music on the subway and it turned around. I love to watch a smile come across somebody's face as they're reading, or just the acknowledgement you see on their face that a work has spoken to them.
How did you end up in this role? I'm a painter, and I was fascinated by the subway from the moment I moved to New York, back in 1980. I would walk around and think, "This needs to be better. This could be so much more." Then I heard about this job.
Will the program ever expand? We're planning to expand to buses.
It's tremendously popular. Why do you think that is? The arts program only works when you understand why you're here, which is to move people from this place to that place. Our role is to make that journey the best it can be, but not in lieu of other things you need to know, like to avoid the edge of the subway platform. Besides, if you have it everywhere, no one's going to notice. Right now you have this sense of discovery. We've been able to make people understand that arts are not the fringe, they're part of the core experience. And to work in a large bureaucracy that gets that is nothing short of amazing. Of course, New Yorkers get it, they got it from the beginning.