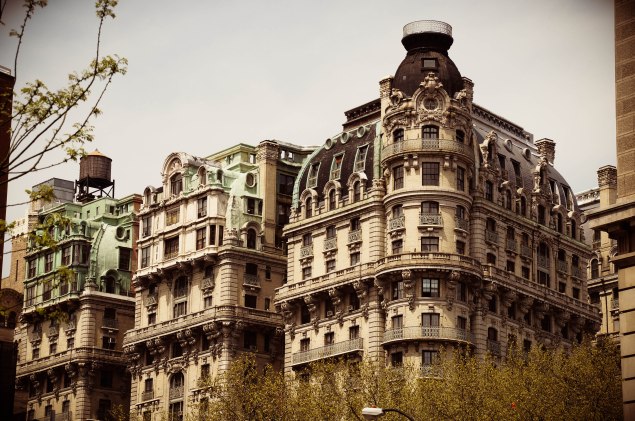 Words like exceptional, extraordinary and unprecedented are disgorged so often in the context of Manhattan's luxury real estate that they conjure nothing so much as ennui. So forgive us for saying that this four-bedroom apartment for rent at the Ansonia really is exceptional, though it owes a large debt to the eye-catching Beaux Arts building in which it is situated, particularly, the fanciful turret that runs up all 17 stories of 2109 Broadway.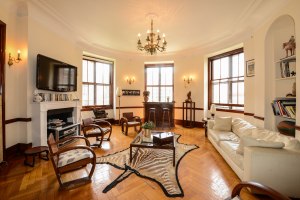 The apartment—a sixth-floor corner unit listed at $25,000 a month with Michel Madie of Michel Madie Real Estate—is fortunate to count a large percentage of its square footage in that turret, including a circular living room, whose mullioned windows look down onto Broadway. A narrow stone balcony with wrought-iron rail wraps around the apartment, offering just enough space for a coffee or cigarette break. True, the turn-of-the-century Parisian-style hotel turned rental turned condo does not lend itself to the favored American pastime of grilling. But then, one imagines, in an apartment like this more mundane hungers might well abate.
The floors are herringbone, the trim mahogany, the 11-foot ceilings chandeliered. Walls are paneled, with hidden closets secreted behind, and the windows both charming and abundant.
"With the right furniture, a place like this would be a palace," broker Moustafa Moussa murmured when he showed us the apartment, eyeing the current occupant's eccentric furnishings, which include a full-size skeleton in the master.
We had to agree, though, some aspects of the apartment may not sit well with the modern luxury client. The lack of en suite baths, for example, or the fact that the master bath is located directly off the front door. Moreover, the living room's fireplace is not functional and one can hear the faint hum of Broadway in the living room.
Still, it is not often that one finds not only a New York City apartment, but an entire building that banishes even the threat of claustrophobia.
The Ansonia's winding corridors are decadently wide and its open spiral staircase a captivating twist of white marble and mahogany running up a wall of enormous windows that makes taking the stairs the real luxury.
And for those who wish to stay and to stretch out, both this unit and the two next door are also for sale, opening up the possibility of a nine bedroom.