Alessandra Gambaccini, a stylist and the one-time fashion director for the Italian edition of Vogue, has rather different views when it comes to her own personal home design than might suit the stylings on display in her former employer's pages. Vogue, after all, is the province of the refined and the beautiful, the perfectly-coiffed and the impossibly slick. And at the home she just sold for $4.975 million at 45 West 12th Street, Ms. Gambaccini deliberately preserved a number of the building's imperfections—like bumps in concrete walls—finding them charming rather than off-putting. But the buyers, 45 West 12th Street, LLC, no-doubt drew comfort from the seller's having spent roughly $2 million on improvements since purchasing the building in 1996, for just $865,000.
The Greek Revival townhouse, which was built in 1846—and which stands in the Greenwich Village Historic District—has undergone two rounds of renovation. Ms. Gambaccini embarked on the first soon after taking possession of the property, updating basics like wiring, plumbing, bathrooms, kitchen and floors. The second saw a dirt basement transformed into a kitchen with, naturally enough, Italian marble surfaces, and oil heating replaced with gas. A living room entrance was re-imagined and a newly-created second-floor alcove received gold-foil paint on its ceiling. (The kitchen, however, appears a bit on the dim side and the ceiling art, which does not limit itself to the alcove, lacks what one might reasonably call universal appeal.)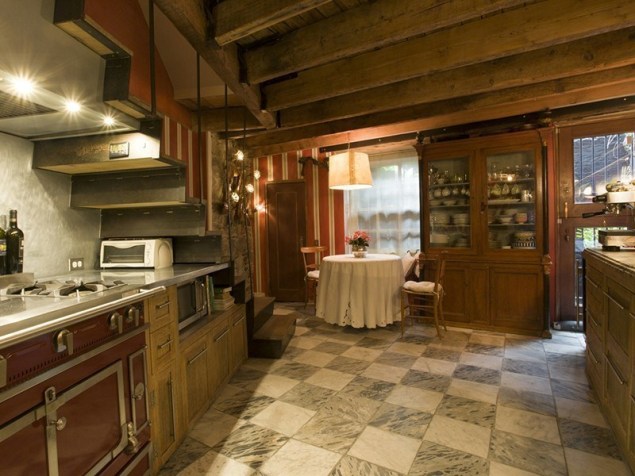 Still, the place is nothing short of "a fantasy one family home saturated with wonderment, warmth, charm and a touch of Tuscany," in the enthusiastic view of the Sotheby's International Realty listing held by Gary Kabol and Lisa Maysonet. (Or perhaps Milan, where Ms. Gambaccini and her husband, fashion photographer Wayne Maser are spending more time these days?) There are five floors and three bedrooms, a trio of wood burning fireplaces and Venetian glass. A private garden lies just off the master suite. For all that charm, a previous listing with Douglas Elliman's Trish Goff—who worked previously as a Vogue and Victoria's Secret model—asking $5.95 million failed to move the triangularly-shaped townhouse. Bikinis and multi-million dollar homes, of course, do not necessarily benefit from similar sales pitches.