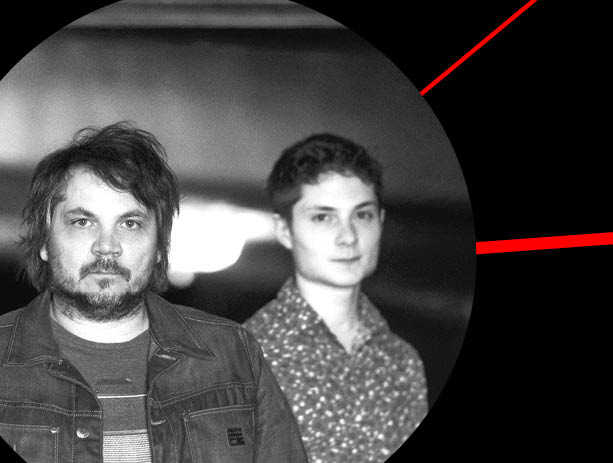 BAM's nearly September-long festival honoring Nonesuch records entered the home stretch Tuesday evening, with a bittersweet, first-night-of-fall performance by Tweedy and Brooklyn-based pop group Hospitality. The latter, whose second long-player, Trouble, was released on Merge at the beginning of this year, brought a buoyant presence to the huge auditorium stage—no small feat for a fairly twee trio.
Hospitality's bounce isn't all lightweight, though—there's heavy electricity behind singer Amber Papini's lilt, and though the synthesizers present on Trouble weren't in attendance this night, the warmth of reverb, fuzz and an earnest energy filled space that might otherwise have left these subtle songs sounding more delicate.
Though Hospitality's songs are guitar-driven on stage, Ms. Papini's vocals are undeniably the most prominent instrument. Working a sort of Harriet Wheeler (The Sundays) meets Sharon van Etten vibe, Ms. Papini has a '90s indie-pop sensibility shot straight through to the present, more Camera Obscura than Cardigans, with a little off-kilter bite to the sweet-tartness. Ms. Papini makes as much of non-verbal sounds as she does words themselves, expanding the breadth of a band that could too easily garner a straightforward, literal reading without her willingness to be quite this free. Hospitality, though looking so tiny up there, delivered their set with a charging, full-steam-ahead momentum, energized to the point that one couldn't help but wish for a moment to trade the ornate walls of BAM for the peeling paint of a small, crappy club. They came together most gloriously on "Sleepover" from their 2012 eponymous LP—explosively catchy live, Ms. Papini and bassist Brian Betancourt arched their voices together over a storm of Ms. Papini's guitar feedback and lightning-bright harmonics.
Next up were headliner Tweedy, the latest project from Wilco singer-songwriter/poet Jeff Tweedy and his 18-year-old son, Spencer, who arrived in Brooklyn the day of the release of Sukierae, the band's debut LP. Widely understood to be influenced by the spectre of illness shadowing the Tweedy family in the past year—Jeff Tweedy's wife, and Spencer's mother, Sue Miller, has been revisiting the dark alleys of cancer and its treatment paths—Sukierae isn't so much sad or glad as it holds both at the same time, that yin and yang of appreciating and suffering life.
Presented here with a full band, the Tweedys were joined by storied St. Louis experimental musician Darin Gray on bass, guitarist Jim Elkington (the Zincs) and keyboardist Liam Cunningham (The Marrow, Kids These Days), and, for this evening, with backup vocals from Jess Wolfe and Holly Laessig of NYC's own Lucius (performing in creepy matching black cloaks and haircuts). The filled-out renditions of Sukierae's spare, near-solo songs stay largely true to their gentleness, steering away from the big-rock-bar-band potential of Wilco and closer to the loopy, trippy stuff of Jeff Tweedy's projects like Loose Fur. What's really peeled back here is not so much the music, though, as the emotion. When, on "New Moon," the older Tweedy sings: "I've always been certain / nearly all of my life / that one day I'd be your burden / and you would be my wife"—it's a line at the heart of self-consciousness and twists of fate.
Tweedy the senior, taking the stage truly solo for a second mini-set, delivered affable stage banter along with a slew of crowd favorites to close the night. He reached back to Uncle Tupelo's "New Madrid" and Golden Smog's "Radio King," as well as Wilco numbers like the Manhattan-referencing "Hummingbird." And when a quiet version of "I Am Trying to Break Your Heart" brought one seated audience member to the emotional point of throwing his hands in the air like he just didn't care, well—that seemed oddly appropriate for this incongruous evening of big and small, space and fullness, and moods both dark and light.
[youtube https://www.youtube.com/watch?v=SnLJgiEAiA0&w=560&h=315]