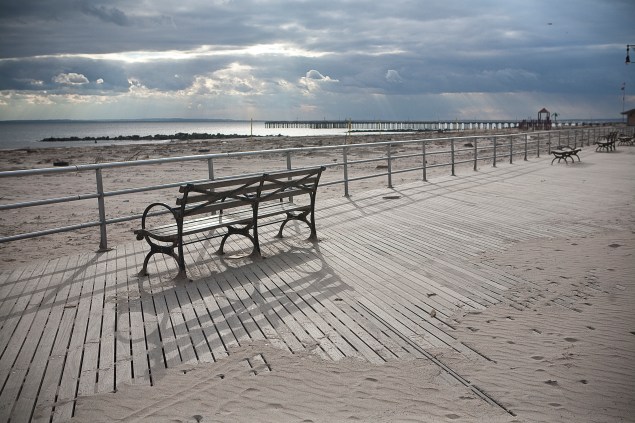 Almost two years after the devastation of Superstorm Sandy, Brooklyn's southern coastal communities continue to rebuild. Coinciding with the upcoming anniversary, Governor Cuomo announced today that a project to reconstruct bulkheads and sea walls in the area has been authorized by FEMA's Hazard Mitigation Grant Program. The initiative, called for in June of last year, will provide an estimated $2.8 million dollars in relief funds.
The local NY Rising Reconstruction Committee designed the project in addition to the State's own reconstruction projects. One of many coordinated by the Governor's Office of Storm Recovery, the Committee, which includes fourteen local residents and leaders, plans to use a "Navy Wall System", designed to minimize costs while withstanding 120 mph winds for an estimated 50 years. A release from the governor's office describes the system as "a large timber and pile wall with interlocking heavy vinyl sheeting to retain and shield land and property." The piles will extend 15 feet underground, and 10 feet above.
According to the governor's office, Superstorm Sandy left Sea Gate with $45 million worth of damage. The community was left without gas or electricity for over 6 weeks. Approximately 750 homes were destroyed, as well as the police station, other administrative buildings, and their road and sewage infrastructures. Gov. Cuomo aims to offset the costs to the communities through government initiatives, such as this one.
Committee Co-Chair, Sue Fox, told the Observer that this is one of the first few projects designed by the committee that has moved on to the implementation stage. "The bulkhead project is critically important to the resilience of the entire region. We're happy to see the project being made," she said.
The bulkheads are designed to protect against erosion, storm surges, and flooding. For the most part, the bulkheads in the region were completely destroyed in the storm two years ago, leaving those in the area at-risk. "We've been quite fortunate in the past two years," Ms. Fox said.