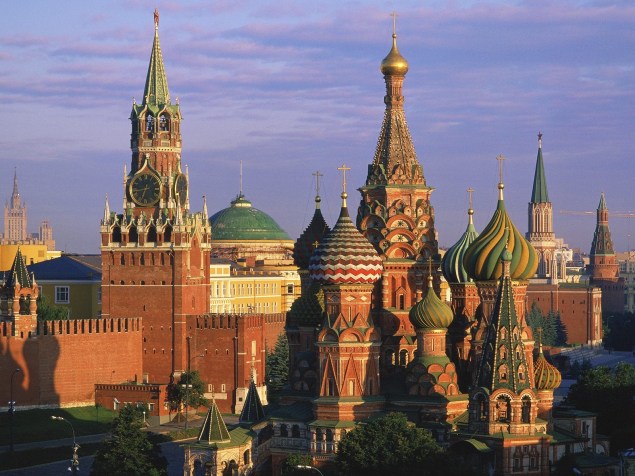 MOSCOW — The doors of the Manege, an art space in a giant former cavalry pen next to Red Square, swing open to let in a highly selective clique of Russian super-collectors. They are nearly universally male, power-suited. enormous, unsmiling, scary-looking, and apparently richer than many small countries.  We're at Cosmoscow, the only remaining international contemporary art fair in Russia.
And what the Borises and Mikhails don't seem to be is impulsive: the first two hours are a lovely spree of Champagne and little bites of local delicacies, but no one seems to be pulling the trigger on pieces quite yet. A director at Michael Werner gallery, one of the only New York galleries here at a fair with a great deal of work by American artists, noted "People seem to be taking their time."
So what art have these barrel-chested big Russian millionaires and billionaires not yet snapped up? Massimo de Carlo has a fairly remarkable work by George Condo that one director describes thusly: "This would be bought in the first hour of Basel." Michael Werner has a nice series of James Lee Byers pieces, while Galerie Javier Lopez has a few giant works by Alex Katz. We're partial to three works at Campoli Presti by Reena Spaulings, an artist who does not actually exist but is really the creation of John Kelsey and Emily Sundblad, who have a lower East Side gallery also called Reena Spaulings.
The Champagne, schmoozing and, eventually, sales will continue up until the opening dinner, which is at 11:00 at night because this is apparently how you roll in Russia. In the meantime, Natalia Vodianova, the supermodel and last month's Vanity Fair magazine cover star, is conducting an auction of some works to benefit her charity, Off White, while wearing a stunning red dress.
In between vodkas, we'll keep you updated; The fair, and an elaborate menu of panels and lectures, opens to the public Friday 3 p.m. Moscow time.