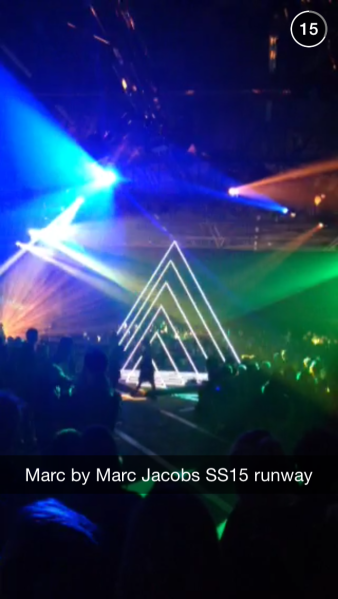 Now that Instagram has officially usurped bloggers as the disruptive media force of every Fashion Week, there's a new kid on the block: Snapchat.
We predicted this in our Instagram feature last week, saying, "Snapchat's temporary nature could become an asset as fashion leaders long for a sense of renewed exclusivity. Amassing hundreds of likes on an Instagram post feels nice but what could be more rarified in our increasingly shareable world than content that vanishes in seconds?"
And today, we logged into Snapchat and what did we see? A "Fashion Week in NYC" live story, as well as "Cupertino Live" in honor of the Apple Watch launch. Snapchat's blog is devoid of any deets about the Fashion Week story, but we've reached out to them just the same.
So what's a live story on Snapchat? The startup did the same thing for Electric Daisy Carnival in April and the World Cup finals in July. Users could send their own videos and photos not only to their friends, but also to a team at Snapchat. Snapchat then curated the best media to be part of one massive Snapchat live story. It was pretty fun and effective, especially when the World Cup story showed revelers from around the world prepping for matches in Rio and cheering their teams on.
Users can send their NYFW snaps to the account "Fashion Week in NYC," which had automatically been added to this reporter's friend list. We were unable to send any snaps from our Midtown office. A Snapchat spokesperson has informed us that users needed to be at Fashion Week-sanctioned event to add to the Snapchat story, but hasn't yet answered our question about which events and which locations had been sanctioned. At last night's Galore party, for example, the option was not available. At the Fashion Rocks concert at the Barclays Center, though, it evidently was, judging by the amount of Ryan Seacrest-centric snaps featured on the story.
Early yesterday, the story also featured shots of the Marc Jacobs and Pamella Roland shows; funny commentary from Lincoln Center lurkers; and plenty of street style shots.
A Snapchat live story has a few benefits when compared to Instagram, which currently rules the Fashion Week roost. Mostly, it's nice to look at something curated. Snapchat doesn't let just anyone's content make it to their live stories. They pick and choose the best pictures and videos, ensuring that there aren't any repeats or boring, self-promoting #ootds.
We can't say the same for Instagram, which is rife with repetitive photos, blurry shots and just plain uninspiring content. Also, Instagram's #nyfw feed is so saturated at all hours of Fashion Week that it's tough to keep up. Still, the photos and videos there don't disappear into the ether as soon as you've seen them. They amass likes and comments, functioning as little shrines to a particular moment in time. There's a lot to be said for that.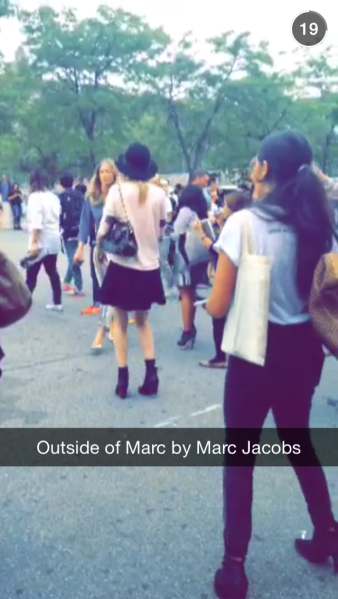 There's also a lot to be said for the fact that everyone in the Snapchat videos actually appears to be smiling. Yes, fashion people smiling during Fashion Week. It's shocking.
Not content to let the social networks have all the fun, two news outlets have also released their own curated, desktop versions of the #NYFW Instagram feed this fall.
The New York Times launched its own highly curated, A-list live feed last week, the mobile-screen-friendly Fashion Week Now. It includes insider-y photos of only the buzziest and most exclusive Fashion Week events, in the Times's trademark tone. It's basically like an Instagram feed featuring only Times-approved content, focusing primarily on events, while the outlet's official Insta, @NYTimesFashion, mostly posts street style shots.
Hot on the NYT's tail, New York magazine launched its own version, Fashion Week Uncensored, of the same service today. NYMag's feed has a more conspiratorial, conversational and jokey tone, and instead of exclusively using its own reporters for the commentary, the magazine also hired the Fug Girls, Jamie Chung, Bek Anderson and YoungJun Koo — as well as, oh, just Carine Roitfeld.
Still, we're sure we aren't the only ones who are still obsessively checking Instagram to see what's going on every few minutes. It's just the best way to see Fashion Week from every conceivable angle. Not to mention, we love gathering up likes and comments on our own photos. Everybody likes an ego boost — especially everybody in fashion.
But many fashion insiders are experiencing Instagram fatigue. At last night's Nylon party at Tao Downtown, we overheard more than one PR girl sighing, "Ugh, I'm taking a break from posting on Instagram this Fashion Week." Now that Snapchat, the Times and New York magazine are all dueling for those same fashionistas' attention, will we all get sick of it, swear off social and go back to the old way — waiting six months to see all the runways' best offerings?
Nope, don't think so. Anyway, those PR girls didn't say anything about not looking at Insta.
(This story has been updated to reflect information provided by Snapchat.)