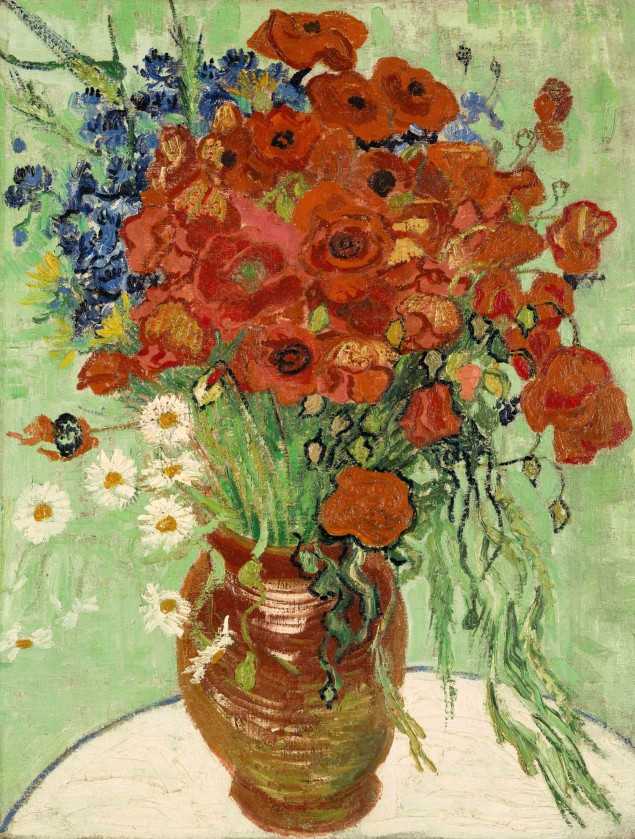 Vincent van Gogh's Still life, Vase with Daisies and Poppies (1890) will hit the auction block at Sotheby's Impressionist and Modern Art Evening Sale on November 4 and is expected to sell for between $30 million and $50 million. The painting is significant as it is just one of a few by the Dutch painter "to be sold on the open market since the late 1980s," reported The Financial Times on Saturday. This particular artwork is one of the last painted by Van Gogh, just a month before his death, and depicts flowers picked from the very field where he eventually committed suicide, said co-head of impressionist and modern for Sotheby's Simon Shaw.
As for the ownership of the painting, it may have belonged first to Van Gogh's physician Dr. Paul Gachet. It was also one of the first of his paintings to come to the United States in the 1920s, when it was given as a gift to the Albright-Knox Gallery in Buffalo. artnet news provided further details about its travels, citing other important owners and dealers of the work such as Gaston-Alexandre Camentron, Paul Cassirer Gallery, Knoedler Gallery, and MoMA co-founder Anson Goodyear. The Financial Times pinpointed its most current owners, saying, "its present vendor was 'an important European collection' which had held the picture for more than two decades."
The sale is expected to be a big one since Van Gogh's Portrait of Dr. Gachet currently holds the record for the most expensive painting by the artist, and was the most expensive painting ever sold at the time of the sale. It sold for $82.5 million at Christie's in 1990.