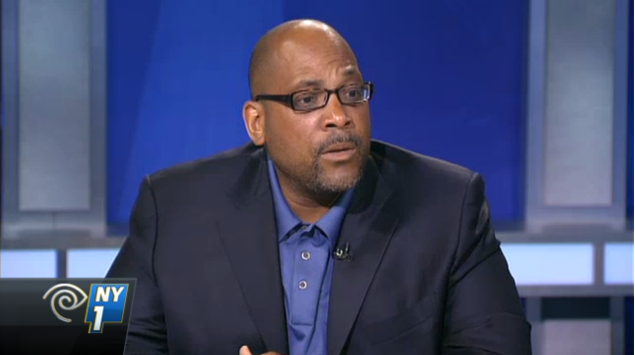 After handily winning his primary despite being under indictment, State Senator John Sampson slammed Mayor Bill de Blasio and Gov. Andrew Cuomo last night on NY1 for backing his opponent and getting involved in the local race at all.
Mr. Sampson appeared on NY1's Inside City Hall last night, where he said the mayor and the governor — as well as the Working Families Party and a slew of unions that had backed Mr. Sampson in the past but did not this year — made a mistake in backing his challenger for the Democratic nomination, Dell Smitherman, former political coordinator for 1199 SEIU.
"I didn't agree with the mayor's endorsement of Dell, even coming into the district, even getting himself involved into local politics — because this is local politics, and it's about, that's why you have county leaders, because they know the temperature of the people," Mr. Sampson told host Errol Louis.
The 17-year incumbent won the primary despite being twice indicted on embezzlement charges and lying to FBI agents, which cost him significant support in his reelection bid. He's pleaded not guilty.
Mr. Sampson had a run-in with the mayor on primary day, when he appeared at a subway stop where Mr. de Blasio was holding a well publicized appearance with Mr. Smitherman. What appeared to be shaping up as a showdown was calmed down when Mr. de Blasio spoke privately with Mr. Sampson for a few moments.
On NY1, despite saying the mayor should have stayed out of the race, Mr. Sampson gave him more credit than the governor and other players involved.
"At least the mayor did have the respect to call me and say, 'You know what, John, I'm gonna be endorsing your opponent. It's nothing about you, but their organization supported me," Mr. Sampson said. "But the governor, I found out from a tweet."
Before either of them get involved in another local race, Mr. Sampson said they ought to "check the temperature."
"Especially the governor, because black elected officials in Brooklyn have been trying to meet with the governor for four years, and now after this period of time he's meeting with us on Friday," Mr. Sampson said.
Mr. Sampson also took specific aim at Bill Lipton, founder of the Working Families Party, and Kevin Finnegan, the current political director at 1199 SEIU, for backing Mr. Smitherman after supporting the incumbent in the past.
"For Bill Lipton to call me up, without even interviewing, me telling me he's gonna go with my opponent, without even asking me about my situation, for Kevin Finnegan — the person who when we were in the majority was constantly in the office to do whatever we needed to be done, to do to help out 1199, for him to not even say a word, you know, but I understand. This is politics and I accept it for what it is," Mr. Sampson said.
He credited the members of the Brooklyn establishment who stood behind him and their "loyalty" for his victory.
"The victory goes to my faith, my family, and also Frank Seddio," Mr. Sampson said of the borough's party boss.
And he promised his legal fight would not keep him from getting work done in Albany ("It's not a distraction at all," he said), even as he's been booted out of his caucus.
"I am not a pariah," he said. "I represent my constituents."