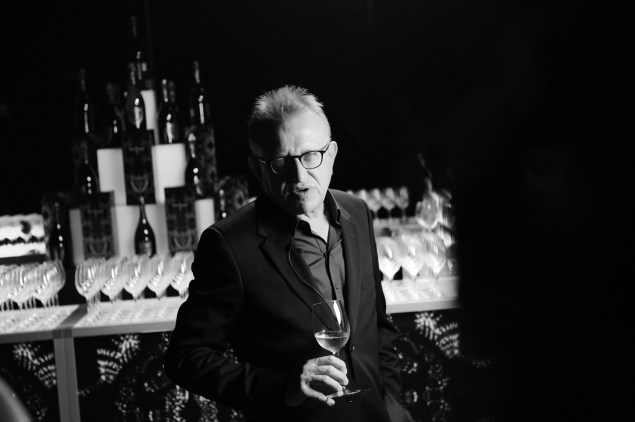 It appeared to be a normal night in the remote waterside hamlet of Red Hook, Brooklyn—a slight chill came off the docks and swept through the desolate warehouses, and on the streets knotty wooden planks studded with rusty nails lay strewn on empty streets. The asphalt was pockmarked with potholes, and the nearest sign of life seemed miles away.
And then, around 9:00, a boat arrived carrying as cargo a few hundred of Fashion Week's finest, all in designer duds and carrying chic clutches, all drinking a libation previously not associated with longshoremen, Dom Perignon.
O.K., so, I'll put this as humbly as I can: I've been to a few things hosted by this most venerable champagne company. There was a dinner in Épernay in the shadow of the Abbaye of Saint-Pierre d'Hautvillers, where the nectar was first coaxed from its holy grapes. That was nice. Or that little Golden Globes bash where basically every A-list actor in Tinsel Town squeezed into the penthouse of the Chateau Marmont. Oh, right—Art Basel Miami Beach, in the glowing party box known as The Wall, Steven Tyler belting Aerosmith songs, Larry Gagosian dancing on a banquette rapping along to "Big Poppa" by Notorious B.I.G. And so on.
But now we live in a world where the French refer to the hottest restaurants in Paris as tres Brooklyn. When you announce to the kids in chic Belleville that you live in New York, they start listing their favorite dives in chic Bushwick. So, when it comes time to plan a champagne party these days, there's only one thing to do: you stock a ferry with cases of Dom, chill the bottles, and ship the city's most fashionable to a far-out part of Kings County.
"I've heard so many things about Red Hook, I can't wait, it's so exciting," said Iris van Herpen, the fashion designer perhaps most closely associated with Bjork. She's also the guest of honor for the evening, as she de- signed the new limited edition label and gift box for Dom Perignon Vintage 2004—the effective reason for a booze cruise and bash. It was the afternoon before the big event, and we were at Omar's in the West Village chatting about the Cocoonase, the coral reef-like sculpture she had designed to act as a model for the gift box, before we were summoned into an parlor room to speak with Richard Geoffroy, the Chef de cave of Dom Perignon. He's ultra Gallic, but also trigger happy with a high-pitched infectious laugh. Example: I say, "So, we're actually going to Brooklyn tonight?" He says, "HA-hehehe- HA-HA!" He refers to the range of insanity levels from one year's Dom Perignon party to the next as "asymptotic." He probably drinks more bubbly than heyday Liz Taylor on a yacht—for work, mind you—but has successfully avoided getting what Andy Warhol referred to as a "Champagne chin," and really likes leaving the vineyard for the city every once in a while. "Life is good, I love it here in New York, I see the energy and it's just—pssssssshoow!" he said, lifting his arms up toward the air like a rocket ship (or, well, an airborne champagne cork).
For the past few years, they've been collabo- rating with various creative types on designing new labels and boxes—David Lynch, Jeff Koons etc. Did he have a dream collaborator, living or dead?
"Dead is not easy for collaboration! HA-hehehe-HA-HA!"
What a guy, but I had to bolt—off to hop on this grand cru-soaked grand cruise before it set sail. We tooled around the Financial District, said, "Ciao, Manhattan!" and then ended up in Red Hook. No, the buzz of a few flutes did not make the gritty banks look like the view from a croisière on the Côte d'Azur, but no matter. We had arrived at the venue, Pioneer Works, the block-sized exhibition dreamspace neverland run by the artist Dustin Yellin, Red Hook's happy mascot and ambassador to the world (well, at least the art world). Inside, models wobbled through the pebblestone-filled courtyard on heels, tuxedoed servers offered up glass after glass of the good stuff, socialites stared slightly agape at the whole scene, and Mr. Geoffroy unleashed that distinctive laugh while talking to Carmelo Anthony.
And Mr. Yellin recruited a few Brooklyn guys to take in the glorious spectacle. There was MGMT frontman Andrew VanWyngarden, who sometimes crashes with the Pioneer Works founder, Casey Spooner, of Fischerspooner, and Ryder Ripps, the artist and programming savant who casually mentioned he's doing some coding for Kanye West.
"He's so fucking quick," Mr. Ripps said of his boss, looking slightly bored, some girl on his arm. "One day, someone came in to give him this giant egg, and immediately he was like, 'Put it on the Matthew Barney Cremaster book.'"
As the night wound down, and Mr. Yellin had to tell people to stay off the tower in the backyard because it was structurally unsound, we grabbed a last glass and realized the only thing we had eaten in the last few hours was foie gras. So we grabbed a friend and went to Bait and Tackle, a longshoreman bar just steps away, where the guys were wearing fishing gear and eating Frito Pie, and the only curated aperitif du jour was a bottle of High Life and a shot of Jim Beam. Tres Brooklyn!