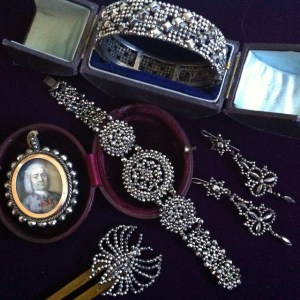 Saturday September 27 and Sunday 28 are dates to keep with the Big Flea Antiques Market, taking over Pier 94 in Manhattan. The market's previous locations in Washington D.C. and Fredericksburg, Virginia were great successes, now all eyes are on New York.
Over 600 vendors are expected—some local, but half are from out-of-state, including dealers from London, Paris, and Canada, meaning vintage fans who regularly comb NYC for treasure will definitely find new troves.
NY stalwarts Olde Good Things will be stallholders, great news for those looking for pieces for the home.  Vendor, Barbara MacRae of OGT spoke with the Observer about the store. "We don't have a particular style, we're is just interested in authentic and interesting pieces." Inside, chandeliers drip from the ceiling, including one massive piece with the official seal of New York. Every possible space in the shop has been filled with dozens of doorknobs, old photo albums dating from the '30s and '40s, and a handful of typewriters casually resting on antique armoires. In the corner, by a salvaged blinking arrow sign, hanging from an old cabinet, there is an instructional poster about fungi dated 1963. The shop also specializes in "altered antiques": unique tables and mirrors made in the store from repurposed wood, ceiling tiles and old doors. They will be bringing several of these pieces with them this weekend, as well as examples of different options if customers choose to place a custom order.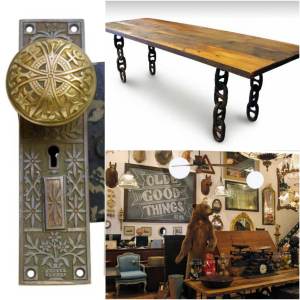 Lenore Dailey is one of the flea's new jewelry dealers from Michigan, whose style includes rare 18th century pieces and Georgian and Victorian jewelry.  She looks forward to the prospect of Big Flea Antiques Market being a regular stop on her calendar. When asked what is drawing her to this particular event Ms. Dailey said, "I have a strong client base in NYC and this will give us an opportunity to see each other before the holiday season begins.  Also, there is an enthusiastic and responsive young crowd here interested in antique jewelry." Her collection is always changing and growing, but her Instagram, lenoredailey, gives customers a general idea of her style: exquisitely detailed pieces that look like hand-me-downs from the Tower of London.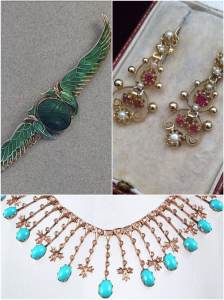 Big Flea NYC will also feature vendors who specialize in vintage luggage, costume jewelry, and French Country style furniture. Out of the many vintage clothing dealers there will be one dealer who mainly works with 18th century and period pieces. Nancy Gewirz, a vendor who frequently sells to Ralph Lauren will also be in attendance.
The market will be open 9 a.m.-7 p.m. on Saturday and 10 a.m.-5 p.m. on Sunday. The ten dollar admission fee will get each customer into Big Flea Antiques Market for both days, and same-day delivery service is available. Big Flea NYC will feature shops that specialize in furniture, art, jewelry, vintage clothing, and antique collectables.