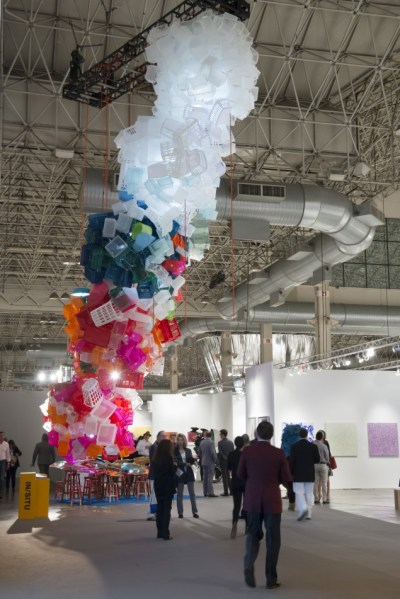 CHICAGO—Some of the deepest pockets in the art world convened in this town last weekend, as the windy city got an art fair as big and brawny as itself. Three-year-old EXPO Chicago, staged at the cavernous Navy Pier, was packed, dotted with celebrities, and reported some notable sales.
Prowling the fair VIP opening were high-powered figures like "Star Wars" creator George Lucas, whose soon-to-be-established Lucas Museum of Narrative Art will be smack dab in the center of town; Wal-Mart heiress Alice Walton, perhaps the country's leading collector of American art, local real estate mogul Sam Zell and financier — and major contemporary art collector — Michael Sacks. The NBA's Shaquille O'Neal was a guest curator and "Friends" television star David Schwimmer also strolled the fair floor.
Snapped up opening night was Michelangelo Pistoletto's 2013 Golden Buddha and Mirror, being shown by Madison Avenue dealer Hollis Taggart.  The beatific religious figure in gilt wood standing over six feet tall and gazing at a full-length mirror went for a mid six-figure amount, according to the dealer.  "This fair's got traction like never before," said a delighted Taggart.
Offering some evidence of EXPO's higher-profile in the global art world, 140 dealers from as far-flung as Hong Kong, Berlin and Barcelona participated, versus about 120 a year ago.   Among the new additions were Blain|Southern, Lisson Gallery of London, Milan and, soon, New York, and Marlborough Gallery.
"I'm seeing clients I don't see in Manhattan," said Michael Gitlitz, a director of Marlborough. At his booth a 2013 chubby bronze Cone Fixing Cylinder by Tom Otterness went for a six-figure price. Also snapped up was Santiago Calatrava's 2014 marble Untitled. (The flattened fortune cookie shape was perched on an attenuated wood cone).   Promised to a client was 82-year-old Juan Genoves's 2013 Artefactos, acrylic figures embedded with shells on canvas.
Even the entrance to EXPO shouted of a new level of art engagement.  There, the Chicago/Berlin art dealer Kavi Gupta brought in Jessica Stockholder, who is now artist in resident at the University of Chicago, to create a dynamic installation.  Her 2014 Once Upon A Time was a cascade of magenta, tangerine orange, white and ruby-red plastic boxes and laundry baskets a staggering fifty feet high. "It's not about narrative but rather an abstraction," explained Stockholder, somewhat obliquely. (Renaud Proch of ICI curated the installation.)
Also created just for the fair was Paula Crown's installation collaboration with architect Jeanne Gang (who snared a MacArthur "Genius" grant in 2011). That Chicago duo's Wall-Space The Non-Architecture of the Studio Wall replicates Crown's own studio wall in paints, stencil and a trompe l'oeil of electrical wire. Marlborough artist Crown is working with the Theaster Gates studio to turn out a mixed-media temporary park in the Design District during Art Basel Miami Beach this December.
Nearby was Chicago dealer Rhona Hoffman artist Michael Rakowitz's 2014 May the Arrogant Prevail, resembling the 575 BC Iraqi Istar Gate. Unlike the original one in stone, Rakowitz's replica is in plywood, encased in Arabic paper and plastic packaging in searing yellow and blue.
Packs of museum donors were led about genially by Bonnie Clearwater, director of the Museum of Art, Fort Lauderdale at Nova Southeastern University; Tricia Paik, the new Contemporary Art curator at the Indianapolis Museum of Art was also in attendance on a panel about Midwestern art museums. "I've seen Eric Shiner, Pittsburgh's Andy Warhol Museum director and curators from Louisville, Minneapolis and Kansas City as well," said Gupta gallery director Emanuel Aguilar.
How successful was the fair? Perhaps successful enough to export. Visitor Michael Thompson, chair of the Toronto, Canada Economic Development and Culture Committee said they would love to talk to current management about duplicating it to the North. (Sorry, Canada, fair management says there are no plans at present.)