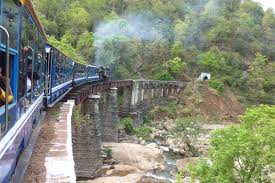 While planning a location for your post-nuptial photo shoot, why not consider a hip and risky setting like inside an active volcano, a shark tank, or perhaps atop busy train tracks on a bridge?
One Canadian wedding party narrowly avoided an oncoming train while posing for wedding photos on train tracks this past Saturday.
Fortunately for them, The Credit Valley Explorer train is South Ontario's premiere tour train, so it was traveling relatively slowly for sightseeing, which gave the wedding party time to flee as the train rounded the tracks toward them.
"One train crew member said, if it was one of their regular freight trains at normal speed, these people would not have made it," Phil Gravelle, a passenger aboard the train, told The Mississauga News.
The scene around the tracks is apparently quite picturesque, but "no trespassing" signs and the knowledge that high-speed trains pass over the bridge several times a day deter most, but not this group.
After narrowly avoiding catastrophe and bringing a touring train to a complete stop, they apparently went on to cause more problems. As train staff attempted to stop the wedding party from leaving the scene while they awaited the arrival of the Caldeon OPP, who enforces the Trespass to Property Act, but they left anyway.
They made it out alive, but did they at least get the pictures?