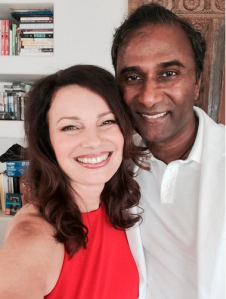 Rejoice! Everyone's favorite nanny, Fran Drescher, has officially joined the tech world.
No, the nasally-voiced actress hasn't created yet another stupid celebrity app, thank god. Instead, Ms. Drescher took to Twitter on Sunday to announce that she and partner Shiva Ayyadurai — the self-proclaimed "inventor of email" — had gotten married.
There's been quite a bit of controversy surrounding Mr. Ayyadurai's claims to have invented email. In 1978, the then-14-year-old created an email system for the University of Medicine and Dentistry of New Jersey. Three years later, he copyrighted the system, which he named "EMAIL." Though Mr. Ayyadurai might have coined the name "EMAIL," researchers argue that electronic messaging actually existed years before Mr. Ayyadurai created and copyrighted his system.
Still, the About Page on Mr. Ayyadurai's website contends, "In 1978, while a 14-year-old high school student [Mr. Ayyadurai] invented EMAIL, the world's first email system, which was the full-scale emulation of the interoffice paper-based mail system, for which he was awarded the first US Copyright."
Whatever the case, we're just happy this tech wedding — which took place at the couple's Malibu home — didn't involve the large-scale destruction of any redwoods.