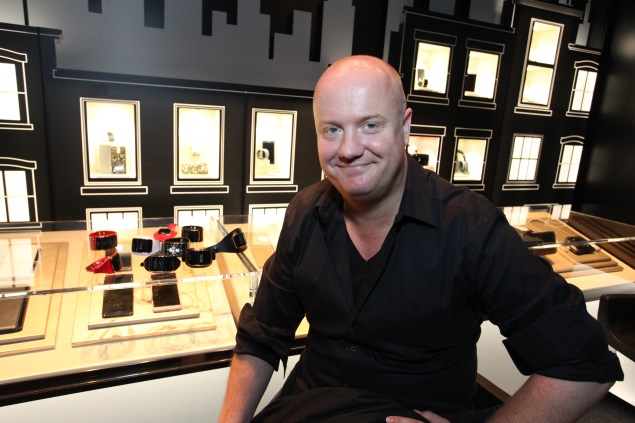 While most of the tech world was held up by Apple's glitchy, stop-and-go livestream on Tuesday, Diesel Black Gold creative director Andreas Melbostad was sending models down the runway wearing Samsung watches with specially designed studded-leather wristbands.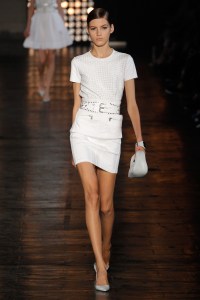 The Samsung Gear S, as the watch is technically known, has many of the same properties as the Apple Watch, but was released over a week ago and doesn't need to be tethered to a smartphone. Unlike the Apple Watch, the Samsung Gear S has 3G and wifi capabilities in addition to Bluetooth. Because it can function on its own, though, service providers haven't yet figured out how to sell it, so it's not currently available in the US but the designer and Samsung will hammer down the details together and announce pricing and availability later this year.
That didn't stop Diesel Black Gold designer Andreas Melbostad from designing red, black and grey wristbands to inject some of that brand's signature rock-and-roll style into the wearable tech device. The Samsung Gear S can be popped into the interchangeable brands, resulting in a futuristic-yet-retro feel for the matte leather tech accessories.
They're not exactly inconspicuous, but the in-your-face bands add some campy fun to the wearable space.
"I hadn't thought about the idea of wearable technology before" the collaboration, Mr. Melbostad said. "It's very interesting because this collaboration, in a way, is quite futuristic — and it's very much happening in the moment. How do you put technology on your body? Having an object that you put in your purse is very different from actually wearing it."
The wristbands had to be done "in a believable way as an extension of the attitude of our girl," Mr. Melbostad said. "Leather and studs are close to our DNA. Rendering them in this way made it work very smoothly."
Many fashion-tech collabs can feel "a little bit like a gimmick," Mr. Melbostad acknowledged. "So for me, this was very thought-provoking."
Diesel Black Gold's spring and summer 2014 collection was created with rockabilly and New Wave subcultures in mind, Mr. Melbostad said.
"We wanted to take a rockabilly girl and put her into a New Wave, post-punk, late- 70s, early '80s moment," he said. "We looked at everyone from Blondie to Kraftwerk."
What appropriate inspiration — we could totally see the guys from Kraftwerk rocking these wrist computers.