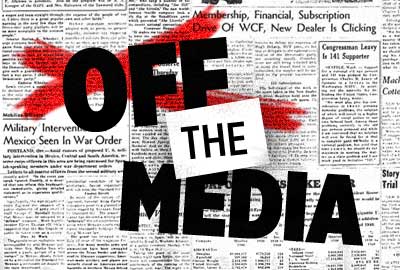 You're probably pretty aware that you're being manipulated at this point.
Clickbait. Outrage porn. Shoddy sourcing. Stories being traded up the chain. Fake traffic. Sanctimony. The playbook of online publishers has started to resemble something a 20th century con man might use. It's suite of ruses, misdirection and outright deception designed to steal clicks here and traffic there. It's a way of relieving unsuspecting readers of their attention and pawning it off to trusting advertisers.
So if you're not one of those people, that is if you are finally suspecting and suspicious, what are you to do? Who should you read? Who can you trust?
It's a question I've been asked a lot since I wrote my book. It's also a question I've asked a lot myself — because I'd like to know the answer.
I'd like to be able to say: Ok, at least you can always trust what you read on ___________.com. Unfortunately, that's not the case. There is no clear-cut answer.
Of course, some are better than others. Before I recommend a few sites and sources that are worth trusting, let's back up and ask a better question. It should be less about what to read and first, why you are reading it.
When intelligent, successful and productive people consume information, they tend to have one thing in common: They know what they plan to do with the information they are consuming. In other words, they match their media diet to their media needs.
If they're not hedge fund managers, they don't track financial news in real time. If they're not in Hollywood, they don't waste time on box office receipts. If they're not professionally affected by politics, they don't get too caught up with wonkish analysis.
Can you say you know what you're planning to do with most of what you see online?
That's not to say smart people don't read things that are off-topic.But since they know what their intellectual and professional needs are, they don't get sucked in to the day-to-day minutia and endless noise. They use filters so that important news reaches them, but inconsequential news is someone else's business.
Far too much web content is designed to keep you so caught up and consumed with the bubble that you don't even realize you're in one. Successful people opt out of that. Instead, they focus on reading and consuming things of lasting value.
The philosopher and former trader Nassim Taleb calls this the Lindy Effect: if something has been relevant for a thousand years — like Aristotle — chances are it will still be a thousand years from now. If we've been reading a publication for fifty years, chances are we will be doing so for the next fifty. It's true for food, for trends, for sayings, for news.
How much of what's published on Buzzfeed is going to be readable 5 years from now? How much of what's on Mashable is readable 5 weeks from now? How much of what's on Gawker will someday be anything more than an embarrassing memory of the viciousness of our age?
These are questions with easy answers that should help you gauge who and what to read. To me, this points most clearly to books. Books are the best place to spend our time if we are looking to learn and be informed (for some recommendations go here). Especially the classics. Documentaries are another great category.
But most of us spend a lot of time on computers — so that's where we need the most recommendations. I can tell you a little bit about my system.
First, RSS matters. Because it puts you in charge. It makes you a subscriber. If a blog or publication isn't performing, you unsubscribe. You can track their output over time.
Second, the context in which you consume matters. One reason that RSS is great is that it allows you to read the sites outside of some of the more manipulative elements and "Don't Forget To Read This Too!" links. It's why I like Instapaper, which encourages long-form, thoughtful reading — ideally offline. I see good stuff and I read it later. I give it time to marinate.
Second, don't click links on Facebook. Their algorithm favors trash. I'll add Casey Neistat's advice here too: Unfollow/unfriend everyone who shares an Upworthy.com link.
Finally, add people to your feed who are not subject to the crushing pressures of blogging economics. This is why I follow and read a lot of singular authors — people who care about their reputation and the trust of their readers (as opposed to people with bylines at Gawker).
Some favorites:
Felix Salmon – (prominent financial journalist and senior editor at Fusion who covers economic, tech and social issues.)

Ta Nehisi Coates – (national correspondent at The Atlantic, where he writes about culture, politics, and social issues.)

Tyler Cowen – (a wonderfully curious and wise economists and the founder of Marginal Revolution, which focuses on current events, reports and books.)

Tim Ferriss – (a successful entrepreneur and New York Times bestselling author, focuses on contrarian advice that gets you results, whether you want to learn a language in 3 months or lose weight without any exercise. Full disclosure: Tim owns the audiobook rights for my last book, The Obstacle Is The Way.)

Marco Arment – (creator of Instapaper and his blog is one of the higher quality tech trend blogs out there.)

Farnam Street – (Shane Parrish is behind Farnam Street, a blog dedicated to learning and making you a better thinker. Shane is also a regular contributor to Betabeat.)

Mark Cuban – (The personal blog ofthe billionaire owner of NBA's Dallas Mavericks. His posts range from advising you on how to be great in business to rants on patent trolls.)

Maria Popova – (the force behind the highly influential Brainpickings, a blog that in her own words is "your LEGO treasure chest, full of pieces across art, design, science, technology, philosophy, history, politics, psychology, sociology, ecology, anthropology, you-name-itology.")
Why do I trust these folks? Because they aren't blogging for dollars — at least not short term dollars. They have biases, sure, but that doesn't mean they don't make good arguments. They are writing because they have something to say, because they are thinkers and happen to communicate via online media. The people in your space, in whatever you're interested will be different, but their approach and position should be the same: independent, vested, wise, varied.
In terms of blanket publishers, there aren't many great options. I like Medium because it's still new and running on what appear to be some principles. I like the Observer (but I am biased). I tend to like the New York Times (who else would have a 4-year-old blog about the Civil War). Grantland seems to avoid most of the breathlessness of other sports publications. Like I said, it's a short list.
But I do have one trick for finding general news. Subscribe to various subreddits — the more active the community the better — and let them do the hard work of filtering for you. Let a real, active and protective group of people sort through the noise and get rid of the unreliable or unworthy stuff for you. Some that I subscribe to:
In a world where news is "free" the cost comes in time — in filtering the good from the bad.
It's something to think about the next time someone asks "Who do you read?" Hopefully now you have an answer: I read a lot of things, but mostly I have a system that protects me from misinformation.
Ryan Holiday is the editor at large of Betabeat and the author of Growth Hacker Marketing: A Primer on The Future of PR, Marketing, and Advertising available in paperback on September 30th.