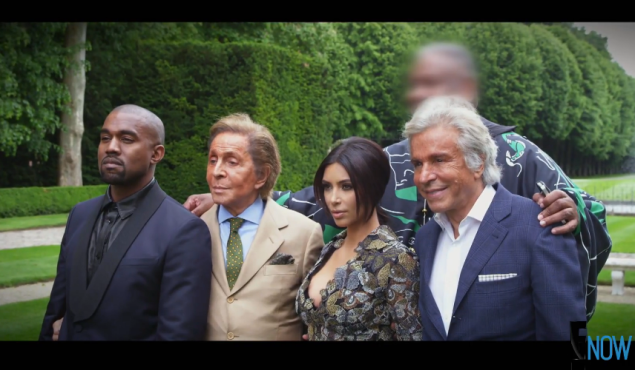 While recapping last week's Keeping Up With the Kardashians season finale wedding episode, we couldn't help but notice: there was a tall and be-caftanned presence posing for a group shot with the happy couple at Valentino Garavani's mansion.
His face, sitting a full head higher than those posing with him, was blurred. But his identity wasn't hard to glean: it was clearly former Vogue-r Andre Leon Talley.
Sure, there's a slim chance this was just an ALT impersonator, but that's not likely. Mr. Talley definitely attended the wedding and all its ancillary events, which included the aforementioned brunch at Mr. Garavani's and a casual all-night party at Versailles. How do we know? He wrote two posts on Vogue.com about the experience, one of which was a summary/review of said brunch. He also dished about it to Andy Cohen on Watch What Happens Live (and casually proclaimed himself the best-dressed person at the ceremony). It's not like he was hiding the fact that he attended.
It's highly unlikely that Mr. Talley was uncomfortable appearing on camera. The editorial force has not only appeared on WWHL and America's Next Top Model. He also reportedly inked a deal with the production company Electus to develop a late-night talk show in 2013. So, no, our guy's not camera shy.
He's also been a vocal supporter not only of Kim and Kanye on their own merits, but also of their union. When naysayers were kvetching about the Kimye Vogue cover, he was one of the first fashion insiders to come out and say it was "very positive" for an interracial couple to grace the cover of the mag.
"I don't get the hate," he said. "This is Anna Wintour's version of just celebrating achievement — Kanye's achievement as a great rapper and businessman, and Kim's achievement as a public figure, an iconic woman of her times, who has managed to be in the limelight with a reality show."
So what could have happened? Why wasn't his visage as prominently featured as that of Mr. Garavani and the other brunch guests? Here are a few theories:
• Footwear-centric self-preservation. At some point over the course of the weekend, he was definitely wearing Uggs. Signing a waiver could have meant appearing in the 2003 relics on national television. A fate worse than dreckitude, to borrow Mr. Talley's own term.
• Maybe part of his deal with Electus involves not appearing on TV shows in anything other than a promotional capacity (that WWHL appearance would count as a promo). Although, it doesn't get much more self-promotional than Keeping Up With the Kardashians…
• He's taking a cue from North West, a toddler who has proven that the most effective way to build public demand for your image is to consent for your body and general aura to appear on Keeping Up With the Kardashians, but not your face. And hey, it's working for her — she's the only famous neonate we can think of who's already been featured in editorials for both Vogue and CR Fashion Book. Next, she'll be the one in talks to develop a late-night talk show. Smart kid.