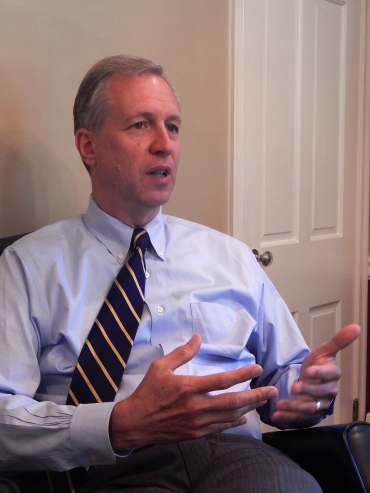 TRENTON – Under pressure from Gov. Chris Christie to end his investigation, and facing questions from leadership in his own party about the future role of the joint legislative committee looking into Bridgegate, Assemblyman John Wisniewski (D-19) this morning laid out his ideas for reforming the Port Authority of New York and New Jersey.
In his role as chairman of the Assembly Transportation Committee, Wisneiwski – co-chairman of the committee examining the George Washington Bridge scandal – led a discussion about reform bills that could end up going before the legislature as a whole.
In a swipe at the top-down patronage mill, he said the executive branch should no longer have a monopoly on the appointment of commissioners at the Port Authority.
There needs to be a variety of appointees to that body, Wisniewski said.
Driving the point that the governors of the two states should not have sole oversight of who sits on the committee (right now, the governor of New York selects six commissioners and the governor of New Jersey selects six), Wisniewski said he is open to examing the possibility of a citizens' advisory committee appointing some of the members, the legislature appointing some and perhaps having elections for others.
"There needs to be a citizens' and users' advisory committee," the assemblyman added. "While we have very well-recognized commissioners, they don't necessarily have an understanding of bridges and tunnels and commuters. That public input to the commissioners is vital to any reform."
The commisisoners should impact the selection of an executive director.
"If they are esteemed enough [as a consequence of the reformed selection process, which would rely on the advisory committee], they ought to be given the trust on the choice of an executive director," Wisneiwski said.
The Port Authority of New York and New Jersey must not continue as a "two-headed monster."
He described New York and New Jersey as "two agencies that don't talk to each other."
Wisniewski also called for greater transparency and accountability that would prevent members of the commission from doing private business in their roles as supposed Port public servants.
The resignation of Port Authority Chairman David Samson "was an unconscionable blemish," Wisniewski said.
He decried the snarl of obfuscation that greeted the Assembly Transportation Committee when he undertook initial inquiries at the port authority – on another matter.
"The response to that [FOIA] request is now noted in history," Wisniewski said. "We got nothing. Repeated letters and phone calls resulted in getting absolutely nothing. This is an agency that has an internal process, and had they provided those documents, the ass transportation committee would never have had subpoena power and would never have found out about 'time for traffic problems in Fort Lee.'"
The lawmaker wants to empower the Office of the Inspector General (office) of the Port Authority of New York and New Jersey to "issue subpoenas to compel attendance and testimony of persons and the production of books, papers, correspondence, and other documents in its investigations of allegations of fraud, corruption, waste, and abuse," according to his working bill (A2754), one of several his committee discussed today.
Assemblywoman Amy Handlin (R-13) testified before Wisniewski's committee and explained her own bill, which is part of the mix of proposed Port Authority reforms.
Handlin wants action now.
Her A3137 would require the Port Authority of New York and New Jersey (Port Authority) to submit to the Governors and Legislatures of New York and New Jersey a cost-benefit analysis at least 30 days before it votes to approve any Port Authority project with an estimated cost in excess of $100,000.
"The cost-benefit analysis is to include, but not be limited to: the reason for the project; a list of project alternatives; the anticipated economic benefits of the project including any expected job creation benefits; and the anticipated direct and indirect costs of the project to all stakeholders," according to the assemblywoman's bill. "The Port Authority is also to submit to the Governors and the Legislatures a certification that the proposed project is in compliance with the Port Authority's core mission."