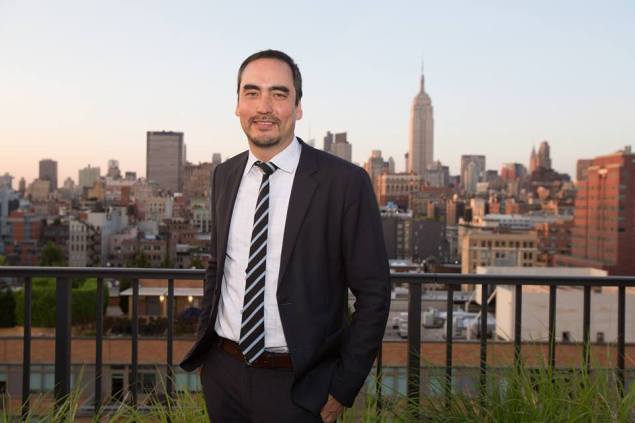 Former Democratic lieutenant gubernatorial candidate Tim Wu reluctantly endorsed his victorious opponent Kathy Hochul and her running mate, Gov. Andrew Cuomo, saying he felt obligated to support them out of a sense of party loyalty.
Mr. Wu, a career law professor, told his Twitter followers today that he still disliked Mr. Cuomo's fiscal conservatism and resented the governor's refusal to acknowledge his campaign and that of his running mate, Zephyr Teachout. Nonetheless, Mr. Wu insisted that he hoped to see the Democratic Party defeat the Republicans, and so was backing Mr. Cuomo and Ms. Hochul in November.
"I disagree with much that Andrew Cuomo stands for, which I why I ran against him. I object to his policies & his mockery of the primary," Mr. Wu tweeted. "However I am a Democrat, and in the broader context I entered the primary to strengthen the Democratic party against the Republicans."
Still, Mr. Wu said he understood if some of his more than 200,000 supporters decided to vote on another party line or pencil in a candidate of their choosing on election day.
"I do respect those who disagree, support Green, or want to write-in," wrote Mr. Wu, who uses the handle @superwuster.
Meanwhile, Ms. Hochul posted on her own account today that she hoped to cooperate politically with Mr. Wu in the future.
"Looking forward to working with @superwuster and a united Democratic Party to build on the progress we've made in NYS," Ms. Hochul wrote.
Though Ms. Hochul defeated Mr. Wu by more than 100,000 votes, Mr. Wu–known in tech circles for coining the term "net neutrality"–is winning the battle for Twitter followers. The law professor has more than 10,800 people hanging on his every electronic word, while the former Erie County clerk and Buffalo area congresswoman has just shy of 2,400.
Mr. Wu's endorsement comes after Mr. Cuomo's Republican rival, Westchester County Executive Rob Astorino, asked on primary night for supporters of Ms. Teachout and gadfly candidate Randy Credico to support him in the November election. Mr. Astorino argued he shared the Teachout-Wu campaign's opposition to political corruption.
"I ask their voters to join me now in the fight to clean up the Albany corruption and pay-to-play politics that is dragging this state to its knees morally and economically," Mr. Astorino said in a September 9 statement. "I won in Westchester twice with the help of Democrats and independents who were willing to join hands with me in cleaning up government, lowering taxes on struggling families, and in bringing good paying jobs back to Westchester. I give my word to voters thirsting for change — of all political persuasions — that I will deliver sweeping ethics reforms and government transparency to a capital that hasn't seen either in years."