In the 2010 comedy The Other Guys, Will Ferrell and Mark Wahlberg play a pair of hapless New York City police detectives. The Wahlberg character ends up in group therapy after an incident near Yankee Stadium.
Assigned to a subway station, he sees a shadowy figure approaching him with a club in his hands. He recalls to his fellow patients: "I re-live it every night. Bronx. October. Game 7 of the World Series."
In a flashback, the cop tells the man to stop but he continues toward the cop, who draws his gun and shoots the man in the leg. The club turns out to be a baseball bat. The man turns out to be a baseball player.
"You dick!" the player says. "I'm Derek Jeter! You shot me!"
Back in therapy, the cop tells his fellow patients: "I cost the city a championship. Everybody calls me 'The Yankee Clipper.' "
His fellow patients offer no solace.
"Because you shot Derek Jeter!" one says.
"He's a bi-racial angel!" another shouts.
"You should've shot A-Rod!" adds a third.
Jeter's tiny bit of dialogue represents just about the harshest words he will let the public hear. After 20 years as the proud face and muted voice of the Yankees, Jeter's last major league game is likely to be on Sunday, September 28 at Fenway Park in Boston.
If Jeter ends the game with two outs in the top of the ninth inning on a ground ball to the infield, he most likely will run—not jog—as fast as his 40-year-old legs will carry him down the first baseline and then to upstate New York, where he will enter the Hall of Fame in Cooperstown.
More than just a long-time captain with five World Series championship rings, Jeter became iconic in a city filled with sports icons. In him, you see a little bit of Mark Messier, the bald captain who led the Rangers to the Stanley Cup in 1994.
And there's some Eli Manning, the aw-shucks quarterback who has taken the Giants to two Super Bowl championships in the last decade without ever saying anything controversial or even newsworthy.
Unlike Babe Ruth and Mickey Mantle, Yankee legends and public party animals, Jeter is more in the model of Joe DiMaggio, a discreet celebrity superstar who monitors his public behavior and always guards his image.
So venerated is Jeter for this old-school approach, that Deadspin described him in a headline with "Jesus Christ is the Derek Jeter of Christianity."
Reporters who have covered Jeter for two decades are well-acquainted with his moods and quirks, but few really know him. The same might be said for some of his teammates, especially in the later years, when Jeter was almost twice their age.
A few years ago, when Yogi Berra still came by the clubhouse, you could stand before Jeter's locker at a certain angle and see Berra shuffling softly behind Jeter, on the other side of the archway, while Jeter spoke of the here and now.
Jeter always took the Yankee thing seriously, to the point where manager Joe Torre was always "Mr. Torre" and the deceased owner George Steinbrenner was "Mr. Steinbrenner" or "The Boss."
With Jeter ensconced in the prime locker in the middle of the room, nothing slipped by him and the Yankees' clubhouse became among baseball's quietest.
One who used to work there is Joba Chamberlain, who now pitches for the Detroit Tigers. In the days preceding his team's visit to New York this August, Chamberlain clearly showed his anticipation. He couldn't wait to pitch to Jeter and talked of it freely.
When he did, Chamberlain accidentally hit Jeter on the upper arm with a pitch. Chamberlain seemed crestfallen, bowing over, mouth opened in a startled look, then apologizing to Jeter until Jeter motioned from first base that everything was fine and for Chamberlain to carry on.
"I never felt worse in my life, as a person or as a baseball player," Chamberlain said. "It was a miserable feeling."
Even three weeks later, when the Yankees visited Detroit, Chamberlain walked over to the Yankees' side during batting practice to greet Jeter and pay his respects. It is well known around the Yankees that Jeter is not a man you want to cross.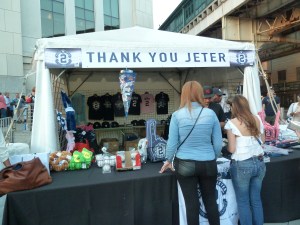 Jeter responded to Chamberlain with smiles, a handshake and a pat on the back. Chamberlain was visibly relieved. 
Their conversation went unrecorded. But when speaking through the media—and, by extension, to the fans—Jeter has the gift of issuing statements that provide sufficient calories but little nutrition. He leaves his interrogators with vaguely pleasant feelings, full notebooks and empty quotes. But he tries hard never to offend, a trait not universal in baseball.
"I've always tried to treat people with respect because I want to be treated with respect," Jeter said on that visit to Detroit. "When you meet someone, you can forget what they say but I don't think you ever forget how they made you feel. I've always tried to make people feel as comfortable as I possibly can."
Without question, he is a prince of the city, his uniform pinstripes like veins coursing with Yankee blueblood. His career will be known in history as "the Jeter era" that began the season after a labor strike canceled the World Series of 1994.
Jeter played through baseball's steroid phase without ever being mentioned in the same sentence with drugs, either performance-enhancing or the pleasure kind. In an era of increasing facial hair on baseball players, Jeter plays on a team that allows no facial hair. Jeter even shaves his head, as do a couple teammates.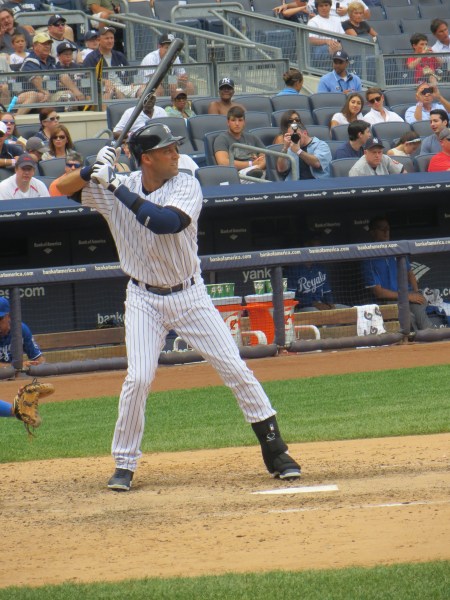 ***
The son of an African-American father and a white mother, Jeter's very skin reflected profound cultural changes of his time. His career overlapped that of Barack Obama, the first bi-racial president of the United States.
It's purely a coincidence, but the Jeter era also encompassed much positive change in New York. As the shortstop found his groove, the streets got cleaner and safer, the subways lost their graffiti and a new Yankee Stadium replaced the old one.
True to form, Jeter answered questions about his future plans without much specificity.
"I don't want to make plans," Jeter said. "I've been on schedule pretty much my entire life. I want to have the freedom to move around and do what I want to do. I would love to be a part of an ownership group. I cannot visualize myself being a coach or a manager."
Whatever his plans, Jeter told reporters, "When I decide, I will not tell you because I don't want to be followed by you. I will try to keep it as private as possible."
Discreet as he may be, there is one sordid Jeter scandal that has surfaced from his wild youth on the mean streets of Kalamazoo. Jeter was 13 years old. One late afternoon, with no one to play with, Jeter brought his ball and glove alone outside the duplex his family shared with the family of Maria McCreary.
"That boy always had a ball and a glove every time he walked out the door," McCreary said by phone from Kalamazoo.
McCreary was sleeping in an upstairs bedroom, seven months pregnant with her first child.
Suddenly, she was awakened by a "Thump-thump-thump!" coming through the ceiling. She opened the window and saw young Jeter, throwing a baseball off the roof of the building, running around the other side and catching it before it hit the ground.
"I yelled out the window, 'Derek, I'm going to take that ball away,' " McCreary said. "His face got red and he kind of hung his head."
Thinking back on it, McCreary wondered if it could have been a disastrous fork in the road.
"He was a good kid, not as annoying as other boys," McCreary said. "And he's cuter now, too. Now, I'm like, 'Oh, my gosh, I could've ruined his career!' "
And now he's off to the next career, whatever that may be, with probably half his life ahead of him. Perhaps he will spend it as a husband and father and maybe endorsing products on television commercials.
Politics? He's never spoken out much about that. Jeter sure would get votes and he can be diplomatic. Don't rule him out of a baseball gig. One of his friends in high places is "Mr. Torre," now an executive in the commissioner's office.
Or perhaps Jeter will write an autobiography that will surprise us, with all those intimate thoughts stored up for two decades. About the Steinbrenners. And the beautiful girlfriends. And the money. And the Florida mansion they call "St. Jetersburg."
And all those celebrity teammates, both good and bad. What did he really think of Alex Rodriguez? And the Mets and the media and the mayors, all of those he played under. Jeez, Jeet. It's been two decades and we hardly know ye.
Joe Lapointe spent 20 years as a sports reporter for The New York Times and worked as a segment producer for Countdown With Keith Olbermann. Recently, he's taught journalism at New York University, Rutgers and Long Island University-Brooklyn.