Good guy Will Ferrell can now add philanthropist and crowdfunding commander to his resume.
The actor and comedian launched the SuperMegaBlastMax Gamer Challenge on Indiegogo to raise money for cancer charity yesterday.
If the campaign — which has raised $28,029 since it launched yesterday — reaches its $375,000 goal, one lucky backer will be chosen to play video games with Will Farrell in San Francisco on October 26. The "two hour gaming extravaganza," as he calls it, will also be broadcast live on Twitch.
"I want to throw one of the coolest video game events in the history of mankind, possibly even dating back to the time of the dinosaurs, and I'm extending this challenge to gamers," he writes on the page.
Proceeds raised will go to Cancer For College and DonateGames.org. Donations will also fund scholarships for cancer survivors and go towards helping families battling with cancer.
While a number of rather generic condolence prizes like official event T-shirts will be given to lower-level backers, those who donate $50 or more will receive gifts with a little more Will Ferrell to them — sunscreen bottles picturing his face and a personal video thank-you from him, to name a few.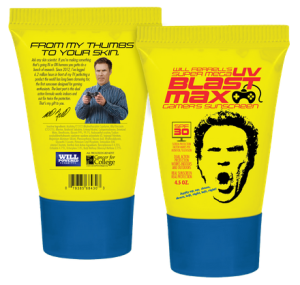 Reddit should take note. This is a much better approach to raising cancer funds than donating in the name of Jennifer Lawrence's nude photos.
[youtube https://www.youtube.com/watch?v=9Lw-2ZGvyLw&w=640&h=360]
(h/t Bit-Tech)