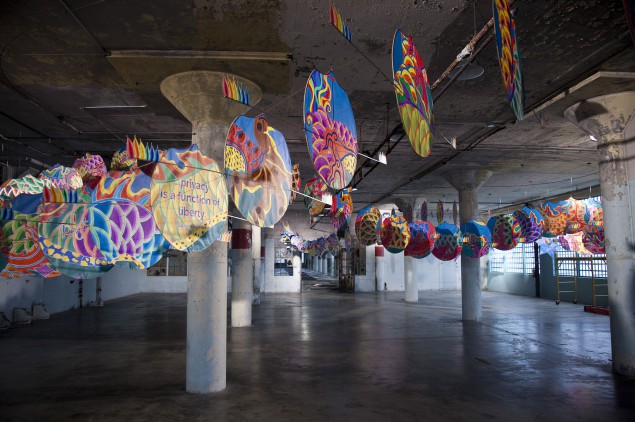 Ai Weiwei's highly anticipated project on Alcatraz Island is finally here. "@Large: Ai Weiwei on Alcatraz" features seven site-specific installations inspired by both the artist's personal experiences following his detainment by the Chinese government and the history of the 19th century Bay Area prison. The project is organized by the FOR-SITE Foundation along with the National Park Service, and the Golden Gate National Parks Conservancy. And while West Coasters will get to enjoy the work at their leisure (it's only a ferry ride away from San Francisco's North Beach) here is a rundown of the works, their locations on the island, and what to expect, for everyone else.
The island's two-story New Industries Building, once a work space for some inmates, contains three installations. With Wind is a series of colorful paper kites made by Chinese artisans in the traditional Chinese style. The "designs come from those nations which [have] the most political prisoners, or prisoners that lost their freedom because they're fighting for freedom of speech," Mr. Ai told the Guardian in a recent video interview for the show. The work includes one large, multipart "dragon kite" and smaller kites in the shapes of birds and flowers, a references to the natural elements of the island.
Trace features the portraits of 175 political prisoners and exiles completed in LEGO bricks and laid across the floor. Made of reflective panels used in Tibet for cooking heat, Refraction weighs over five tons. It takes the shape of a bird's wing, and can only be seen from the gun gallery above, implying the view of the prison guard on inmates below.
Stay Tuned is a work spread throughout 12 cells in A Block. The sound work samples words, poetry, and music from prisoners incarcerated for controversial creative works, like Pussy Riot and the Robben Island Singers. Located in the Dining Hall, Yours Truly invites visitors to write to the prisoners whose portraits are featured in the artwork Trace on postcards decorated with the birds and plants of the countries where they remain imprisoned.
Alcatraz's hospital is the location of two artworks. The first, Illumination, is a sound work that plays the recordings of chants from a Buddhist monastery and the traditional songs of a Hopi tribe within the Psychiatric Observation Cells. The work directly responds to Alcatraz's history with Hopi prisoners. Lastly, Blossom fills the sinks, toilets, and bathtubs of the hospital ward's cells with ceramic flowers.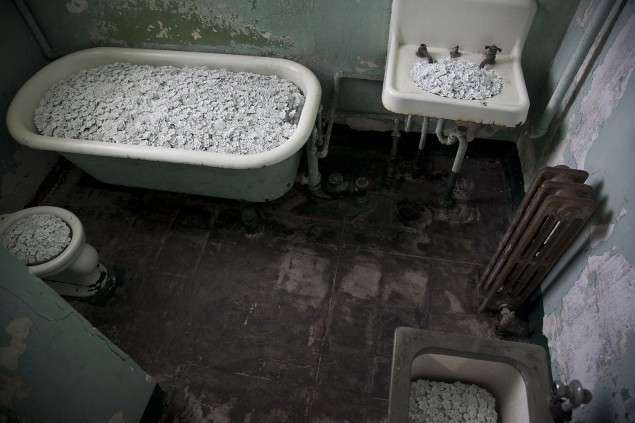 The Guardian's video interview with Mr. Ai on the occasion of his exhibition—one he won't be able to attend as he unable to leave China—provides a revealing look at the finalized projects throughout the island, with insightful commentary from the artist. Worth checking out for more glimpses of the artworks, which go on view to the public September 27 through April 26, 2015.