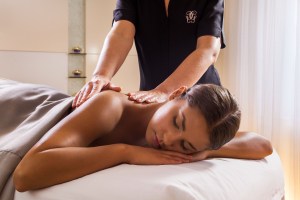 Seasons change hastily in New York City. To prepare your skin and body for the cold climate we've rounded-up an arsenal of 10 fall treatments from www.guerlainspas.com. Guerlain Spa is located on the 19th floor of the Waldorf Astoria New York. Your skin will thank us.
1. Microdermabrasion
This add-on to any facial is an ideal non-chemical, non-invasive treatment to exfoliate and remove dry, dead skin cells. What's the best part? The procedure stimulates new cell turnover and leaves skin glowing.
2. Body Polish
Cold weather can cause skin to become dry and ashy (not a good look). This full-body polish, light massage and moisturizing mask will leave skin hydrated.
3. Body Bronzer
This spray application is the next best thing to flying out to Miami for a golden hue. It offers even coverage and is made with 100 percent natural ingredients.
4. Urban Island Escape Body Treatment
This treatment begins with a honey and coconut oil body mask, followed by a sugar scrub and a massage. It's the perfect remedy to naturally tighten skin, buff away dry skin cells and leave the skin feeling hydrated.
5. Body Slimming Series
Prepare for the holidays  with this body slimming service. The treatment reduces water retention and cellulite through a three-series procedure including wrapping, kneading and rolling where toxins are drained.
6. Milk, Haute Honey and Rooftop Herb Manicure and Pedicure
This manicure and pedicure uses honey sourced from the hotel's beehives on the 20th floor, along with a lemon sugar scrub to exfoliate the skin and a hot towel wrap to finish.
7. Abeille Royale Youth Facial Treatment
This facial helps improve skin's firmness and tone. The skin's elasticity is also improved through the use of Royale Jelly Concentrate and a firmness boosting oil.
8. Micro-Current Lift/Tone Treatment
This enhancement to any facial uses LED light technology to re-energize skin cells, leaving skin radiant.
9. The Waldorf Touch
Achieve glowing skin and relaxation with a Swedish massage. The technique will detoxify your body and improve circulation.
10. Orchidée Impériale Cure Facial
This anti-aging facial is aimed to speed up the natural renewal cycle of skin. The product used in this treatment includes the ingredient Gold Orchid, an orchid rich in flavonoids (plant pigments), which leaves the skin revitalized.
PS Don't rush out post-treatment. Guerlain Spa offers clients complimentary makeup refresh, shoeshine and suit steaming. Now that's a productive day!