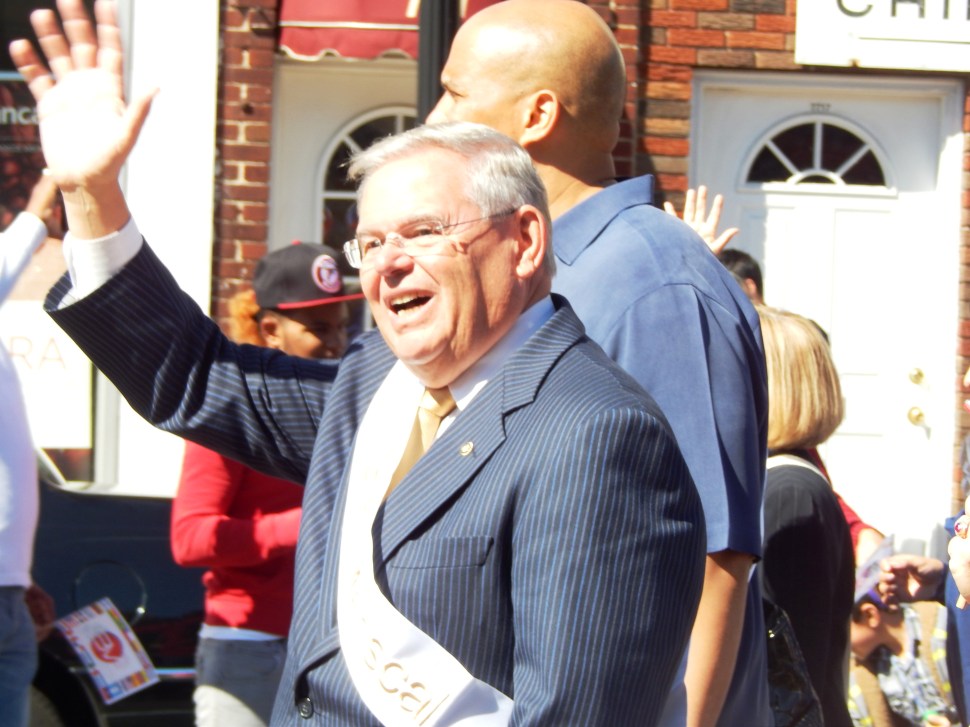 Bob Menendez's Senate Foreign Relations Committee chairmanship wobbles in the face of a possible GOP takeover of the U.S. Senate, but the senator is not "pacing the floorboards" with angst over losing the power position he's held since 2013, according to a source close to him.
Indeed, as Larry Sabato's Crystal Ball anticipates a net gain of between 5-8 Republican seats to swing control from 53-45 advantage Democrat to 49-47 Republican, and the Princeton Election Consortium foresees a similar 51-49 advantage GOP outcome, Team Menendez's most visible fundraising has been for a pair of gubernatorial – not senate – candidates – in Texas and Wisconsin.
That may be because Menendez's political endgame does not hinge on retaining the chairmanship in the Obama era.
The senator's play has an overlap factor that takes him along the same path as John Kerry – from foreign relations to secretary of state – only not with this president.
The U.S. Senator from Hudson County has a longstanding alliance with Hillary Clinton, which even still has some Hudson pols grinding their teeth over what might have been. "The deal was made in 2008," said one of them. "Had she won and become president, we're reading about Menendez trotting the globe rather than Kerry."
Now the same players are amping up ahead of the next presidential contest and Clinton is the favorite to win the Democratic Party nomination.
If she becomes the next president – and in particular if she lands the job by relying on Menendez fully engaged on her behalf in the 2016 general election with an intimate and aggressive urgency if Gov. Chris Christie is the GOP nominee for president – Menendez resumes at least his original position as a short list candidate for secretary of state.
There are others in that mix, to be sure.
We have written about them here.
But Menendez and his allies see a specific opportunity in a Clinton Administration.
As Menendez fundraises for Democratic gubernatorial candidates in Wisconsin and Texas, he remains publicly upbeat about the possibility of his party maintaining control of the upper federal house.
In private meetings with other politicians and allies, he voices the same belief that Democrats can retain the majority in the Senate, even as one source close to the Senator said that his assessment of U.S. Senate politics right now contains no Pollyannaish entrenchments.
He was quoting the Princeton Election Consortium a month ago, which now sees it the same way Sabato does: a bad year in the U.S. Senate for his party – bad enough to lose the majority.
"The map is terrible for Democrats," explained Kyle Kondik, managing editor for Larry Sabato's Crystal Ball. "They're looking to compete in seven states that Mitt Romney won, including South Dakota, Arkansas, Louisiana and Alaska."
Ultimately there appears to be no real agony on Menendez's part, and there's a reason why he's not furtively chewing his fingernails in public at the prospect of getting bounced out of his foreign relations chairmanship, sources say.
Juggling the demands of the waning years of Obamaworld as chairman of Senate Foreign Relations – serving as go-between for a lame duck administration – may not be as politically advantageous as using his role as ranking member to better define his own cred for the secretary of state job, one source said.
"He's got the resume now," said one source.
Although an ally of the president, he has his political differences with Obama – and we have documented them exhaustively in the past. No need to repeat them.
But fundamentally on policy he differs with the president on the Middle East, specifically Israel.
Maybe it's because of his Cuban heritage, a source close to the senator speculated, but the senator has a hard line view illustrated by his belief that one does not shake the hand of Raul Castro, for example.
"Menendez has always conducted his foreign policy similarly to the way he conducts his New Jersey politics," said the source. "When you make a threat, the other person can't cross this line. If people then cross the line, there's hell to pay.
"Bob equates the Israelis' plight to that of the Cubans," the source added. "Greeks love Bob for the same reason. In a sense, Menendez on foreign policy is closer to John McCain than Obama."
In any event, policy nuances aside, Kondik speculated that Menendez may not be much in demand on the trail.
"Elizabeth Warren is someone who gets a lot of calls, to be sure," Sabato said. "Menendez doesn't strike me as someone who would be getting those calls. It sounds like whatever political attention this year he's paying doesn't have a whole lot to do with whether Democrats control the senate or not. I mean, Wisconsin and Texas?"
To those longstanding allies in Hudson, the endgame stands forth when they see the boss on the trail.
"In Washington, D.C. circles, they've already ascertained that Bob is intellectually and politically superior to Kerry," one source said proudly before conceding that Hudson has a double edge for the county's most powerful political figure.
"The only thing holding Bob back is Hudson county baggage," the source added. "I swear, he can be roaming Syria under a heavy military escort, banned from Russia, and he'll be pondering his relationship with Bruce Walter. Talk about Tip O'Neill, holy s*t – all politics is local."
But in the words of one source, the Hudson connective tissue isn't a hindrance, but a weapon; the basis, in fact, for much of the senator's cold-eyed view of the conduct of foreign policy compared to the president, and exactly the linkage he needs to get to secretary of state.