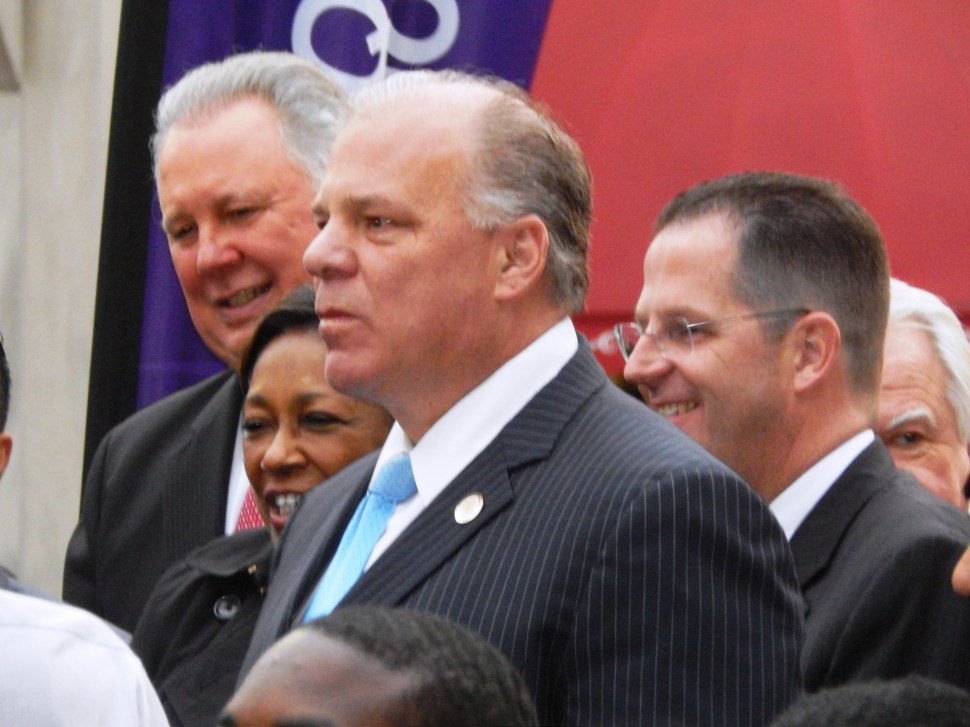 We're down to almost two weeks remaining before the secular version of Judgment Day.
PolitickerNJ has taken a moment to isolate just some (with more to come) of the contests on Nov. 4th and their implications for the primary players of state – and national – politics.
As this cycle intensifies, PolitickerNJ reporters will continue to be in all theaters of political combat to bring you all the latest developments…
National Governor's Races
Gov. Chris Christie versus the GOP Primary field
Having led the Republican Governors Association's (RGA) to a $90 million cash haul, the governor has chosen governor's contests to make a statement ahead of the announcement of his 2016 presidential candidacy.
This is razor-thin right now.
There are currently 29 Republican governors and 21 Democrats.
If Republicans can net one (which is the prediction at this moment of Larry Sabato's Crystal Ball), that's a clear win for Christie.
If the GOP loses a governor's mansion on his watch without picking one up to offset it, his adversaries will have a case to make against him.
U.S. Senate
U.S. Sen. Cory Booker (D-NJ) v. Republican challenger Jeff Bell
It's really more like Bell versus (Steve) Lonegan. If Bell – who lacked the resources and name ID of his 2013 Republican counterpart – does better than 11 points, that's an embarrassment of sorts for the incumbent U.S. Senator. He should be able to blow away the likeable but financially hapless Bell. Look for a major GOTV effort in the closing days of this campaign by Booker to ensure a comfortable double digit victory.
Bob Menendez v. Bob Corker (the ranking Republican on the Senate Foreign Relations Committee)
Senate Democrats face the possibility of losing their majority, which means they'll hit the eject button on the New Jersey senior senator's chairmanship of the Senate Foreign Relations Committee. Menendez is out in Colorado today trying to boost the flagging fortunes of incumbent U.S. Sen. Mark Udall (D-CO) as Dems (currently in charge 53-45) try to preserve a majority against the odds. Hudson County sources are already in spin mode (it doesn't matter if the boss loses the chairmanship, he'll be the committee's ranking Democrat; serving in the hot seat with an unpopular President Barack Obama lame-ducking his way to the finish line is problematic anyway, etc.). In any event, in a sense, Booker's not the only New Jersey senator on the ballot come Nov. 4th.
CD5
U.S. Rep. Scott Garrett (R-5) versus Democratic challenger Roy Cho
PolitickerNJ reporter Chase Brush will have a more extensive piece detailing the transfer of statewide political interest from CD3 to CD5, as Bergen-based Democratic challenger Cho continues to expose the weaknesses of Sussex County's Garrett. Despite his strong efforts, Cho still faces a very tough challenge. Garrett has $3 million plus in the bank, compared to the Democrat's $300,666. The district's changed post 2011 redistricting – the addition of Hackensack makes it more competitive for a Democrat, and Cho has gained traction by highlighting Garrett's initial resistance to federal Hurricane Sandy relief funds. But Garrett's still the incumbent in a year in which the GOP in general appears to have the upper-hand.
CD2
U.S. Rep. Frank LoBiondo (R-2) versus Democrat Bill Hughes, Jr.
This is about the future in a conservative district shaded slightly D on paper if you're just looking at the registered voters (114,700 Democrats to 108,700 Republicans). If incumbent LoBiondo ($1.5 million cash-on-hand) flattens challenger Hughes ($133,000 COH) on Election Day (and a Monmouth University poll this week anticipates precisely that outcome), the real winner will be the ever coy state Sen. Jeff Van Drew (D-1). Van Drew's played footsy with that congressional seat for years. Short of Hughes getting within striking distance of LoBo on Nov. 4th, Van Drew's the favorite to succeed the sitting Republican congressman based on name ID and a very strong record of electoral success.
CD3
Republican Tom MacArthur versus Democrat Aimee Belgard, for a seat being vacated by retiring U.S. Rep. Jon Runyan (R-3)
It's Burlington (on paper, 82,000 to 61,000 registered Democratic advantage over Republicans) versus Ocean (54,000 to 39,000 registered GOP advantage over Democrats) counties. If Ocean's depressed on Election Day and a competitive freeholder race and competitive Mount Laurel contest simultaneously spur voters to the polls in Burlington, Democrat Belgard could spring an upset on Republican MacArthur. MacArthur is hardly the ideal candidate. The former mayor of Randolph (Morris County), he only recently moved to the district, which gives Belgard ammunition. But it's a very long-shot for the challenger in a district that got more Republican post 2011 redistricting with the removal Cherry Hill and addition of Brick. Remember, the late John Adler squeaked out a Dem win in 2008 at the height of the Obama Revolution. Now Belgard faces the unhappy task of propping up the tail end of the era. Tough.
CD1
State Sen. Donald Norcross (D-1) versus Republican Gary Cobb
South Jersey Democrats are making this the marquee race of the season, denying Hughes and Belgard their attention and concern to make sure the younger brother of GN3 gets the requisite power boost to land in office with goodwill and grace. If Cobb ($11,106 in the bank, compared to $130,000 for Norcross, according to the Federal Election Commission; 177,000 registered Democrats to 63,147 registered Republicans) cuts this close, that's an embarrassment at the heart of an organization that must continue to show ground game strength to back up state legislative power wielded by New Jersey's largest regional majority – and closed-ranks solidity ahead of Guv 2017.
Bergen County Executive's Race
Bergen County Executive Kathe Donovan versus Democratic challenger James Tedesco, Bergen County freeholder and former mayor of Paramus
On paper: 158,000 registered Democrats versus 104,000 Republicans form the core of New Jersey's ultimate swing county, which is still trying to find itself after the loss of a powerful county chairman in Joe Ferriero, and the loss of a congressman from the county. In his most aggressive attack ad to date, Tedesco asserted that Donovan has maintained an extravagant lifestyle on the public dime, while Donovan argues that Tedesco would be a retread of the Ferriero era, complete with connections to jailed town attorney Dennis J. Oury. With Gov. Christie mostly setting his sights on national politics, powerful Ocean County GOP Chairman George Gilmore is all-in with Donovan, while pockets of Democratic support for Tedesco do not give the impression of overwhelming force exerted by his party on his behalf. There are labor bragging rights in play here, too, as the Laborers back Donovan while the Carpenters support Tedesco. The Bergen Freeholder's Race features two incumbent Democrats (Joan Voss and David Ganz) attempting to withstand Republicans (Bernadette Coghlan-Walsh and Robert Avery).
Burlington County Freeholder's Race
Republicans Bruce Garganio (incumbent Freeholder) and Mary Ann O'Brien (former freeholder) versus Democrats Tom Pullion (mayor of Edgewater Park) and Mike Schmidt (Evesham councilman)
This is an interesting race in a county where Republicans struggle when strong performers top the ticket. Is Booker that person? Pullion and Schmidt think so. Similarly convinced of an opportunity is Jersey City Mayor Steven Fulop, a potential 2017 candidate for governor who has quietly picked Burlington to make a statewide statement. While Fulop has fundraised for the Democrats here, most of South Jersey is not engaged on their behalf, as the primary engines of GOTV operations focus on the election of Norcross at ground zero. Dems when one seat and can take control of the freeholder board.
Monmouth County's Freeholder's Race
Incumbent Republican Freeholders Lillian Burry and Gary Rich versus Democratic challengers Asbury Park businessman Giuseppe Grillo and Holmdel attorney Lawrence Luttrell
This is a war between two county chairs – Republican Shaun Golden and Democrat Vin Gopal – both of whom are relatively new. The edge belongs to Monmouth County Republican Chairman Golden (who also serves as county sheriff), with something to prove in his first test since wresting the chairmanship from John Bennett. For his part, the politically adept Gopal has used his connections statewide to bring more resources to his candidates than have been available to Democrats in the past. That strategy has enabled Republicans to offer the argument that they don't want Essex County running Monmouth. Gopal's allies point out that on paper, Democrats nip the GOP in terms of raw registration (93,400 to 91,503), but the Republican-run county votes (big surprise coming up) Republican.
Somerset County Freeholder's Race
Republicans Brian Levine (mayor of Franklin Twp.) and Peter Palmer (incumbent freeholder) versus Democrats Anthony "Tony" Pranzatelli (former Bound Brook councilman) and Bridgewater information technology manager Joan Pritchard
As in Monmouth County, there are few political animals as willing as Somerset County Democratic Chairman Peg Schaffer. Republicans call her the most organized and energized of the chairs who have challenged power in the Republican-controlled county. But Republican Party Chairman Al Gaburo has the numbers advantage and a formula that Schaffer has yet to crack. In the words of one Democratic insider, "We need a freeholder." Will this be that year? Schaffer hopes that the Booker-Bell mismatch helps. But Gaburo is convinced his ticket's secret weapon is Levine, a moderate Republican who routinely carries Democratic Franklin Twp.
Other races to watch:
Cumberland Clerk's Race
Veteran Republican Gloria Noto is hoping to withstand the challenge of Assemblywoman Celeste Roey (D-3). If Riley wins, potential 2017 gubernatorial candidate Steve Sweeney (currently Senate President) can notch a victory.
Hudson County Freeholder "Race"
It's not a race, of course, in heavily Democratic Hudson County, but the presence of Anthony Vainieri on the freeholder slate (the brother of Assemblywoman Valerie Vainieri Huttle) has some insiders already muttering "future North Bergen mayor" whenever powerful state Sen. Nick Sacco (D-32) rides intot he sunset. Keep an eye on Vainieri.
West Orange Mayor's Race
Mayor Robert Parisi wants to withstand a challenge by former Orange Mayor Eldridge Hawkins, Jr. (a fellow Democrat) and independent Councilman Joe Krakoviak. Will Hawkins saw into Parisi's Democratic base and propel Krakoviak, or will Hawkins (raised in Llewellyn Park), pilfer some home base votes from Krakoviak's base? It's unknown territory for these candidates, who won't be bracketed on the ballot with the formalized Democratic/Republican party lines that define general election politics.
Elizabeth Board of Ed Race
State Sen. Ray Lesniak (D-20) and his allies are trying to dismantle the political base of operations led by Rafael Fajardo that put Lesniak on shaky legs in 2011. The veteran senator held on through that fight, then took the fight to Fajardo in 2013 – and now seeks revenge by tearing at the very roots of the district-wide operation, which suffered losses last year not only when Donna Obey lost her primary to Lesniuak, but when Joe Menza failed to secure re-election in the Hillside general.
Englewood Cliffs Council Race
The League of Conservation Voters has a PAC and are putting resources into this local race to defeat incumbent Democratic Councilwoman Gloria Oh, whom they deem too development-friendly.
Linden Mayor's Race
The local Democratic Party doesn't look to anxious to get rid of incumbent independent Mayor Richar Gerbounka. They went the Derek Armstead route once already and both parties left dissatisfied.withstanding the mechanical inconvenience of a shared line on the ballot, the establishment would rather deal with Gerbounka than have a rogue mayor on its hands.
West New York School Board Election
Once deemed jail bound by his enemies, an exonerated Mayor Felix Roque wants to turn victories in the Nov. 4th school board races to his advantage as he heads toward a 2015 destiny with his former friend turned challenger Commissioner Count Wiley.
Perth Amboy
Partnered with state Sen. Joe Vitale (D-19), Mayor Wilda Diaz wants to maintain control of the council by defeating the staggering vestiges of a 2013 uprising.
Others to watch:
District 4 Essex County Freeholders Race
Paramus Mayor's Race
South Plainfield
Republicans want a win here after a disgraced Democratic candidate slunk away.
East Brunswick
Readington