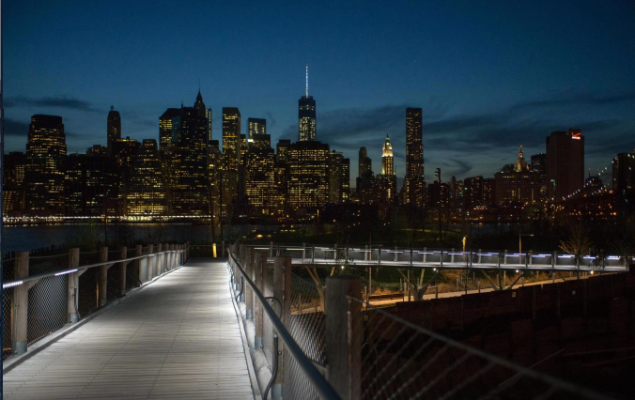 The 450-foot-long pedestrian bridge stretching from Brooklyn Heights to Brooklyn Bridge Park closed on August 11 for repairs, but on October 3 officials announced that Squibb Park Bridge will remain closed until spring.
The New York Times reports that the barely two-year-old wooden structure, which cost $5 million, was purposefully designed to bounce lightly with the footsteps of visitors–reminiscent of trail bridges–but over time the movement has become more conspicuous. The increased bouncing is a safety concern for pedestrians walking 50 feet over the park.
Regina Myer, president of Brooklyn Bridge Park Corporation said, "We need to fully understand the bridge and we want the public to know that we are really erring on the side of caution." Engineers will continue to study the movement as they try to discover the source of the increased bouncing.
Belinda Cape, Vice President of Strategic Partnerships for the Brooklyn Bridge Park, told the Observer, "Our team of civil engineers and infrastructure specialists have been performing an ongoing investigation–including the installation of tilt meters and accelerometers, which will monitor movement–to diagnose and solve the problem."
Since Squibb Park Bridge, made of locust timber, bronze and galvanized steel, opened in early 2013, it has been monitored and maintained by workers who adjust the tension cables. According to the Times, the staff noticed and reported that the bridge bounced too much and even moved from side to side in August. One explanation offered for its extra movement is that the construction of Pierhouse, or what the Times calls "a mixed-use development that is rising on an adjacent parcel", might be affecting the bridge's stability.
The engineers working on solving this problem include Squibb Park Bridge designer, Ted Zoli. Ms. Myer said officials are standing by the bridge, claiming that it is not flawed and that they are "thoroughly committed to the design."