Yesterday was Kim Kardashian's 34th birthday. The day before, perhaps as an early gift, Radar Online released emails detailing the star's demands when she makes an appearance or endorses a product.
This got us thinking: Kim has endorsed quite a few products and brands in her day, and that's not even counting her various appearances ($50,000 to help open Topshop LA; $300,000 to celebrate New Year's Eve at 1Oak).
Since her career began in around 2009, Kim has amassed quite a diverse résumé. Here, we've assembled 23 clear-cut instances when Kim lent her image and name to products.
1. Kardashian GLAM Silly Bandz
Available for the low price of $4.99 plus shipping and handling. The "lips" look like a dying uterus. The word "glam" looks like a rabbit that got hit by a black Lincoln Navigator with tinted windows full of cackling Calabasas sisters flinging hundred-dollar bills at each other.
2. Tria at-home laser hair removal system
Those gazillion-dollar armpits don't depilate themselves. To hear Kim tell it, she uses Tria to smooth-ify her entire body. Tria competitor Radiant thinks otherwise, though, and they took legal action to prove it. Of the allegations, TMZ reported: "Kim claims she uses TRIA over her entire body, but Radiant maintains even Tria says it's not safe for the face, head, ears, neck, nipples, genitals or anus." Glam!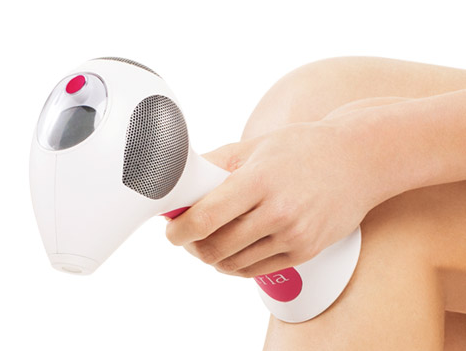 3. Skechers Shape-Ups
Yet another of Kim's endorsement deals that ended in a lawsuit, Skechers Shape-Ups always seemed too good to be true. A pair of fugly sneakers that let you achieve a Kim K butt just by shuffling around the mall like you normally do? Yeah, not likely.
[youtube https://www.youtube.com/watch?v=qYZ8SDa48DM&w=560&h=315]
4. Kardashian "Couture" lollipops
The Sugar Factory's $25 Kardashian-endorsed lollipops have gone the way of Kris Humphries. But there was a time when you could buy Kim lollipops, and our girl dutifully lugged her own $1 million diamond-encrusted lollipop to several red carpets to shill the treats.
5. Fusion Beauty
This is an endorsement that both fits with Kim's personal brand and won't embarrass her in years to come. Way to go, Kim! Also, bet you won't be able to look away from this video of Kim talking about her beauty routine at a Fusion event. It is oddly hypnotic despite its terrible quality.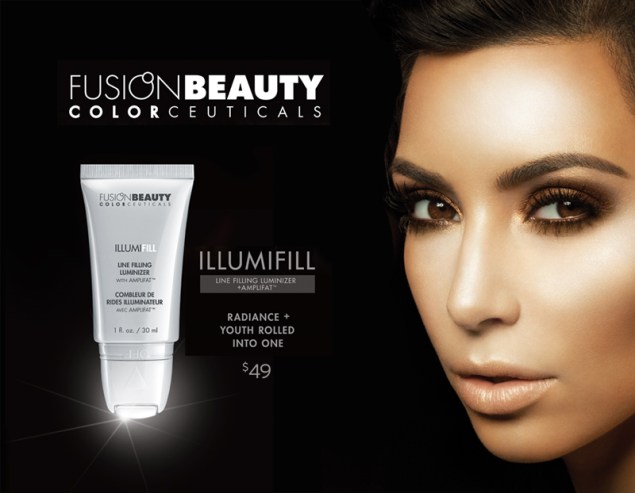 6. The Kardashian Kard
Now, here is a product that fits Kim's personal brand but ended in a PR disaster. Kim and her sisters, Khloé and Kourtney, released the Kardashian MasterCard as a way of… dipping their toes into the financial sector? Profiting from America's credit industrial complex? Suckering teenagers into credit debt? I don't know. It was pretty out-of-left-field.
As someone's grandpa over at Time put it, "The idea of taking any hint of financial advice from Kim Kardashian, a woman who has been confronted by her family about being a shopping addict, sounds like the makings of a 'Saturday Night Live' skit."
Fees for the card were over $100 per year and the public complained/LOLed about the situation so much that the Kardashians decided to pull the plug. This resulted in, surprise!, another lawsuit.
7. OPI nail polish line
This was another three-way deal for the Kardashian triumvirate of Kim, Kourtney and Khloé. This time, according to TMZ, Kim rallied for her sisters to receive the same pay as her. What a martyr — no lesser Kardashian sibling left behind. Except Rob.
8. QuickTrim diet pills
Kim was sued once more for allegedly making misleading claims about the diet pills' effectiveness. This actually gives us hope for our legal system. You'd think that buying diet pills endorsed by reality stars would place you outside the protection of normal laws. But apparently, people who shop in GMC's diet aisle are subject to the same trade protections as the rest of us. What a fair and wondrous nation in which we live.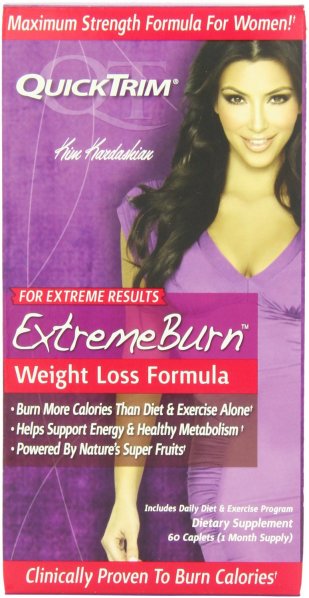 9. Midori liqueur
This was one of Kim's most successful deals (no lawsuits appear to have materialized because of it), despite the fact that she says she doesn't drink. She had to step down from her post as the face of Midori when she became pregnant.
10. Kim Kardashian: Hollywood
Yes, we're counting this as an endorsement deal, not her own project. Contrary to popular belief, a near-identical version of Kim Kardashian: Hollywood languished in the App Store completely unnoticed until Kim lent her name and likeness to the app and started to earn untold sums of cash from it.
Kim's version was basically the only thing anyone could talk about when it launched. It made such an impact that ur-tech-journalist Kara Swisher is interviewing Kim about it at code/mobile tech conference in California later this month.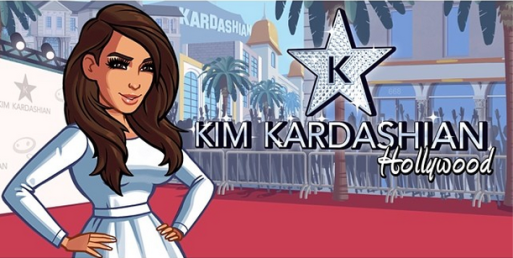 11. The Kardashian Kollection at Sears
One of the Kardashians' oldest deals, this is the perfect clothing line for someone who wants to look like a real-life version of their Kim Kardashian: Hollywood avatar. How often do you think people stopped Kim at Paris Fashion Week to ask her how the design career's coming along?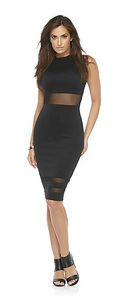 12. Shoedazzle.com 
Kim cofounded this startup, which appears to just be a website where you buy cheap shoes. It sold in 2013.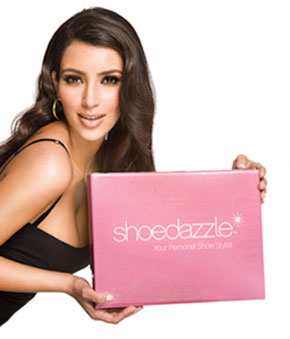 13. Belle Noel by Kim Kardashian
Kim has her own jewelry line? It's called Belle Noel but it doesn't appear to be Christmas-themed. Whatever.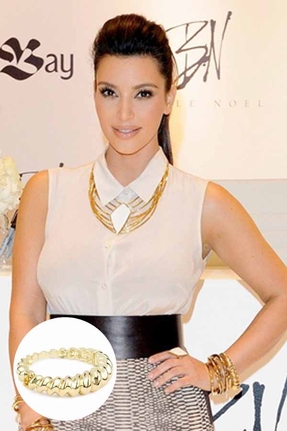 14. A Carl's Jr. SALAD COMMERCIAL
I mean, come on. If you're going to sexily gnaw on disgusting food, why would you not put it in your contract that you refuse to work with salad, the most boring food on the planet? And salad from Carl's Jr., no less, which doesn't even have any health benefits to fall back on?
Awkward move, Kim, hope you got paid a lot. Also, hope your check came not in the form of money, but a dump truck of actual food, like cheeseburgers.
This commercial is great if you like chewing noises and the suggestion of sticky vinaigrette.
[youtube https://www.youtube.com/watch?v=DzmFrcuwuuo&w=560&h=315]
15. Beach Bunny swimwear
Kim apparently pulled some looks from the Spirits Halloween costume store for this bathing suit endorsement.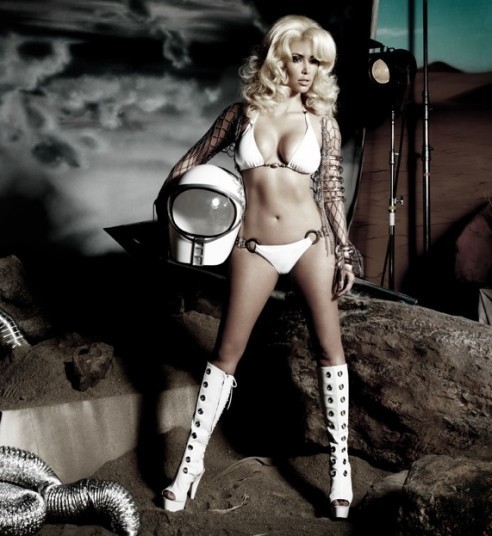 16. Charmin public restrooms
"With my recent transition to New York, I've been checking out all the gifts the City has to offer visitors and New Yorkers alike," Kim said in a press release. "During the holiday shopping season, I'm happy to join Charmin as they give the gift of the Restrooms near Times Square."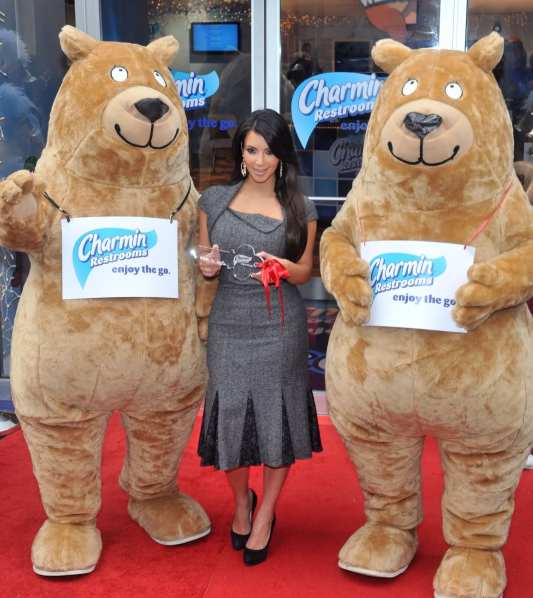 17. A line of watches
I mean, sure, whatever.
18. Her fragrances
Perhaps as part of her ongoing performance-art-shrine to Elizabeth Taylor, Kim has her own self-titled line of perfume. She also considered buying Taylor's house, but decided it "wasn't realistic" because the garage would only fit one car.
19. Sunless tanner
For that retro 2003 sheen.
20. Bravada International sportswear (huh?)
[youtube https://www.youtube.com/watch?v=dP_aBoO0ulQ?list=PLFA009C8D6CBE73DB&w=560&h=315]
21. Something called PerfectSkin
It comes in three varieties, I guess.
22. For Every Body candles
Another girly flyover brand we have never heard of. The deal included a line of merchandise for the sisters' DASH stores.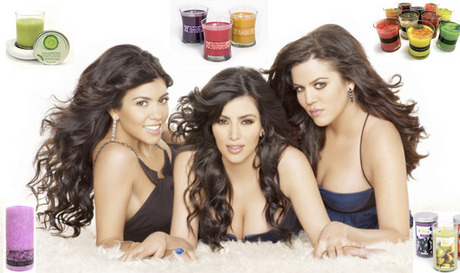 23. DASH itself
The sisters' store, which opened its first location in Calabasas, was really Kourtney and Khloé's thing before Kim threw her weight behind it as part of their reality show's full-court PR press. Kim may be part-owner on paper, but she's also one of the store's spokesmodels.