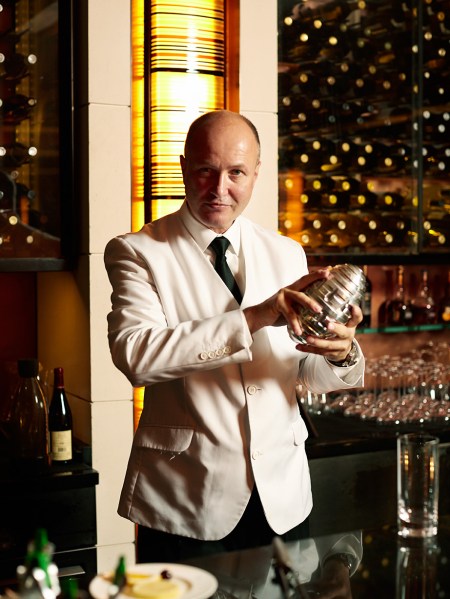 "Bartending is fun," said Colin Field, the best bartender in the world. He was standing slinging cocktails at The Mark, the Upper East Side hotel where he had a short residency while on break from his usual job, the job that earned him the title that many before me have bestowed upon him—Mr. Field is the head bartender at the Hemingway Bar, that venerated chapel of cocktail dens, inside the Hôtel Ritz in Paris, the luxury hotel that invented the luxury hotel.
But the Ritz has been closed for a few years while undergoing a massive restoration, and so the unmoored Brit in Paris has spent the time jetting around the world doing residencies at various exotic ports of call, mixing martinis and margaritas in Hawaii and Tuscany for baronesses and bons vivants and Bruce Willis, throwing his close friend Kate Moss wild all-night birthday parties, or turning his house in Paris into a de facto Bar Hemingway, with all the regulars coming by.
"The head bartender of the Ritz is this mythical, magical figure," he said while whipping up the first of my many cocktails.
The mythical figure comes to life rather vividly when he's the length of three rocks glasses away. In a white dinner jacket always, he bounds about, ripping his arms in the air while throttling to and fro his massive warhead of a metal shaker—the most expensive cocktail shaker on earth, says its owner, and who's to doubt that? He's wildly erudite, as a good barkeep should be, launching into soliloquys on booze and bullfighting and boar hunting and books and botany, all in that clipped British lilt. A hit with the ladies, too—at one point he swung around to my side of the bar and within seconds had me in conversation with an attractive girl, like a bloke's perfect wingman.
"Last night, my God, the bar was just full of the most beautiful women," he said, eyes darting this way and that. "I took out one of these cards"—the little placards at each bar seat that said "Reserved" in calligraphy—"and I wrote, 'Will you marry me?' "
Did she say yes? Colin Field, the LeBron James of liquor, the Matisse of martinis, the Yves Saint Laurent of gimlets, well, he gave me a look that said, "What do you think?"
The first drink was the Serendipity, his specialty, a marvelously smooth blend of Calvados Pay's d'Auge, mint and Champagne.
"It's like France in a drink," he said, perhaps slightly wistful for his adopted homeland.
This went down quickly, and next up was The Mark Cocktail, which remains on the menu after his stay ended last Saturday night. It's got tequila añejo, fresh cucumber juice, and as a garnish a sliver of apple studded with chunky, flavorful Lebanese sea salt. To make it, he held the most expensive cocktail shaker on earth to his ear while sloshing the contents inside up and down, gingerly, his ear held close to the metal, listening to the way the ice and liquid moved, getting the rhythms right.
Again this went quite quickly. Next up? A French 75.
"It was created in Paris in 1915, named after a 75 millimeter field artillery piece," he said while the last glug of champagne floated onto the gin and lemon juice. A cocktail named for a gun would be appropriate back at the classic bar he rules over, where rifles line the walls and the bounty of hunters is mounted all over and military men get a free drink if they come in uniform. The bar's namesake would clearly approve.
"Everything at the Bar Hemingway is actually at my house, the buffalo trophies, the guns, the fishing rods, the flies," he said. "So people come into town from New York or Texas or wherever, and they call me up and say, 'Colin, the Hemingway's closed!' and so I just tell them to come over for lunch and they see the bar in the house. My birthday, I celebrated it twice, and it was just all regulars. Nobody refuses the invitation because I get a couple of good-looking belly dancers, people high up in the fashion world, writers. I make a nice little ensemble."
It seemed perfectly reasonable to order a dry martini as a third (fourth?) cocktail, and as crafted by Mr. Field its crisp sting bested any I had ever sipped. It was actually dry enough—just sub-zero cold gin and a drop of Italian olive oil, no vermouth whatsoever. "I always like making a dry martini for writers, because that's what a writer should drink, a dry martini," he said.
Soon this, too, was downed, and I had the dubious idea to at this point hop over the bar myself and start pouring drinks with Mr. Field, the best bartender in the world.
"Well, come on over!" he exclaimed. "How about we make a French 75?"
And then I was behind the bar, a crowd watching me drop the sugar into the highball glass and mix in the lemon juice as Mr. Field gave instructions in that mellifluous accent.
"Don't let it touch the glass, be supple, mix it like you're whipping up a Béarnaise, feel it, feel it, feel it, you're going to feel when it's at the right density. All right, all right, and now we do the gin, oh God, more! More gin! Then we ice it, ice the top, now the champagne—just two fingers holding the bottle, you think it's going to leave your hand but trust yourself, slowly, slowly, play with it, then fill it up, you make it a thread, all right, now, half slice of orange, really put it in—uhhhhhh-ahhh! don't let it fall!—and then the lemon, and there you have it! Very good, very good."