"Bang, Zoom!" Straight to Broadway? Although it ended fifty-eight years ago, reruns of the classic episodes of the The Honeymooners have never been off the air. Now a musical based on the Kramdens and Nortons is in the works and could be on its way to the Great (Black &) White Way.
Four-time Emmy winner for The Simpsons Hank Azaria is to play Ed Norton and Smash's sexy Megan Hilty is to be his wife Trixie in a workshop in November organized by Goodspeed Musicals and Jeffery Finn Productions. In the main roles, the heavy lifting is being done by Broadway veterans Tony-winner Michael McGrath as Ralph Kramden and Drama Desk nominee for A Catered Affair Leslie Kritzer as the long-suffering, sharp-tongued Alice.
All we know for sure at this point is that the plot has Brooklyn bus driver Ralph and sewer worker Ed winning a jingle contest and trying to make it as Madison Avenue advertising bigwigs (Sterling, Cooper& Kramden?) which has them at each other's throats, naturally. If the workshop is "the greatest", the show will likely be mounted by Goodspeed at its theatre on the Connecticut River next fall. Over the years, Goodspeed has brought 21 of its shows to New York, including Annie.
For good or ill, it's a TV writing team behind the project: Tony Award-winner John Rando will direct a book by TV writer/producers Dusty Kay (Entourage, Roseanne) & Bill Nuss (NCIS, 21 Jump Street), with music by Stephen Weiner and lyrics by Peter Mills and choreography by Emmy Award-winner Joshua Bergasse. They're all hoping that the newly married Ralph and Alice and their upstairs neighbors are still fresh in the memories of generations of viewers, but a West Coast version of the show was already postponed.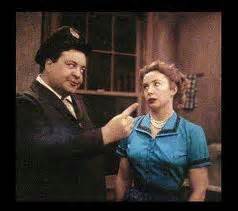 All morning we've been speculating about possible big musical numbers in the show, like: "Hamana-hamana-hamana Katata," "There's No Business Like Driving a Bus," "Oh, What a Beautiful Brooklyn!" and "People, People Who Need Sewers."
No word on how — or if — the team will update the politically incorrect material, which has the belligerent Ralph consistently (if always fictionally) threatening his beloved wife with a punch: "pow! right in the kisser."