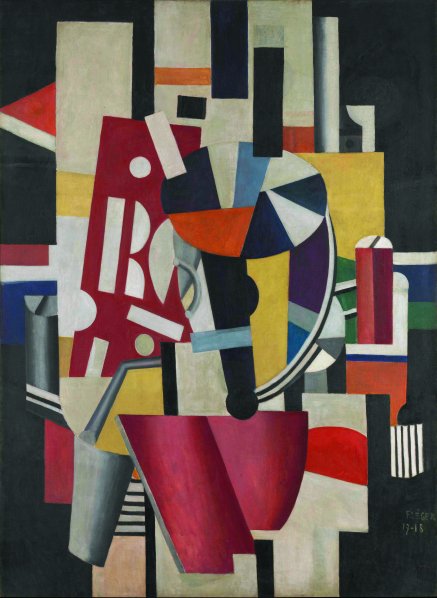 Cubism shattered the conventions of virtually all art that came before it. Rebelling against the forms of Romanticism, Realism and Symbolism and rejecting the empty sentimentality of late 19th century art, this revolutionary movement, led by Picasso and Braque and launched in 1908, sought to reinvent the way everyday reality is perceived.
The core movement lasted barely 10 years, but its impact is still felt today. Coinciding with upheavals in physics, exemplified by Einstein's explorations of the theory of relativity, first published in 1905, Cubism proposed a new way to express the dynamic relationship of space, time and matter. But it was hardly a dry, erudite exercise. Full of humor, puns and inside jokes, the Cubists invented a lively new visual language with which to convey the world around them and to communicate with each other.
The Metropolitan Museum of Art recently unveiled its newest treasures, a promised gift of 81 Cubist masterpieces assembled over decades by Leonard A. Lauder, collector and Estée Lauder cosmetics company chairman emeritus and former CEO. Valued at well over $1 billion, the collection features top-notch paintings and works on paper, plus sculptures, created in the early years of the 20th century, by the four principal Cubist pioneers: Pablo Picasso, Georges Braque, Juan Gris and Fernand Léger.
On view through February 16, 2015, the show is a must-see not only as it illuminates the advent of Modernism in a clear, concise way, but also because it reveals how art can change the course of thinking—about a wide range of intellectual endeavors—and transcend the typically insular concerns of the art world itself.   
"Cubism: The Leonard A. Lauder Collection" begins with Braque's gorgeous painting The Terrace at the Hôtel Mistral (1907), which shows three stylized trees at the center of a dense, verdant garden. It is a transitional work for Braque, as he turned away from his more colorful Fauvist paintings and the influence of Matisse, in favor of the compartmentalized geometry in the work of Cézanne, who had died the previous year.
Hanging right next to this work is the famous Braque's Trees at L'Estaque (1908), which historians regard as the first Cubist work. Here, the trees appear significantly more abstract, as the painting's structural elements of cubes, cones and spheres in the composition predominate over the landscape imagery.
Picasso began to work closely with Braque the following year. He brought to the Cubist equation his passion for African art and sought to appropriate from it the evocative power of its abstracted human figures. Together, the two artists created what became known as Analytic Cubism, which is fundamentally an analysis of the spatial and structural components unique to each of the painters' subjects.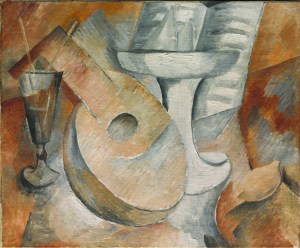 The next gallery contains a breathtaking group of Picasso works, the earliest of which correspond to his iconic painting Les Demoiselles d'Avignon (1907), in the Museum of Modern Art's collection. In his Analytic Cubist portraits, such as the arresting Woman with a Book (1932), he certainly taps into art's potent, not to say primitive, raw energy.
Contemporaries of Picasso and Braque, artists Juan Gris and Fernand Léger refined the Cubist method. They led the way to a visual language of Abstraction that has dominated art production to this day. In the show, a gallery is devoted to works by each of these artists.
Gris is represented by a number of papiers collé, which shows how he often used collage in the years just before World War I, as a means to convey subtle socio-political commentary or private musing. His large, resplendent canvas, Still Life with Checked Tablecloth (1915), demonstrates his endeavor to bring Cubism to a new level of polish and perfection. His works could rival any past forms of painting in terms of technical prowess, and Gris eventually influenced subsequent generations of artists working in the Cubist style.
Similarly prescient, Léger's monumental Composition (The Typographer), 1918-1919, takes the Cubist method to a basically Abstract realm. This work, with its bold super-graphic shapes and fragments of text looks as if it could have been painted last week.
Mr. Lauder assembled this extraordinary trove with the help of curator, scholar and Hunter College professor Emily Braun, who organized the present exhibition in collaboration with art historian and curator Rebecca Rabinow. But it is triumphantly his own—the exhibition even begins with a quite personal photograph of some of the works displayed in the collector's living room.
Accompanying the exhibition is a lively yet scholarly catalogue that traces the Cubist movement in depth. Included in the book is an interview with Mr. Lauder by Ms. Braun. He discusses the evolution of the collection and the story of how he acquired so many rare and art-historically important works—an effort that required more than just piles of money.
To the press gathered at the exhibition's opening, Mr. Lauder remarked that he sought to "acquire works that would be curator-proof. By that, I mean works of such high quality and importance that curators would find it difficult to remove them from the museum's walls."
Now that the public has had a glimpse of these remarkable gems, the Met's curators will certainly find it difficult to keep them out of sight for long.