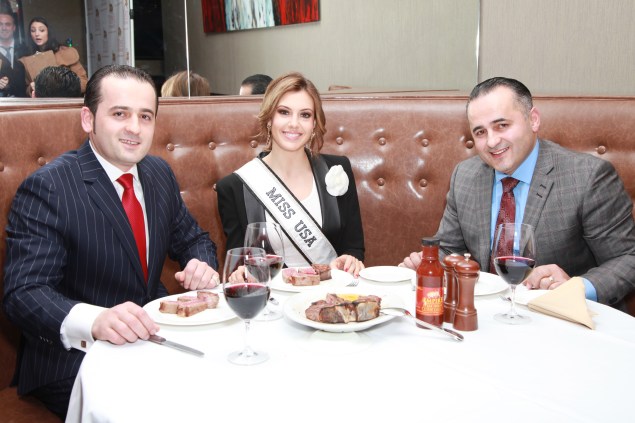 It is more lucrative to sell cows piecemeal in Manhattan than to sell them whole in the scenic, mountainous region of northeastern Montenegro around the tiny town of Plav. This we might have guessed. But we also have it on good authority from two genuine Plav natives, Jack Sinanaj and his cousin Jeff, whom we met recently in the dining room of their Empire Steakhouse on West 54th Street.
The 54th Street location, Empire's second—just a few blocks from the first, on 52nd—opened in January. Together with Ben, Russ and Harry Sinanaj, cousins or brothers, all—we never did quite establish the family tree—Jack and Jeff also own three Ben & Jack's steakhouses, on East 44th Street, on Fifth Avenue and on North Drinkwater Boulevard, in Scottsdale. (The margins on cattle in Arizona, we were given to understand, also considerably outmatch those in Plav.)
Traditionally, the men of the Sinanaj family raise and slaughter cows and sheep. "We grew up on farms," Jack recalled in heavily accented English. "We are from the mountains. We were always around butchering animals. Mostly our fathers and our uncles did the butchering. But if it was necessary, probably we could do it."
Tanned, stocky, clean-shaven and dark-suited, with short, neatly gelled black hair, Jack appeared an unlikely adept of meat cleavers. And so far, no such necessity has arisen.
Still, having arrived in the United States in 1981 to take a job as a busboy at the Manhattan Grille steakhouse on First Avenue, where his brother Russ was working as a waiter, Jack, who is 44, has not forsaken the traditionally iron-rich Montenegrin diet, consuming two or three cuts of beef a week, with favoritism for rib eye. Jeff, nine years younger, taller and slimmer, alleges a regimen of four to six steaks per seven-day interval.
"You know, we got a beautiful fish here—a Chilean Sea Bass," Jack assured us, radiating boyish pride. "But at home, we don't eat too much fish."
After some years at Manhattan Grille, which is now closed, Jack and Russ moved to Peter Luger, in Brooklyn, where they worked behind the bar and waited tables. The restaurant's famously brusque service style did not bother them, though Jack's natural mode is warm and welcoming. They lived together in a two-family house in the Morris Park section of the Bronx, where Jack, with his wife and children, and Jeff, with his mother, continue to reside.
The brothers kept their posts in Brooklyn, which they regard as the equivalent of a Master's degree in steak, for nearly a decade. By then, Jeff had arrived in the US, after a journey from Montenegro that took more than a year, including extended holding patterns in Germany and Cuba, and tense moments in the shallows of the Rio Grande as helicopters beat the air overhead.
A poor country that remains in the midst of a slow transition to the free market, Montenegro offered few attractive options to the Sinanaj clan. "We grew up watching Western movies, you know?" Jack said, flourishing a bejeweled pinkie ring. "Nice cars, beautiful girls, cowboys. Where we were coming from was communist. We couldn't have this kind of business back home. Russ and me, when we were working, we always talked about starting our own place."
Using the Bronx house as collateral—and swiping a grill man from Peter Luger—Jack, Russ and Jeff opened the first Ben & Jack's, on 44th Street, in 2005. Prejudice against fish notwithstanding, they felt particularly glad of an early review, which, Jack said, compared the texture of their steak to "a sushi."
Generally regarded as a Peter Luger knockoff—a non-pejorative distinction it shares with Wolfgang's Steakhouse—Ben & Jack's, like its progenitor, specializes in enormous portions of porterhouse that waiters serve using tongs improvised from large spoons. It is a steakhouse of the old school, with creamed spinach, German potatoes and great iced trophies of shellfish. Empire differs from the Sinanaj's original restaurant only in name and décor; menus are identical, catering predominantly to corporate clientele dining on company tabs. (Steak for two currently lists for $93.90, sauteed mushrooms for $13.95.)
If the steakhouse has long since ceased to occupy first chair in the hierarchy of American restaurants, losing ground to multicultural influences—David Chang, molecular gastronomy and the inexorable march (or was it trot?) of farm-to-table fare—it nonetheless sates a special appetite that has only partially to do with the flavor and nourishing qualities of food. One might find in it a kind of spiritual antithesis to the philosophy that animated—in theory—the socialist politics that made the young men of the Sinanaj family fantasize about the glittering projections of Western cinema.
It is an appetite that shows no signs of abetting. Never, the cousins told us in Empire's dim, air-conditioned dining room, has competition been fiercer. "We're still looking to open more restaurants," Jack said. "It's like a disease."
He does not often get back to Montenegro. "Back home, to go on vacation, you need to sell a lot of cows," he said. "It's a tough survival. If you want to buy a television, you need to sell another three or four!" He says he works six days a week, often from 8 or 9 in the morning, a time of day when Empire can be found serving steak and eggs, until 1 or 2 a.m. "We have a very busy breakfast!" Jack said. "Steak, yes. But not rib eyes, no. Not rib eyes for breakfast!"