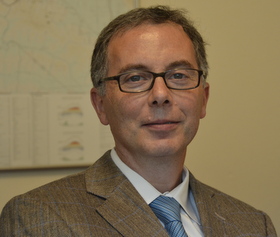 Dr. Tony Liss, one of the researchers responsible for discovering the Higgs boson particle—the so-called "God particle"—by way of experiments with the Large Hedron Collider in Geneva was not awarded the Higgs-themed Nobel Prize in physics in 2013. And thus, naturally, Dr. Liss did not receive the $1.2 million currently attached to said prize. But he did not begrudge its recipients, Francois Englert and Peter Higgs, who had hypothesized the particle's existence way back in in the 1960s to explain why matter has mass. Thousands of researchers participated in the experiments in Switzerland, Dr. Liss said, and the Nobel "appropriately awarded to the theorists who came up with the idea."
Anyway, Dr. Liss, who joined the faculty of the City College of New York last year as its first Martin and Michele Cohen Dean of Science, seems to be doing just fine as is. He and his wife, Sara Latta, an author of science books for young adult and child readers, have just purchased a co-op at 331 West 84th Street for roughly $2.73 million, according to city records. The sellers were Terence and Tamela Greene; Elise Witkin and Julie Smith, of Halstead Property, had the listing.
It looks quite a lovely space, this newly-renovated duplex in a brownstone close by Riverside Park. There are 2,012 square feet, with a pair of small gardens complete with irrigation system, the better to avoid the sloshing of watering cans. Also paired are wood burning fireplaces, which would seem to nicely offset the sleek modernization on offer in the brushed-chrome staircase handrails, the in-ceiling surround-sound and, of course, the open "chef's kitchen" with a full battery of pricey appliances. (Surely, the science-minded couple will find the local technology rather pedestrian, but that oughtn't make it any less convenient.)
Nor should there be any trepidation about where to store the no-doubt estimable library, what with the "beautiful" built-ins on hand. Those might come in handy, too, should that cagey Swedish committee ever decide to throw the good doctor a bone.