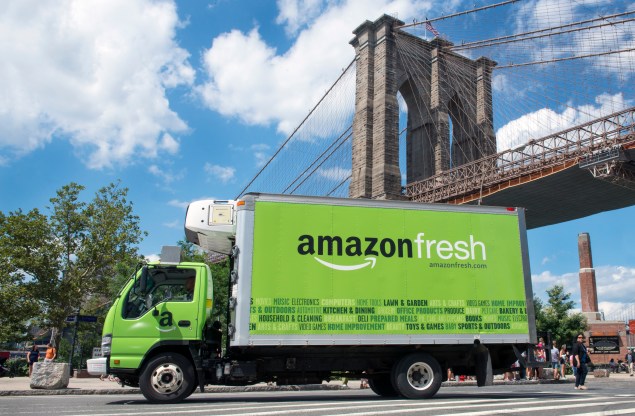 Amazon is moving into new territory. As of Friday, the company announced that its grocery delivery service will be expanding to Brooklyn (and no, your food won't be delivered by drone).
Dubbed AmazonFresh, Brooklynites can now order from a variety of 500,000 items–including specialty grocery items from local restaurants. And, perhaps unsurprisingly, Park Slope has been selected as its pilot neighborhood.
AmazonFresh is nothing new. Mashable writes that the online retailer first made its foray into groceries back in 2007, starting the service near the Seattle headquarters and branching out to Los Angeles shortly afterward.
The service has been popular in other areas, meriting the expansion. A spokesperson from Amazon told the Observer, that "While we can't disclose specific numbers, we have been very pleased with the interest from customers in Seattle, Northern and Southern California." The expansion to Brooklyn is said to be "thoughtful and methodical."
The move to New York follows the stream of speculation that Amazon will open a physical store on 34th Street across from the Empire State Building. However, Betabeat writes that any inquiries into this matter have been promptly shot down, by both Amazon and the building's manager.
Throughout New York, the reigning food-delivery service has long been Fresh Direct. But Jodi Kahn, chief consumer officer for Fresh Direct, doesn't think there should be a competitive comparison. "The online market is a huge opportunity with room for many players," she said. The two services are similar in operation, but differ on some details. According to Ms. Kahn, "We send our trucks out to local farms seven days a week. Our food goes direct from the farm to our facility to your house within twelve hours."
Aside from Fresh Direct, another dominant source for Brooklyn groceries is food co-ops. Offering healthy, organic choices for their members, the co-ops are beloved by many–from stroller-pushing Park Slopers to East Village locals. But the Park Slope Food Co-op, a fixture in the area since 1973, doesn't think this expansion will affect their business.
"They seem to be most similar to FreshDirect, and FreshDirect doesn't seem to have a measurable effect on us," said general manager Joe Holtz. "But we'll have to wait and see."
With grocery deliver services growing in popularity, at least you don't have to worry about what to wear while shopping at the Co-op.