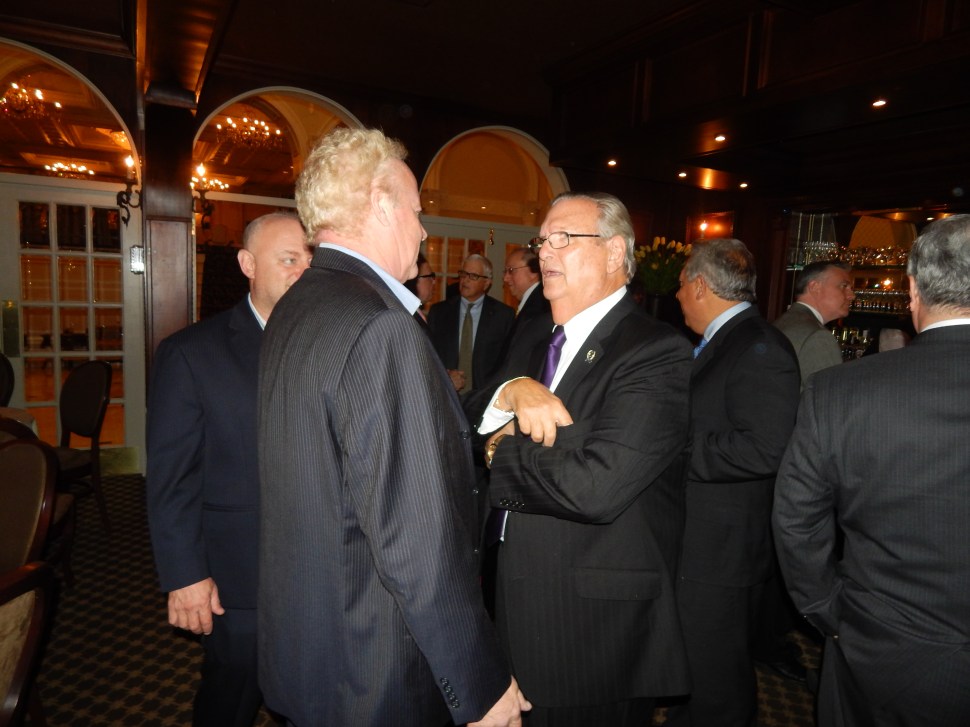 BELLEVILLE – It's difficult to picture a more eclectic New Jersey room, with everyone from state Sen. Ronald L. Rice (D-28) to Steve Adubato, Sr. to a casually grinning Dale Florio to a local American Ninja crammed into Nanina's in the Park amid twinkling finery as political survivor Assemblyman Ralph Caputo (D-28) gracefully navigated.
Chairman of the Assembly Gaming Committee, Caputo and his wife Celeste held their fundraiser last night in gear-up mode as the veteran assemblyman eyes re-election in 2015.
"They'd better get the line," cracked Rice, in reference to his LD28 running mates, Caputo and Assemblywoman Cleopatra Tucker (D-28).
"We're a team," the senator added.
There was some question about Tucker, and whether she'd run again next year or go to the Baraka Administration.
She's Trenton bound again, she told PolitickerNJ.
"Yes, I'm running," she said over a tray of hors d'oeuvres.
Any questions about Caputo's political future ended abruptly last night amid low-key power flexing.
"Ralph assumed chairmanship of the gaming committee at a critical time," said Florio, principal of Princeton Public Affairs. "He knows the industry because he worked in it. There's something good that comes with age and that's experience."
A former Newark Public Schools teacher, Caputo worked between the two stages of his life in elected office in marketing and customer development for Trump Tropicana and the Showboat.
Now New Jersey faces the prospect of four – maybe five – belly up casinos in the South Jersey resort town.
"It's changing," the assemblyman said of the gaming industry. "The governor and Senate President Sweeney wanted a five-year moratorium on Atlantic City. I was opposed to that. I thought we should have explored moving those locations to North Jersey. Gaming has been siphoned off to Pennsylvania and New York. That's our money. Those customers were the feeder market to Atlantic City.
"No one expected four or five places to close; that was the reality," he added.
Caputo said New Jerseyans will decide next November on the ballot where beyond Atlantic City they want to see gaming in New Jersey, and specifically whether they want North Jersey gaming. The challenge for the state and Atlantic City will be to diversify, he noted, so the city is no longer just organized around gaming but offers other destination hotspots.
The assemblyman appeared confident about the future.
Maybe that's because his political career has been a tempest in its own right, always on the verge of getting snuffed out for keeps – then reanimating stronger.
Insiders from all quarters packed the $60K-plus collection plate room, among them Essex County Executive Joe DiVincenzo, Essex County Democratic Chairman Leroy Jones, state Sen. M. Teresa Ruiz (D-29), Assemblywoman L. Grace Spencer (D-29), A.J. Sabath, Assemblyman Tony Bucco, Jr. (R-25), Newark Councilwoman Mildred Crump, Irvington Mayor Tony Vauss, Bloomfield Mayor Mike Venezia, government affairs agent Al Komjathy, South Ward Democratic Chairman Pat Council, former Union City Mayor Rudy Garcia, Divincenzo chief Phil Alagia, and Amiri Baraka, Jr., chief of staff to Newark Mayor Ras Baraka.
American Ninja Warrior Kacy Cantanzaro of Belleville was in the room.
Daughter of Caputo's friend, her presence appeared emblematic.
Caputo's career has looked a little like the obstacle course Cantanzaro braved earlier this year in a show of athletic heroism that won over 9 million Youtube viewers.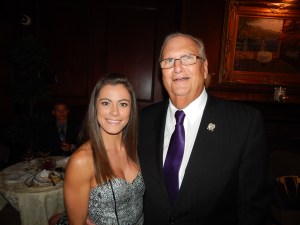 Since first getting elected to the State Assembly in 1967 in the first iteration of his political career (he failed to secure re-election in 1971 and came back in 2007), Caputo has toiled for decades to maintain these relations, and survived.
He was essentially at a point three years ago where the organization all but told him it was over.
Redistricting chopped his hometown of Belleville out of the 28th and the unspoken suggestion was it was time for him to move on.
Maybe he would have – if they hadn't nudged him.
"When they challenge you, that schoolyard boyhood fire comes out," said a smiling Caputo, who moved to Nutley to hold onto his seat and dug in.
The closeness between him and Rice is evident.
Seven years ago they occupied opposing sides of an Essex County civil war, and some of the anger over the past flared up on the trail – hurt from the riots – but over the intervening years the men built a friendship based in part on mutual suffering and mutual sustainability.
They both backed Baraka in the mayoral election earlier this year, cutting out from most of the rest of the DiVincenzo-led County Democratic Party.
Caputo has a lifelong friendship with the senior Adubato, head of the Newark North Ward Organization, and the political inspiration for many in the Newark northern hemisphere, including DiVincenzo.
Caputo and Joe D have clashed beyond the realm of local politics, notably in the immediate aftermath of 2011 redistricting.
But after insisting on staying alive despite the executive's resistance, the assemblyman, in attendance last year at the county executive's re-election kickoff – saluted DiVincenzo from the crowd.
DiVincenzo caught his eye that morning in acknowledgement.
Last night he showed up in respectful support.
"We all have a long history here; we have lived through the urban experience," said Caputo. "I moved from Newark to Belleville in 1973, but I never really left- it was one block up. I'm relaxed now. My thought is 'we had our fun, we should be glad we're here.'"