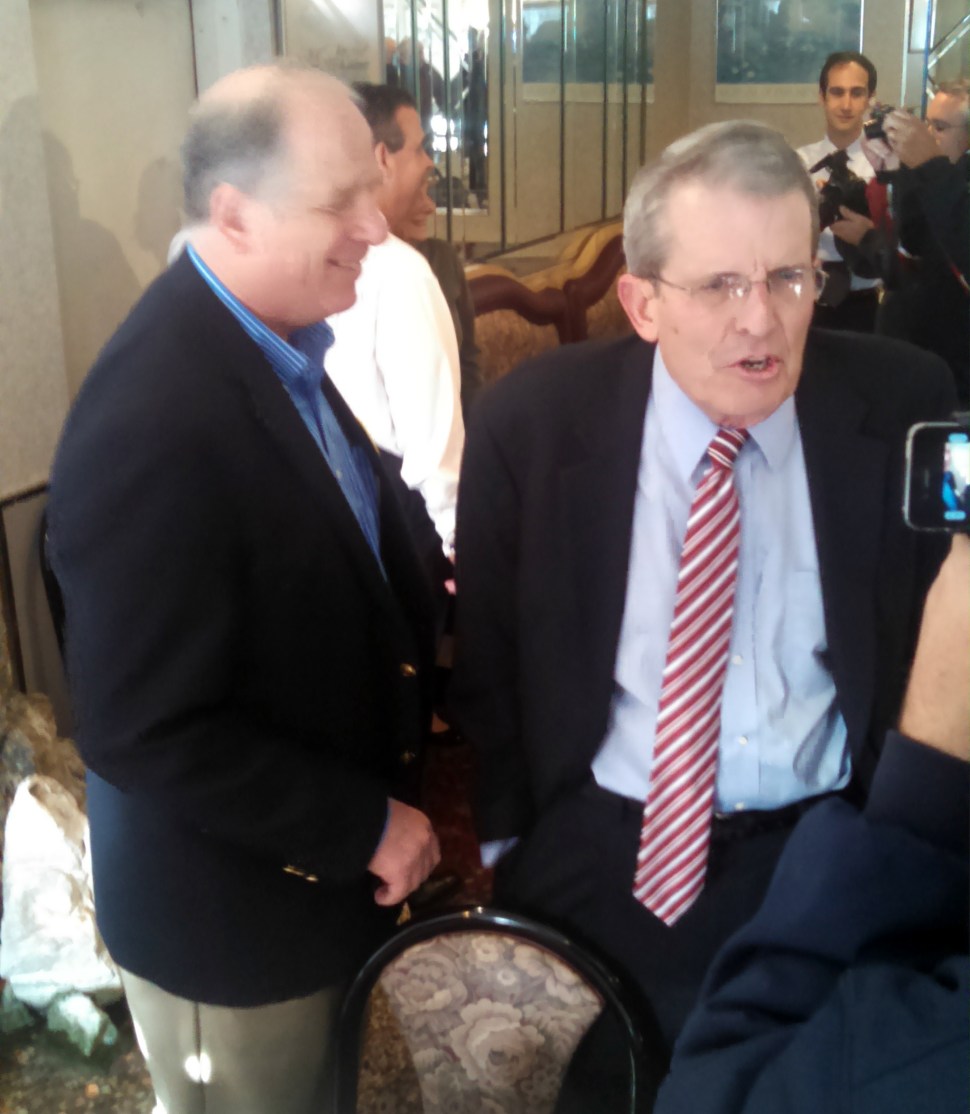 MORRISTOWN – With just over two weeks to go before polls open on Nov. 4th, Gov. Chris Christie said today he'll be busy campaigning for fellow Republican candidates in-and out-of-state — though most of it will be out-of-state.
Over the next 15 days, Christie, who appeared today at a retail campaign stop in a Morristown Diner with U.S. Senate candidate Jeff Bell, said he'll spend a total of 11 days outside the Garden State, lending support to fellow gubernatorial candidates in places like Maryland, Illinois and Michigan as head of the Republican Governor's Association. He'll also make his third trip to Iowa, a presidential primary battleground where the prospective presidential contender will speak at the birthday party of the state's popular incumbent, Gov. Terry Branstad.
The four days he will spend in state, he said, will be used to campaign for local and statewide candidates — particularly for Bergen County Executive Kathleen Donovan, third district congressional candidate Tom MacArthur, and possibly again for Bell, who he joined here today for the first time in Bell's race against popular Democratic incumbent, U.S. Senator Cory Booker (D-NJ).
As they approach the last legs of their respective races, both Donovan, the Republican incumbent running against Bergen County freeholder Jim Tedesco, and MacArthur, a Republican businessman vying against Burlington County freeholder Aimee Belgard, are considered frontrunners alongside their Democratic challengers. Donovan still trumps Tedesco in fundraising efforts, according to the latest numbers, and MacArthur continues to lead Belgard among voters, according to recent polling.
Bell, for his part, has a comparatively greater challenge in his own race, where he trails Booker by an increasing margin, according to polls.
Christie, who's received some flak for his intensive travels out-of-state in recent weeks, said the campaigning for the state candidates will be "significant."
"I will be out of state, let's see, 11 of the next 15 days," Christie told reporters, "but in those four days that I am here I'll be very busy."
Flanked by Chrisite in the diner this morning, Bell thanked the governor for his support, maintaining that despite others' speculations, the Republican party in New Jersey continues to stand behind him.
In addition to his appearance today, Christie has headlined two NJGOP-sponsored fundraisers for the conservative in recent weeks.
"I mean I've received no support from the national party," Bell said, reiterating earlier complaints that he's been shunned by Republicans in Washington. "I can go into all my theories as to why that's true but it's a great contrast to when I ran before. I've been closer in the polls to Mr. Booker than I ever was to Bill Bradley, and yet the national party knew that this was an important race, that they should contribute to an insurging campaign that had specific issues, in that case the Kemp Roth tax cut. And only three years later, thanks to the help I got in the state of New Jersey, and the elevation for that issue by this and other races, three years later it became the Reagan tax cut. Now, I don't think the party seems to think that way."
"I have to say though, part of the glass being half full is the New Jersey Republican Party is far more united than when I ran against Bill Bradley," he added.