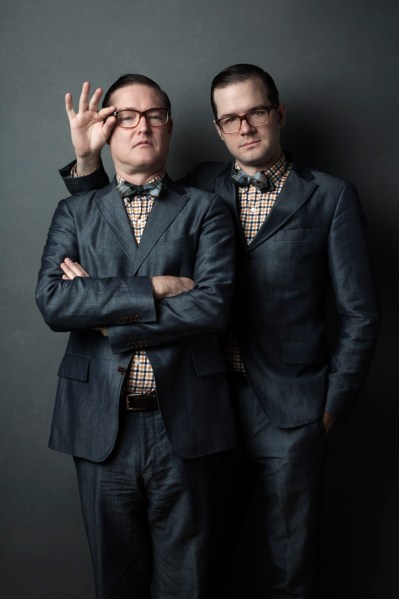 The New York party scene hasn't given a damn about who Andrew and Andrew (drop the "and" by the way) actually are since the inseparable DJing duo broke onto the scene in the early 2000s. Judging by the Patrick McMullan archives, their hundreds of appearances guarantee one thing, the social media buzz every NYC event-planner craves.
The duo is identical twins in every sense but the literal one. When it comes to rumors, it's almost certain that one Andrew hails from a Texas suburb, while the other Andrew may have Eastern European links. To keep their roots under wraps, family and friends have signed a non-disclosure agreement—no last names, ages, alma maters, or hometowns can be spoken of.
"The whole no last name thing was an issue when we first started, but once we established that, we grew beyond it," young Andrew told the Observer during a recent chat about all things double A. A slight age discrepancy between them reveals just enough differences to create the creative yin and yang between them.
"I oddly do remember the first time that I saw them," power lawyer and socialite Elizabeth Kurpis recalls, "it was at the Whitney Art Party years ago when I noticed two identically dressed men. Certainly not something you see every day, and for a moment—considering I was at a Whitney party—I thought, 'Could I be standing in the middle of a modern day Doublemint commercial?' Of course they've been here and there since then, but when I really noticed them again, it was on an episode of Girls!"
Yes, the duo made their mainstream debut in Lena Dunham's hit series, and they're continuing this foray outside of the New York social bubble by partnering with Target Optical. Tipped to be the first of many lucrative collaborations, the joint project is a collection of five unisex frames with 14 variations of shape, style and color. The spectacles will mimic AndrewAndrew's trademark look but expect quirky twists on classic round and square shapes. The two will also be contributing to the Target Optical blog. The collection goes on sale October 1 at Target Optical locations and TargetOptical.com.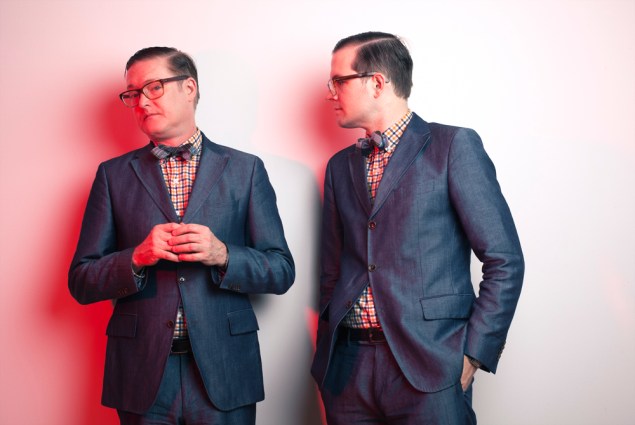 There's no telling where the real and created AndrewAndrew begins and ends. While they DJ skillfully, they may not be DJs by trade. Artistic leanings and an obvious appreciation for all things visual suggest an art school education, but this is conjecture. Such assumptions and guesswork are meat and potatoes for these fellows and they gobble it all up.
"I usually have a glass of champagne upon waking," one Andrew told the Observer.
"I like to read the paper. We have our man servant iron our issue of the Observer so the ink doesn't rub off on our hands," said the other.
It turns out the two met on vacation. "It was during a time when I was into trading watches with people I met. I went through a lot of watches, but he would not trade," older Andrew explained.
"My theory now is that if we had swapped watches, that would have been the end of it," the younger Andrew added. "He would have been on to the next watch, but I had just bought this Casio watch with a camera in it. It seems not-so-impressive now, but I wasn't giving it up and the rest is history."
Since this late-'90s encounter (they won't confirm an exact date), the two have lived and worked together. While it can be assumed they're romantically involved, they have never stated it explicitly, but a 2003 photo of them shows the younger Andrew planting a kiss on his partner's cheek.
The pair play around on the borders of art and design, but now claim to be pulling back on their tech usage. They prefer a bulky, antiquated Marantz recording device recommended to them by public radio personality Ira Glass, to collect the on-the-street interviews used in their podcast, and they carry around mini notepads and pens to jot down ideas. "We're really trying to disconnect, or fight the urge to pull out our phones. I actually don't even have a phone, it took a martini bath a week ago," older Andrew explained.
The mystery is finally coming to fruition for this almost old-fashioned, artsy duo. There is something endearing about the fact that here in New York and maybe only in this town, a couple of guys with a quirky schtick can invent a strong persona, stick to it and hawk it about for long enough to become a business angle. While no financial figures are known for their Target deal, it won't be tiny.
"I think it's amazing that no one knows who they really are. I love it," comments perennial party man and group executive editor of The Daily Front Row, Peter Davis. "Their names are probably Dexter and Dillon for all we know or Sebastian and Sammy. It's remarkable to get away with that in 2014. Even when they call me it just comes up on my phone as AndrewAndrew, so I think they're the [Martin] Margiela of DJs, except we know what they look like!"