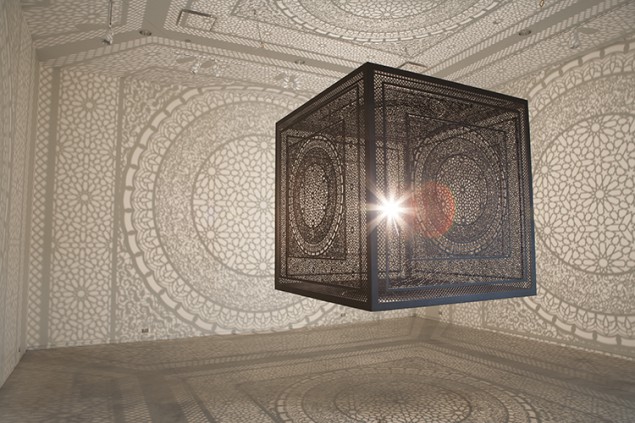 For the first time in ArtPrize history a winner took home both the $200,000 Public Vote Grand Prize, as well as, in a tie, $100,000 of the Juried Grand Prize. The honor went to Indianapolis-based Anila Quayyum Agha's "Intersections," a shadow box on display at the Grand Rapids Art Museum that emulates the intricate patterns from the Alhambra in Grenada, Spain. With the help of a light, the entire room becomes flooded with the beautiful design. The news was announced tonight in a ceremony at the Grand Rapids Civic Theatre
"My intent with this installation was to give substance to mutualism, exploring the binaries of public and private, light and shadow, and static and dynamic," said the artist in her statement.
The city of Grand Rapids, Michigan is abuzz with activity in October thanks to ArtPrize, the annual award that for a total of 19 days fills its every crevice, from its streets to its restaurants to its museums, with art by both amateurs and established artists vying to win $540,000 in prize money. The annual event, which was founded in 2009 by Amway heir Rick DeVos attracted the attention of 41,109 individuals who cast 398,714 votes. The city's population is only 192,294, for reference.
For the first time this year, as a means of increasing its cachet in the art world, a number of art experts such as ARTnews co-executive editor Andrew Russeth, Los Angeles Nomadic Division head Shamim M. Momin and Hyperallergic co-founder and editor-in-chef Hrag Vartanian, served on the prize's jury and selected winners.
Ms. Agha split the $200,000 Juried Grand Prize—chosen by ART21 executive director Susan Sollins along with artists Katharina Grosse and Leonardo Dew—with Sonya Clark's Hair Craft Project, an exploration of African-American hairdressing.
The 2014 edition of ArtPrize was not without controversy. A piece made to raise awareness of homophobia depicting Jesus Christ against the phrase "Love Does Not Harm" by Timothy Gabriel was vandalized, and in opposition to some members of the DeVos family's political endeavors, including involvement with the Rick Santorum and Newt Gingrich campaigns, finalist Steve Lambert said he would give his winnings away on his website. "I will hand over all my award money to the LGBT Fund of Grand Rapids. I will also volunteer to come back to Grand Rapids with the Center for Artistic Activism to work with LGBT to fight for equality," he said.
"First of all, an artist who is not from West Michigan pledging to use potential winnings to give back to our community is a wonderful and generous thing," responded Art Prize's Kevin Buist in a statement. "But it's even better than that. The Grand Rapids Community Foundation, the organization behind the Our LGBT Fund, is an ArtPrize sponsor."
To clarify, the prize money isn't 100 percent funded by the DeVos family and Amway; Foundations and government funding, among other sources, make up the prizes, too.
The winners of the public vote and juried prizes were each awarded $20,000 in four categories. They public-vote winners are: Gretchyn Lauer for Outcry shown at the DeVos Place Convention Center (Two-Dimensional), Marc Sijan for Reciprocity shown at the Grand Rapids Art Museum (Three-Dimensional), Robert Shangle for Your Move? shown at the Harris Building (Time-Based), and public vote Grand Prize winner Anila Quayyum Agha (Installation)
The juried winners in those categories are: Sonya Clark for The Haircraft Project shown at Kendall College of Art & Design (Two-Dimensional), Maximo Gonzalez for Tengo Hambre shown at Kendall College of Art & Design (Three-Dimensional), Dance in the Annex for respirador (breather) shown at SiTE:LAB (Time-Based), Julie Schenkelberg for Symptomatic Constant shown at SiTE:LAB (Installation), and SiTE:LAB @ The Morton (Venue).
The winning artworks can be seen at ArtPrize venues through Sunday, October 12.