Remember those massive elephant tusks you always dreamed could be part and parcel of your own ancestral home? Now, if you do snap up a pair — at least ones commercially valued in excess of $25,000 –it's a Class D Felony and you could face up to seven years in jail in New York State.
Both New York and the federal government are toughening up laws that regulate trade in objects, from statues to carvings to jewelry to pianos, made of or containing ivory. In February, President Obama signed a "national strategy" prohibiting all commercial imports of African elephant ivory into the U.S. in an effort to cut down on the massive slaughter of elephants by poachers.  Then, New York State passed even tougher rules to include the sales of rhino horn and mammoth ivory.
But older objects containing ivory are also impacted.  "A precious elephant ivory statute, a 1920 Emile Jacques Ruhlmann desk heavily inlaid with ivory and a Faberge egg decorated with ivory can't be sold in New York," said Lark Mason, who heads up the online and bricks-and-mortar establishment iGavel headquartered in Harlem. "I know colleagues who are stripping bits of ivory out of period furniture," referring to the slender bands of ivory found on Art Deco and earlier furnishings. Ivory trim on piano keys is also subject to sales restrictions and an import-export ban.
The new, somewhat confusing, regulations are a hot topic among dealers, art lawyers and auction-house experts; Park Avenue law firm Herrick, Feinstein LLP and Volunteer Lawyers for the Arts jointly held a conference addressing the matter earlier this week. Panelists included Hartley Waltman of Christie's, Mason and Craig Hoover, Chief of the Wildlife Trade & Conservation Branch, U.S. Fish and Wildlife Service.
Hoover said the new federal regulations aim to put an end to an elephant poaching crisis. "More than 100,000 African elephants have been lost over the past decade and they could be driven to extinction," said Hoover.  Chad alone has lost 90 percent of their elephant population and now less than 500 survive. Poaching is fueled by the fierce demand for ivory, with  Chinese collectors in particular driving the market.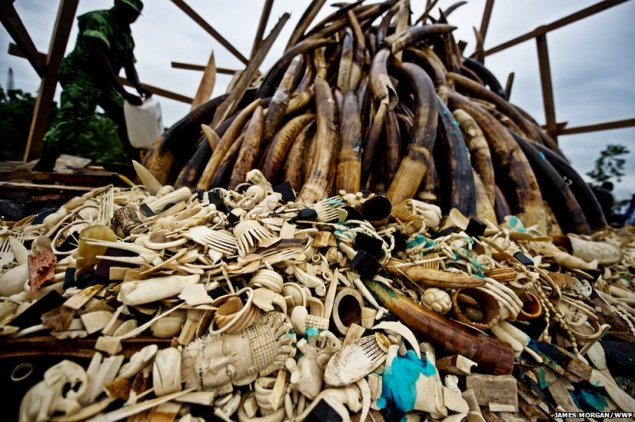 If things can't be exported or imported, they become difficult to sell and lose their value, according to the auctioneers. Those ivory piano keys and violins trimmed with ivory also fall under the stringent regulations. That's unfortunate because  "they're a retirement nest egg for musicians," said David Freundenthal, who heads up Carnegie Hall's government relations department and was also on the panel. "Musicians from abroad have to document that their instruments over 100 years old just to come and perform here," he noted.
If you already have ivory works in your home, private ownership is fine.  But if you sell them within state lines, you have to prove those African elephant ivory items were imported prior to 1990.  And when it comes to selling Asian elephant ivory, documentation that it was imported before 1975 must be provided. If you want to buy or sell them across state lines, in that case, you need documentation that the ivory items are over 100 years old.
But with elephants becoming an endangered species, Hoover notes, some very strict measures must be taken.