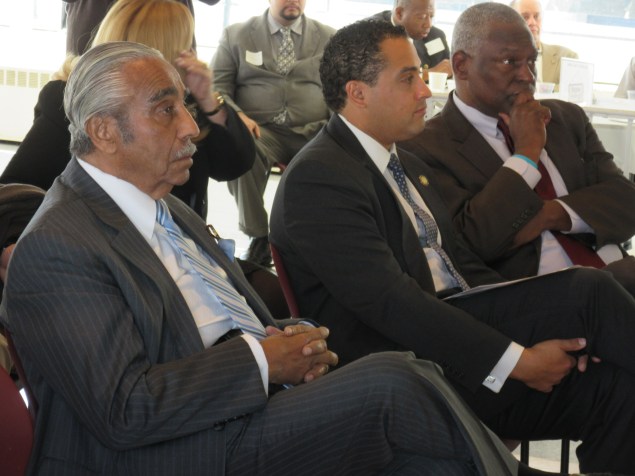 Manhattan Assemblyman Keith Wright–chairman of the Assembly's Housing Committee–today backed Congressman Charles Rangel's call for a moratorium on subsidized luxury development.
At an event in East Harlem celebrating the opening of a new jobs center, Mr. Rangel reiterated his longtime argument for an end to government assistance for upscale construction–an argument with which Mr. Wright said he agreed. In the past decade, the city and state have granted tax abatements and subsidies for luxury projects that included a percentage of units for middle class and poor New Yorkers, a policy the two pols both said needed to end.
"We've gone condo crazy, and certainly it's destabilized a number of communities, and we need to look to re-stabilize our communities," Mr. Wright, who represents swiftly gentrifying central Harlem, told the Observer. "We have too many luxury developments, there's just too many, at least in communities that may not necessarily be able to afford them. I think the pendulum needs to swing in the other way. I think we need to look at putting in some more middle- and low-income housing in various parts of the city, especially in Manhattan, because Manhattan can't just become the island of the rich."
Mr. Wright, however, was hazier on the details of how to reconcile such a moratorium with Mayor Bill de Blasio's plan to construct and maintain 200,000 units of affordable housing, which hinges in part on re-zonings and outlays for upper-income construction that devotes 20 percent new units for low- and middle-income earners–a plan Mr. Wright said he was "very much in support of."
The assemblyman did say, however, that he would push to reformulate the calculation of "area median income"–an average of earnings that is used to determine what constitutes "affordability." The current metric incorporates the wages not just of residents of New York City, but of suburban Rockland and Westchester counties, which Mr. Wright argued skews the statistic unfairly upward in low-income neighborhoods.
"They throw the average so high that people in Harlem, people in East Harlem cannot in no manner, shape or form compete at that economic level," Mr. Wright said. "Nobody can afford these luxury condominiums. I know I can't."
The assemblyman, however, noted that the calculus for AMI is set at the federal level and that resetting it would fall to Mr. Rangel, the Department of Housing and Urban Development and other national players.
Mr. Wright said he would also seek to fund new low- and middle-income construction. He would not, however, commit to supporting Mr. de Blasio's effort to repeal the Urstadt Law, a statute that leaves control of the city's rent-regulated housing stock in the hands of the state.
"I'll have to look at it," said Mr. Wright, who added that he still resides in the rent-controlled apartment he grew up in.
Mr. Rangel, for his part, explicitly argued that the 80-20 ratio of market-rate to affordable units was inherently unfair for buildings that receive public money.
"We don't need no damn luxury housing, it's not an emergency, and this whole concept of 80-20, maybe for somebody else, but we don't have schools where 80 percent of the students are already educated and 20 need help. We don't have hospitals where 80 percent are well and others need care," Mr. Rangel said. "What we need is affordable housing."
Mr. Wright–along with several other state legislators–came under criticism last year after he sponsored a bill that created tax exemptions for luxury developers that donated to his campaign. The bill's passage triggered an inquiry by the anti-corruption Moreland Commission.