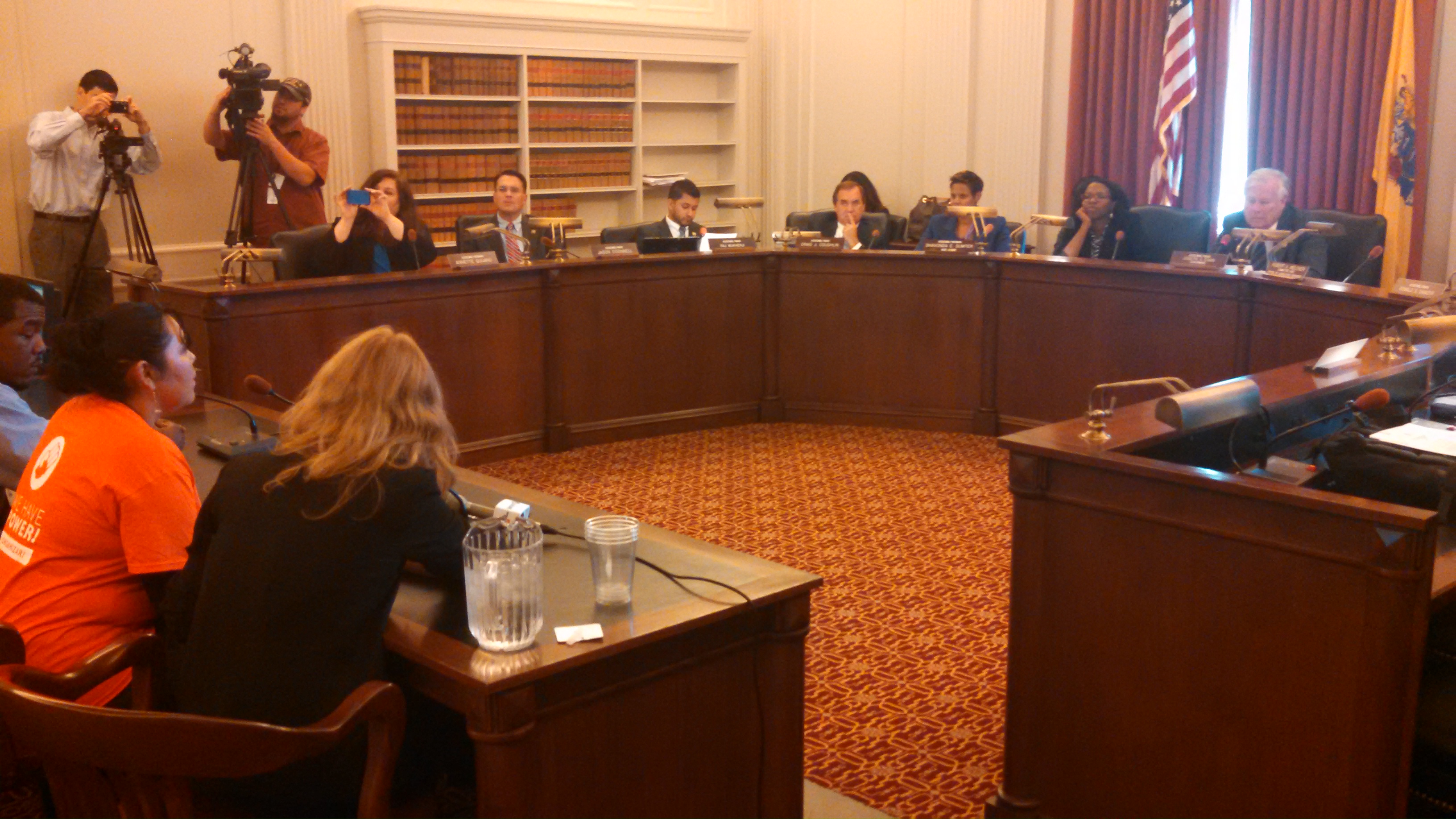 TRENTON –  In a packed room of business owners and worker rights advocates here today, members of the Assembly Labor Committee mulled a bill that would mandate employers in the state offer paid sick leave to their employees — part of a much-harangued piece of legislation that has had Democrats and Republicans in the legislature at odds in recent weeks.
"This is really a kitchen table economic issue," said Assemblywoman Pamela Lampitt (D-6). "It's the middle class families, its the low income families."
The legislation at issue concerns paid sick leave mandates for private employers in the state, and has already picked up some steam since coming to the fore earlier this year. Six New Jersey cities — Jersey City, Paterson, Newark, Passaic, Irvington and East Orange — have already passed local ordinances that allow employees to earn paid time off when sick or to care for sick family members, and two other towns — Montclair and Trenton — will allow voters to decide on the issue with November ballot initiatives. Democrats, led by Assembly Speaker Vinnie Prieto (D-32), have pegged the legislation as a top priority, while Gov. Chris Christie has expressed concerns.
Lampitt, the bill's primary sponsor, argued that following the institution of those local ordinances in various towns across New Jersey, employees now face uneven benefit opportunities, where some employers may offer paid sick leave while others may not. She said 80 percent of low income employees in the state are not offered the option, and pointed to a handful of statistics from  businesses in Connecticut, the only other state in the country to have implemented as such a law, where a third of businesses found the initiative improved worker morale.
"What's happening for our businesses and for the employees themselves is this: we have a disjointed benefit package for employees that are working for one employer," Lampitt said. "If they happened to be in Paterson or Jersey City but they also happen to have employees in Cherry Hill, the employee that's working in Cherry Hill doesn't get the same benefits as the employee working Jersey City. Our job here today is to look at what's going on in terms of creating a uniform effort to create a seamless earned sick leave policy throughout the state of New Jersey that gives our employees, the low income employees, the middle income employees, the high income employees, the ability to take a day off."
Specifically, the bill (A2354) would require businesses with 10 or more employees to offer workers a minimum of 72 hours of paid sick leave, while businesses with fewer than 10 employees would be required to let their employees earn 40 hours of sick time — one hour of paid sick leave for every 30 hours they work (or five days for full-time employees). If passed, New Jersey would become only the second state in the country to require employers to do so.
Assemblyman Raj Mukherji (D-33), also a primary sponsor of the bill, joined Lampitt in praising the measure, arguing that employees "shouldn't have to choose between their economic security and being cared for." And other liberal groups in the room, including representatives from NJ Citizen Action and the AFL-CIO, said the legislation represented a "broad spectrum of interests."
"No one should have to go to work or force their kid to go to school sick for fear of losing a paid sick day," NJ Citizen Action Director Phyllis Salowe-Kaye said.
But others present at the meeting, including some Republicans on the committees, expressed skepticism over how employers in the private sector would fare under the new restrictions.  Assemblyman Jay Webber (R-26) jumped into the debate arguing that the bill is "straight jacketing" employers by forcing them to offer paid time off that can only be used for illness, while business figures took to the mic and said they had "critical concerns" over how such a bill would impact job and economic growth in the state.
"These are the hard choices for business owners a they continue to keep themselves afloat," Mike Egenton, a senior vice president at the New Jersey Chamber of Commerce (NJCC), said. He argued that small business would likely feel the brunt of these new regulations.
"This bill would result in businesses losing their ability to respond to changes in their workplaces and workforce needs," Stefanie Riehl, vice president of the New Jersey Business and Industry Association (NJBIA), told PolitickerNJ following the meeting. "Businesses have always been able to tailor their benefits and to customize their policies to meet individual worker needs. Paid sick leave mandates put businesses in a box by forcing them to use a one-size-fits-all program, even those with generous existing policies."
Today's meeting ultimately held off on a final vote for the bill, opting to hear testimony and debate potential amendments to it first. The legislation will be revisited in the coming weeks, and has widespread support among Democrats in the legislature — but has found little support from Republicans, many of whom argue it is not up to the state to regulate sick time compensation and benefits in the private sector.
"We can't keep piling on the already high cost of doing business in the state and wonder why nearly 300,000 people are out of work," Assemblyman Parker Space (R-24), a member of the committee and small business owner, said in a statement. "Small businesses need flexibility in order to do what they do best – create jobs."