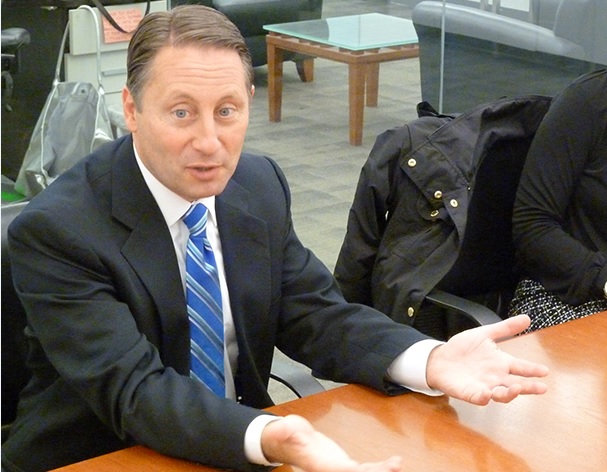 Rob Astorino, the Republican candidate for governor, would be happy to place a Walmart in New York City and thinks the mayor only measures success by "how many people on welfare."
Mr. Astorino, in a wide-ranging interview with the Observer's editorial board today, slammed the progressive effort to keep the big box retailer out of the five boroughs.
"The whole bashing of Walmart coming into New York–give me a break," Mr. Astorino, who is taking on Gov. Andrew Cuomo, said. "Walmart is a good thing for these poor neighborhoods so people have choice in lower prices and job opportunities. But Cuomo being silent and not speaking up against some of the radicals led by de Blasio who are threatening and demanding that they don't move in and come in–give me a break."
The Westchester county executive then slapped Mr. de Blasio, a liberal Democrat, for how he allegedly defines success.
"Success shouldn't be measured by how many people are on welfare, which I think de Blasio sees success as. That's not success and I think Cuomo has made it easier for people to get on welfare," Mr. Astorino fumed, adding that "our goal should be to get some off assistance" and that welfare recipients shouldn't be "stigmatized."
Mr. de Blasio and many city Democrats oppose Walmart for the consistently low wages it pays workers and its anti-union stance. Anti-Walmart rallies and protests are taking place today, with labor groups and elected officials joining hands to denounce the retailer.
Mr. de Blasio did not respond to Mr. Astorino's specific charges, but said Walmart–still not operating in the five boroughs– would only hurt his fight against income inequality.
"We were sent here to fight inequality and raise the floor for working people," said Wiley Norvell, a spokesman for Mr. de Blasio. "That's what we're doing by expanding the living wage and paid sick days, and working to increase the minimum wage. Walmart's practices have taken this country in the opposite direction."
Stuart Appelbaum, the president of the Retail, Wholesale and Department Store Union, called Mr. Astorino "out of touch."
"This is no surprise coming from Rob Astorino, and it shows just how out of touch he is. What we need in New York City is good-paying sustainable jobs, not the low-wage jobs created by Walmart," Mr. Appelbaum said.