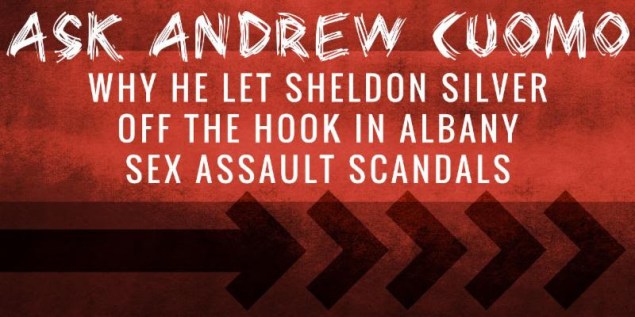 It's not quite the Magic School Bus.
But Rob Astorino, the Republican taking on Gov. Andrew Cuomo, is sending a "Shelly Silver Express" van to tailgate Mr. Cuomo's bus tour through several upstate cities this Saturday. Mr. Astorino's latest campaign ploy, meant to mock Cuomo ally Assembly Speaker Sheldon Silver for his handling of sexual harassment scandals among his legislators, also skewered Mr. Cuomo's attempt to knock his record on women's issues and belittle his socially conservative views.
"Sheldon Silver survived as Speaker because Andrew Cuomo protected him," Mr. Astorino, the Westchester County executive, said.  "Mr. Cuomo showed zero regard for the victims of these sex crimes, choosing instead to prop up a political crony by burying an investigation — a habit that continues to this day. Mr. Cuomo needs to explain at every stop of his tour Saturday whether equality was extended to Mr. Silver's victims."
A van emblazoned with an arrow pointing at Mr. Cuomo's "Women's Equality Express" tour bus will tail Mr. Cuomo's bus Saturday as he travels through Albany, Syracuse and Rochester, the Astorino campaign said. The sign on the van will read on both sides: "Ask Andrew Cuomo Why He Let Sheldon Silver Off The Hook In Albany Sex Assault Scandals."
Mr. Astorino is referring to the controversies that embroiled Mr. Silver in 2012 when it was revealed that he quietly used taxpayer money to settle a sexual harassment suit against one of his most powerful lieutenants, former Assemblyman Vito Lopez. The scandal eventually forced Mr. Lopez to resign but Mr. Silver, still commanding the respect of his colleagues, emerged relatively unscathed.
While Mr. Astorino is hoping Mr. Silver's troubles rub off on Mr. Cuomo, the Cuomo campaign has repeatedly bashed Mr. Astorino for opposing same-sex marriage and abortion. Through the creation of the Women's Equality Party and a top surrogate, former Council Speaker Christine Quinn, the Cuomo campaign is relentlessly portraying Mr. Astorino as a right-wing radical too far out of the political mainstream to be taken seriously.
Voters, at least according to polling on the race, seem to agree. Mr. Cuomo also boasts a significant fund-raising advantage.
Spokespersons for Mr. Cuomo and Mr. Silver did not immediately return requests for comment about the "Shelly Silver Express."