"I like to spread out my Sunday newspapers with my coffee in the morning," said Nicole Miller, while sprawled on her couch on a rainy afternoon in Tribeca. Ms. Miller shares the 3,200-square-foot loft with her husband, son and Godzilla, her beloved Rhodesian ridgeback. The palatial space consists of three bedrooms, a dining room, a kitchen, three bathrooms and a large living area. The arched windows and simplistic white walls are enhanced with views of the Freedom Tower. Bright accents, including orange and green rugs, Verner Panton royal blue chairs, and midnight black wood floors add depth to the airy space. Even Ms. Miller's vase collection, ranging from a Scandinavian blue vase to a forest green vase handmade by her teenage son, proves that the beauty of the home's décor lies in the details.From home goods and handbags, to jewelry and bridal gowns, Ms. Miller has been one the power players in the fashion industry since the 1980s. Calm and serene in demeanor, she confessed to being a real foodie. "My mother's French, so I was always obsessed with food, except I hesitate to mention foie gras anymore because people want to kill you." The designer can be found picking up fried sea urchin from Nobu, dining at Da Silvano, or finding the right ingredients at Chelsea Market for Bouillabaisse or risotto.
You are an avid collector of contemporary art. Have you always been collecting? I went to RISD (Rhode Island School of Design) and the first paintings I ever bought were at RISD alumni auctions. The first one was a still life from one of the teachers. I've bought a lot from my friend Mary Boone who also attended RISD. As for my Ross Bleckner painting, I told Mary I wanted one and she said, "I will keep it in mind." One day she called and said, "I have the Ross Bleckner for you." I went over to the gallery and was thinking, "What if I don't like it? How can I say no?" Then I walked in and said, "Oh my god. Sold!" She couldn't have picked out a more perfect piece for me. I also love this painting by Julio Galán. He had been painting my dresses in Mexico and I ended up introducing him to my friend Paige Powell, who worked for Andy Warhol; Andy loved his work and bought some pieces.
Who designed your home and what are a few of your favorite things? Dan Rowen designed my home; you can see his modernist aesthetic. He had previously done many art galleries in the city. A few things I love are my Serge Mouille light fixture from a 1950s art dealer and a red Jean Prouvé sideboard that has all my kitchen stuff in it. The color makes the room so happy. My painting by Damien Loeb is a favorite, too. He actually lives in the neighborhood.
How long have you lived here? When I first bought this apartment about 30 years ago, it was just one apartment, but since then I have connected two more spaces to the original loft space. My first apartment was on East 77th street, then I gradually crawled downtown to 52nd, then 38th, and so to here. I couldn't live above 14th Street now. I always felt going home to Tribeca was like going home to the country at night. It has changed a lot since then, but it is still very much a neighborhood. The restaurants are great.
How does being a fashion designer influence your ideas for designing a home? Since I work in such an eclectic environment, I try to keep my apartment pretty sparse, however, it's hard to keep things minimal the longer you live in a place. We also have a lot of plants here. My husband is more of the gardener, where as I check my basil every day and love herbs.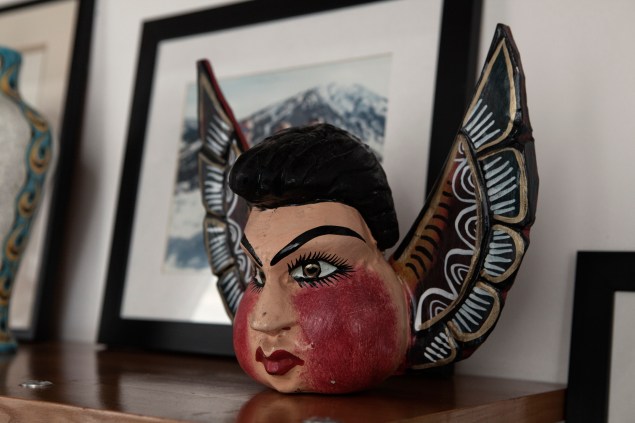 You spent time studying fashion in Paris. How important a place is it for you?  Every year I go to Paris for the fabric show Premiére Vision, and sometimes for vacation. Having a French connection has always been meaningful to me. It was really helpful growing up speaking French and I've always had a lot of French friends. Paris always reenergizes me, but so do a lot of other places. I travel a lot in the United States and I love going to Los Angeles. New Orleans is one of the most fun cities. I've always loved the cities that have a culture and a personality.
I know you love to ski and wakeboard. How long have you been doing those activities and how did you start? I started taking waterski lessons about 12 years ago with Camille Duvall-Hero. She taught me how to get up on one ski. Later, I started skiing with Global Boarding in Sag Harbor. Now I ski, wakeboard and wake skate. My husband, son and I all enjoy it.
You've lived here for 30 years, what makes New York home? People always say, "Are you a New Yorker?" and I say, "Well, I didn't grow up here, but I just can't imagine living any place else." I just have a sense of calm when I come back to New York. I'm always happy when I return from a trip. New York just feels like home.