Last night's Women's Media Awards was a lustrous concoction of glitz, glamour, and "F" bombs.
Feminism that is. The word hung in the air like one the Capitale's exquisite crystal chandeliers, as TV personalities and media moguls celebrated the 2014 Women's Media Awards. The sixth annual WMC awards ceremony honored Barbra Walters, Katie Couric, Amma Asante (director of Belle), and Ursula Burns (Ceo of Xerox, named the 22nd most powerful woman in the world by Forbes) for their exemplary work in media and really, for being badass role models.
The Women's Media Center, co-founded by Gloria Steinem, Jane Fonda, and Robin Morgan, strives to make women more visible in media. "Media is the most powerful economic and cultural force out there," president of WMC, Julie Burton, told the Observer. "Every image you see, every story you hear, every person you see getting interviewed gives you an image of what a woman or girl can be in society, so it's a big issue."
Katie Couric was amongst the first to arrive on the red carpet, dazzling in a fitted black cocktail dress, sleek clutch, and signature smile. The Global News Anchor for Yahoo News–honored with the WMC Pat Mitchell Lifetime Achievement Award– told the Observer the secret to her success lies in good old-fashioned hard work. "I do think that if you work really hard and try really hard you will improve. Even if you're not naturally good at something."
Author, activists, and feminist icon Gloria Steinem was also on the carpet looking effortlessly chic in slim, satin trousers and a gold embellished top. Ms. Steinem, perhaps most famously known for taking a bold stance against social injustice, was surprisingly warm and sincere as she made her way down the carpet. Clearly in her element amongst fellow pioneers and activists, the co-founder of Wednesday night's event told the Observer her advice to young women is to disregard all of the things society suggests they should do. "There are no 'shoulds.' Instead ask yourself 'What do I think is important ? What do I want to do? What am I challenged by?' but no 'shoulds,'" she repeats. "It's about what's in here." she says simply, pointing to my heart with a twinkle in her eye.
All eyes were on former ABC News Special Correspondent and creator/executive producer of The View, Barbara Walters, who accepted the WMC Trailblazing Media Award after making a glamorous, if not fashionably late, entrance. The pioneer for women in television looked elegant in a fitted wool number and posed on the carpet, arm in arm, with Ms. Steinem.
The honorees–which included screenwriter/director Amma Asante and the first African American CEO of a Fortune 500 company Ursula Burns– were in good company. Attendees of Wednesday night's sold-out event included Clive Davis, Phil Donahue, Marlo Thomas, the evening's host Joy Reid (of MSNBC's The Reid Report), and Editor-in-Chief of Marie Claire, Anne Fulenwider who told the Observer " I love the work that WMC is doing in training younger women to tell their stories and make themselves heard in the media. I think that's so important. The more these young girls and women have a voice, the more powerful they become."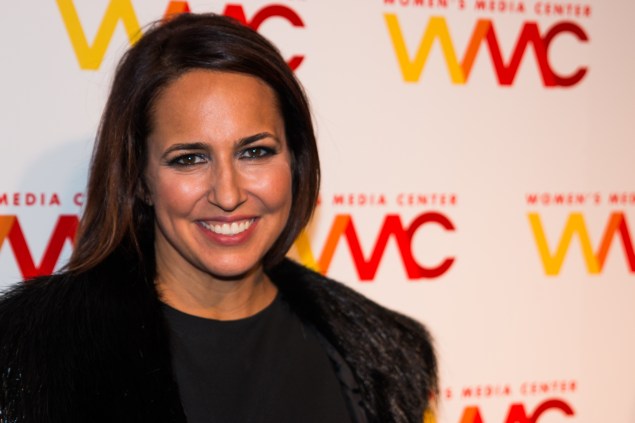 The event lingered long into the night in typical New York fashion, with honorees and attendees clinking flutes of champagne and mingling in the elegant ambiance of the evening's affair. Each exchange included a multitude of encouraging stories that included the word of the night,"feminism." But not once, as Ms. Steinem can attest to, did I hear the word "should."